I have lost my camera chord (again!) so i can't show you the adventure travis and i went on yesterday. so i will post a recipe that someone asked for and then i forgot to post!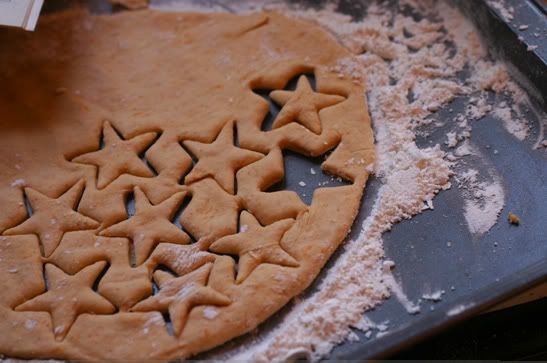 Celestial Crackers
from Best Recipes Holiday Food Fun: 1992
ingredients:
1 cup all-purpose flour
1/2 teaspoon baking powder
1/2 teaspoon paprika
1/4 teaspoon salt
1/3 cup, plus 1 tablespoon water, divided
3 tablespoons vegetable oil
1 egg white
toppings: it suggests seasame seeds, poppy seeds, garlic salt and dried herbs. i just used garlic salt. lots of it. yum
1. Combine flour, baking powder, paprika, and salt in a medium bowl. Stir in 1/3 cup water and oil to form a smooth dough.
2. Preheat oven to 400 degrees F. Great baking sheets (i used olive oil spray)
3. Roll dough on floured surface to a 14x12 inch rectangle. Cut dough into star and moon shapes using cutters (it suggests a 2 inch cutter, i used a 1 inch star because that is all i had) place on prepared baking sheet.
4. Combine egg white and 1 tablespoon water; brush on crackers, sprinkle with toppings.
5. Bake 8 to 10 minutes until edges begin to brown. Remove to wire rack, cool completely.
these were so so good.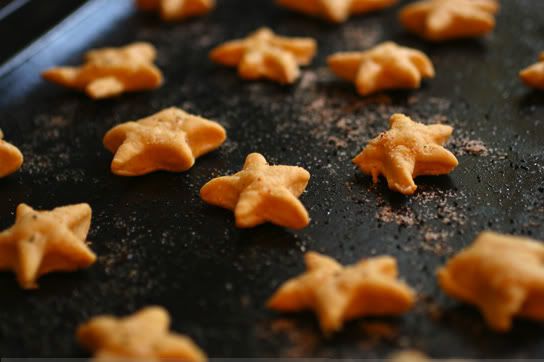 enjoy! tell me if you make it!