yesterday was really wonderful. thomas and i were lamenting that we hadn't hung out with crystal in a long time. so we went to nashville to hang out with her, her husband marc, and her step son jamison. we went to the flea market. and to see some new statues.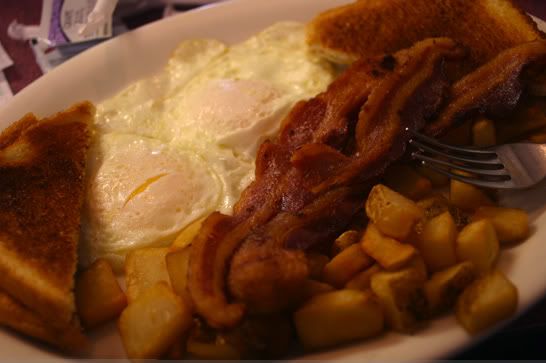 we went to the biscuit house for breakfast. well, everyone but thomas. he has been talking about it for weeks, but he stayed out to late saturday night (at a LAN party. NERD.) so he didn't make it. those are crystal's new tickle monster gloves on jamison. he is such a good poser. during breakfast he wanted to play the who do you like more game. he would ask us things like "crystal, who do you like better? daddy, or rae?" he loved it when he asked us if we liked "daddy or the waitress" better. and we both said the waitress and begged him not to tell marc. ok, i'll admit it. little kids are fun sometimes.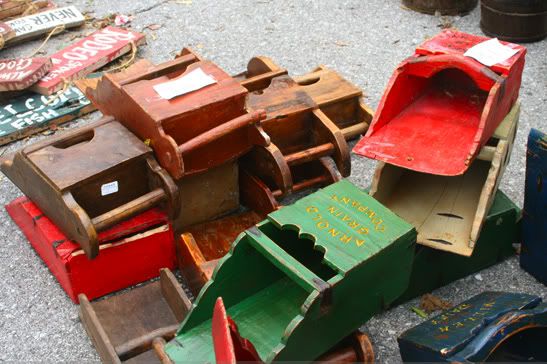 we went to the big flea market at the nashville fairgrounds. they have it every month, and i always forget to go. on the way hear jamison told his grandpa, "I love you more than having 67 dollars." then i was dumb and taught him what a "flat tire" was. he spent the rest of the day stomping on the back of my feet.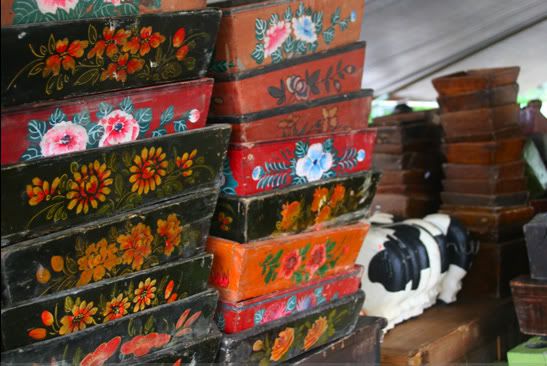 we loved all the piles of stuff in this booth. and lines of similar items. there was lots of stuff i would have loved to buy.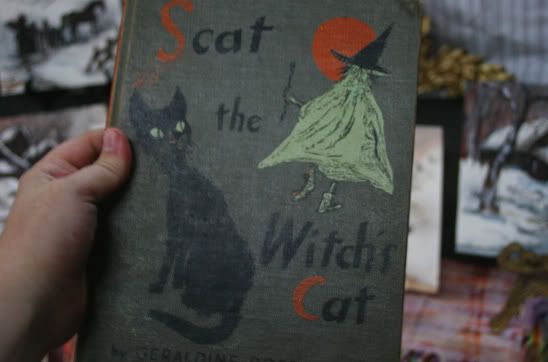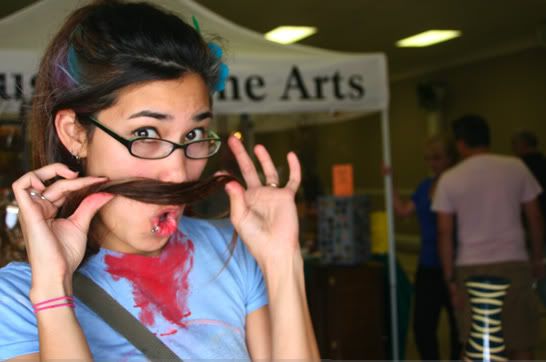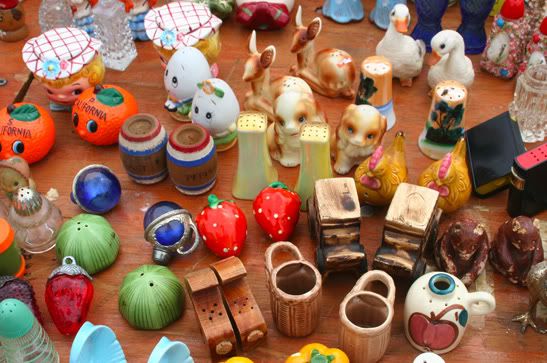 i'm regretting not getting those orange salt and pepper shakers. i really love them. i'm on the lookout for a perfect little shelf for our collection.
crystal is on the lookout for a chandelier for her bathroom. it's going to be so cute over her clawfoot tub. the guy selling these was really confusing though.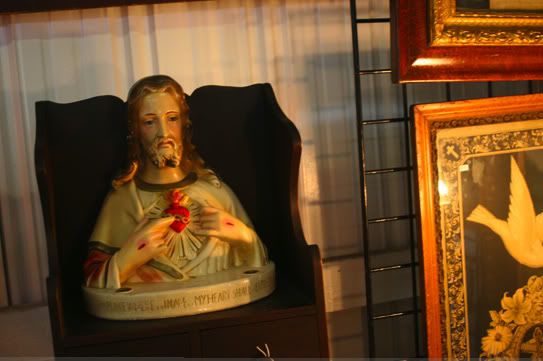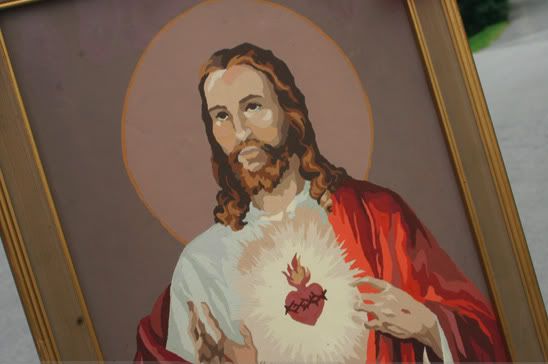 that first jesus was a big old statue connected to a cute cabinet with tiny little drawers! probably for something religious but we thought it would be perfect on your vanity to hold jewelry or something. i bought the paint by number jesus, of course. crystal and i have almost perfectly matched taste. it's so fun to shop together.
we met thomas at charlie bob's. it was weird. the waiter was this guy who seemed like he was someone's dad who just wandered in. we played rummy while waiting for our food. for some reason i am really terrible at that game. i always make the worst decisions.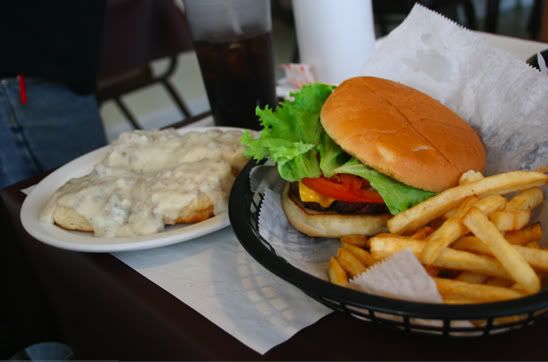 thomas got the weirdest combo. a hamburger, and biscuits and gravy.....gross. he hadn't eaten yet (i think it was 6) because he had been at the hospital waiting for a friend's baby to pop out. hahah.
now the reason we were over here at charlie bob's was because crystal and marc were taking us to see these statues. we have no idea why they are here. but they are so cute!
i didn't notice til i was looking at these photos how well crystal was matching. her shirt/socks/pants/hair all matched! what! she is so funny. when deciding on the colors for her big chest piece she took into consideration how many outfits she already owned that those colors would match.
this is right off of the interstate and we kept getting honked and yelled at. we talked about planting a letter box there, but since it's on a median, i don't think i will. i bought supplies to make some boxes though. i'm really excited about it.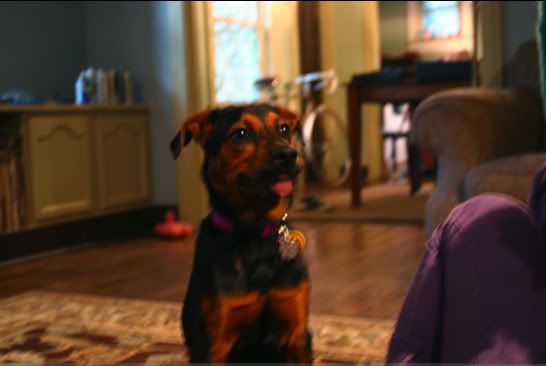 then we went back to their house to see the baby! i felt like i hadn't seen little scurvy in forever. she is so so big! and so wild!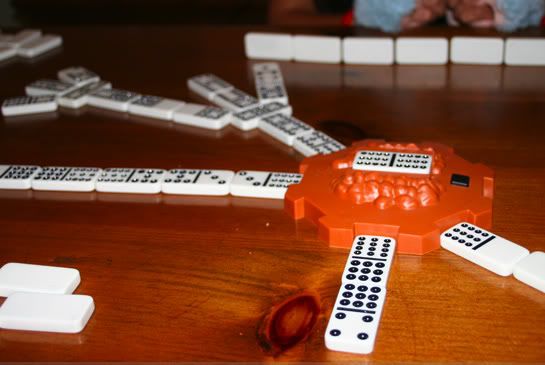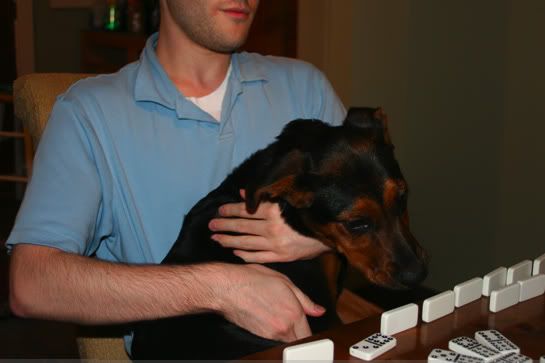 i taught them how to play chickenfoot and they loved it just as much as i do. thomas left, and travis came over after work. we ate some cake that marc made (vanilla with nutmeg. it was REALLY good). and listened to mix 92.9. the light rock station. it was SO MUCH FUN. we were all singing along to songs like "kiss from a rose" and making up new words about the game, and crystal and i were laughing so hard we were crying. i was so happy to be sitting there with those people. so much love. when we move closer to them i think we need to do weekly game night.
i think crystal won the game. i can't remember.
i took a shower there (our hot water isn't working!!) and they started watching coraline. we had to leave before it was over, once i finally tore myself away. it was a great day. just perfect.