today i went to the spring hill antique mall on my way to my parent's house to decorate their tree. i was looking for vintage christmas stuff. i didn't have any luck on the first two (of three) aisles and was kind of bummed, then i found a booth that had a ton of little vintage ornaments for 5o cents each! so cute!
i got that reindeer too. it's not old, but it's so cute! and soft! it was only three bucks. i found an old needlework map of the usa that i really want.
i got this animal cracker tin too. i think i'm going to put my cupcake liners in it. there was an animal cracker tin lamp! that was so cute! and if i had a kid i would buy it for their room. i found some furniture i like too. oh man i can't wait til we can start decorating our house.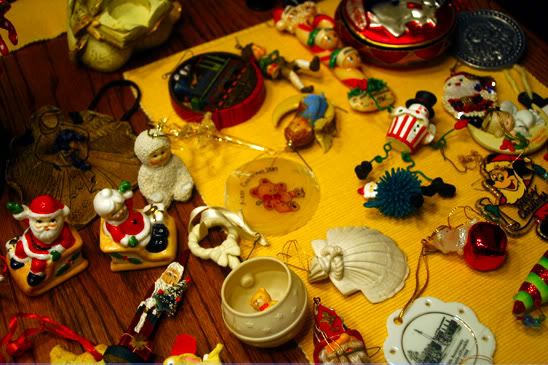 then i went to my parent's house. no one was home yet so i watched M*A*S*H and set out all the ornaments. there is something so comforting and nice about pulling out all those familiar things. i took most of my ornaments when i moved but there are still a few.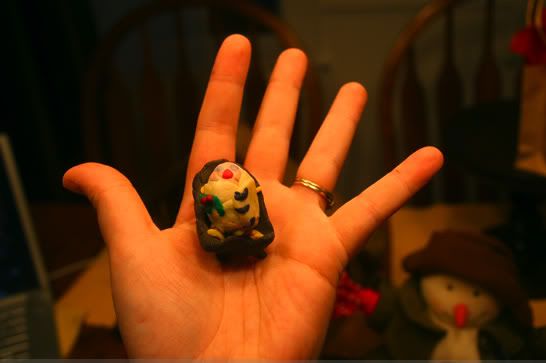 this is "stimpy jesus." i made it when i was around 8 years old. i don't know why he is so huge compared to the manger, and i'm not sure why i put a spring of holly on his swaddling clothes. haha. my dad and i always hide the baby jesus from my mom's nice nativity scene, and put stimpy in his place. she pretends to be mad. but i know she likes it.
another thing i really like is my dad always makes sure there is a blinking red light on the top of the tree. so the angel has a heartbeat. he loves that little thing, and irons her wings every year. my mom made sausage balls and we listened to amy grant christmas and put up the tree. it was really fun.
so there it is. the first, and hopefully not the last tree i will put up this year.