I love reading pug blogs. There are a LOT of them out there, and one of my favorites is The Girls. It stars Sequoia and Emma (who is brindle! I hadn't seen a brindle pug before) and Petunia, who is known as Tuni. Tuni is my favorite, she reminds me of Phyllis, but even CUTER (don't tell Phyllis I said that) because her little tongue is always out. Sadly Tuni left this world earlier this year, you can see a great tribute post to her here, with lots of cute pictures. Recently Tuni's mom did a little giveaway to send some of Tuni's favorite toys to other pugs out there in the world. Phyllis and Priscilla got chosen, and here is their new toy! Look how cute!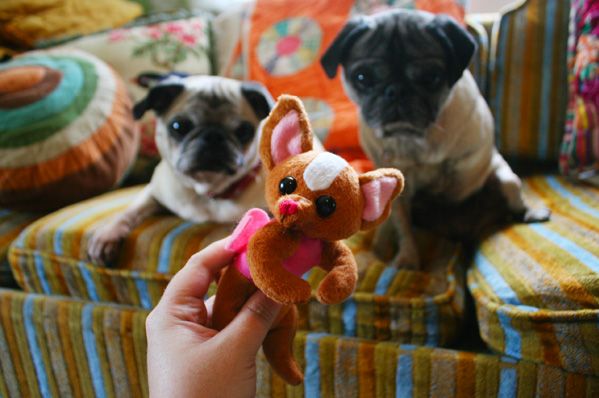 The only toys they are remotely interested in are little stuffed animals. Look at that concentration!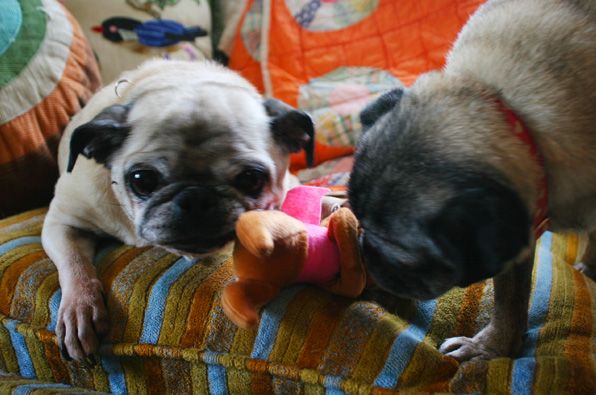 I wanted to get a sweet picture with it in between them. Didn't work!

Priscilla snatched it! I let them lick it for a little while then put it up for now. The like to slowly destroy their toys. Licking them over and over and sucking on them. Such weirdoes.
So casual.


Thanks for the new toy Tuni!