Oh hey, i forgot to do my second post about our trip to memphis. oops. i should do it before i post about the fair last week. so here!!
first thing in the morning we went to visit travis' aunt and uncle. they randomly live really close to my aunt. they got some new cats that i had been wanting to meet. I never really got a picture that captured how freaking beautiful/magnificent they were. they are norwegian forrest cats. they are really big, with beautiful thick silky hair. we got to go with them on their daily walk outside! so cute!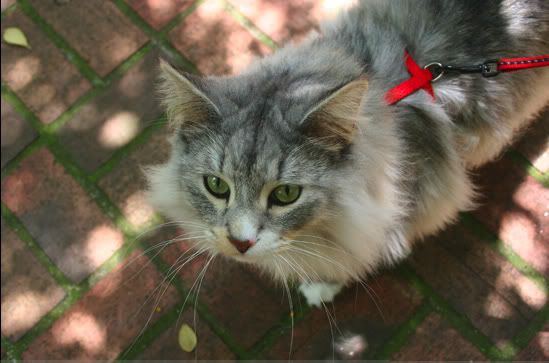 they were so freaking cute.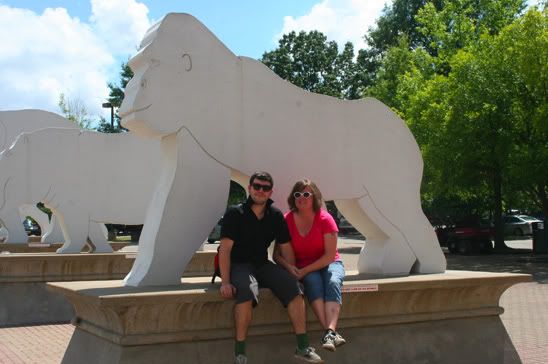 then we went to the memphis zoo! i like to go every time we go to memphis. it has an egyptian theme.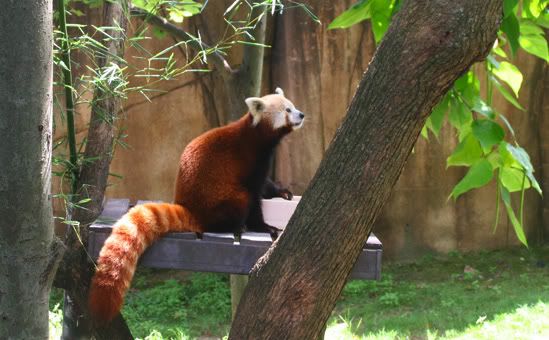 it was really hot so lots of the animals were sleeping. but this little red panda bebo was eating fruit on his little platform. so cute. there was a tiny deerlike thing standing at the base of the platform watching him.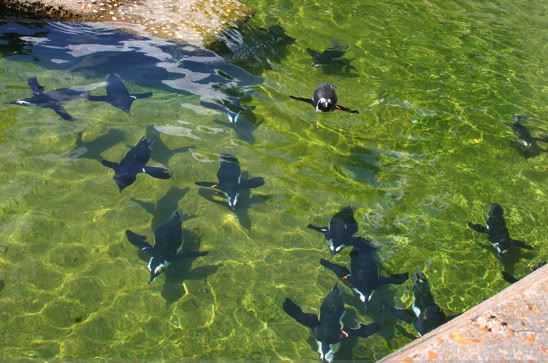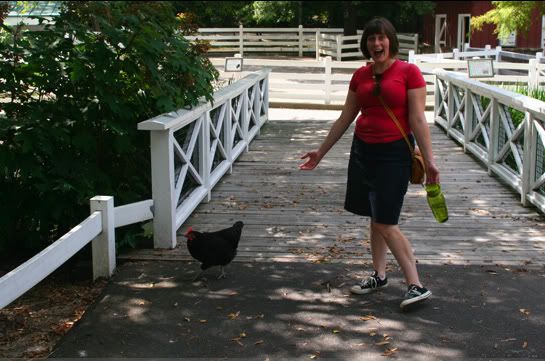 dana and a chicken friend.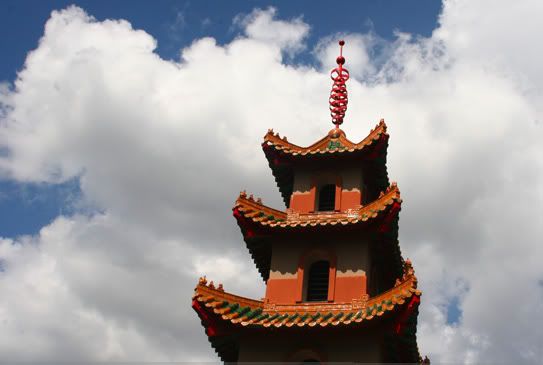 omg the pandas are close!! i remember the first time i came to see them. i was freaking out and basically ran to their exhibit first. haha.
this exhibit is monkies and otters. once we saw a monkey slap and otter in the face. hahaha, it was so good. then the little otter chased the monkey. i think they were playing.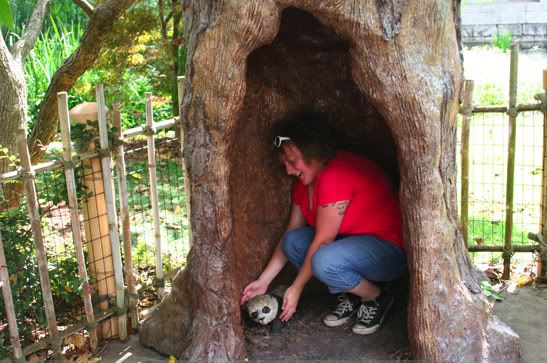 i should get all the pictures of me in this stump and put them together. i just can't ever resist.
panda 1 was sleeping. cute thing. i used to remember which was which but i dont remember now. one of them has more "bean shaped" spots on it's eyes. or something.
the other one was eating. so sweet. i could stand there and watch them all day! i planted a panda stamp near their exhibit. that is the one someone found yesterday! so exciting!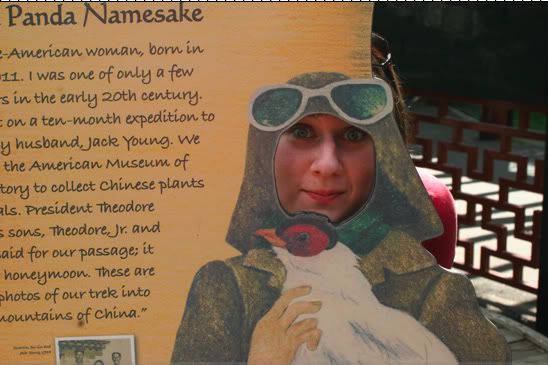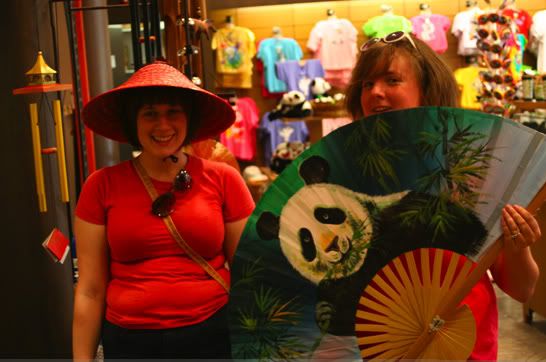 we were looking for ways to keep cool. i really can't believe i didnt' get sunburned this whole trip. i think maybe i have gotten sunburned so man times that my skin has a permanent damage layer that doesn't burn anymore. haha.
so obsessed with shaved ice lately. while we were waiting in line for these it started raining, pretty hard, but the sun was out. it was strange. no one knew quite what to do. it only lasted for a little while though.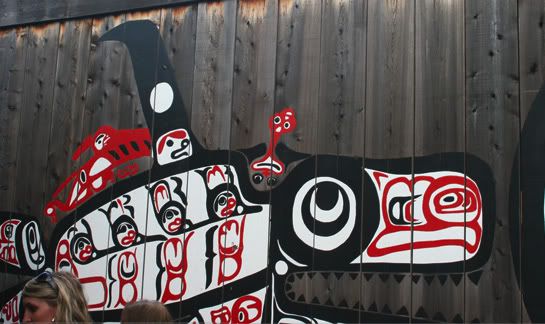 i love all the art around the northwest passage exhibit. especially the little faces coming out of the whales blow hole. so cute!!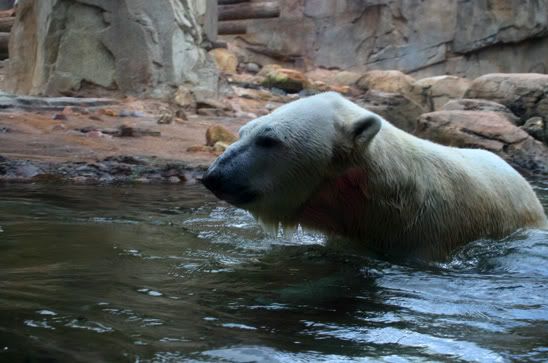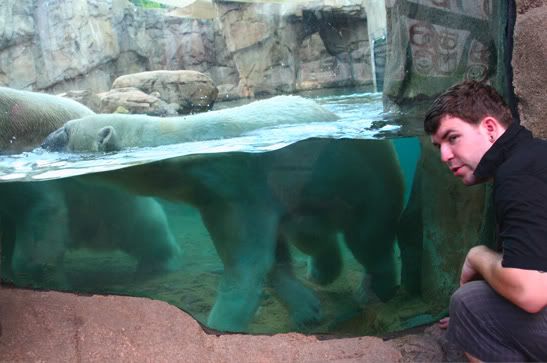 the first time i've ever seen polar bears not sleeping! they were running around in the water! they were so huge, and cute! i want to ride one.
i planted a polar bear stamp too. i hope i took a picture of these stamps somewhere. i forgot to stamp them in my book.
this little monkey in primate canyon is our new bff. so cute. we coo'd over him for probably 10 minutes. the zoo was about to close to we went to the gift shop (i found nothing. which is weird) and then left.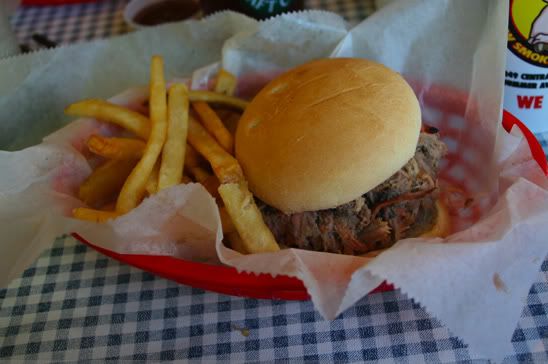 my aunt took us to central bbq, which everyone we asked in nashville said was a place we had to go. it was pretty delicious. then we headed home. but the way i knew this time so we wouldn't get lost. it was so fun. we played the ABC game with harry potter, and harry potter names.
ok, finally posted it! i feel so much better! now it's time for work. booooo.