Travis made me the BEST breakfast the other day. I told him that there was a sweet potato pancake recipe in
Bust
magazine (the most recent issue with Mindy Kaling on the cover)and he made it for me. And holy moly it was good. And it is vegan! So I thought I would share it here. They paired it with whiskey-kissed candied pecans which sounds amazing. we didn't have pecans though so we skipped them. These pancakes would be perfect for a fall brunch, they fill your house with the most amazing scent!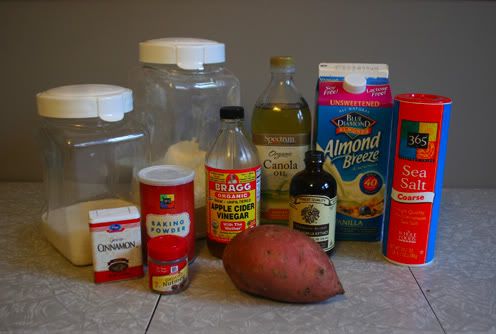 Sweet Potato Pancakes
(recipe from bust magazines oct/nov 2011 issue)
You will need:
3/4 cup cooled, mashed sweet potato
2 Tbsp. canola oil
3/4 cup almond milk (or any other non dairy milk)
1/2 cup water
2 tsp. apple cider vinegar
2 tbsp. sugar
1 tsp. vanilla
1 cup all-purpose flour
2 tsp. baking powder
1/2 tsp. salt
1 tsp each ground cinnamon and ground ginger
1/4 tsp ground nutmeg
pinch of ground cloves
cooking spray
Directions:
1. Prep your potato. Heat your over to 350 and put the washed potato on the middle rack. Put a shallow pan on the bottom of your stove to catch any drips (we didn't have any). The potato is done when you can easily insert a knife into the center. Our potato was fat and took just about an hour.
2. Whisk together sweet potato, oil, almond milk, water, vinegar, sugar and vanilla in a large mixing bowl. Add the flour, baking powder, salt, and spices. Mix until there are very few lumps, but be careful not to over mix.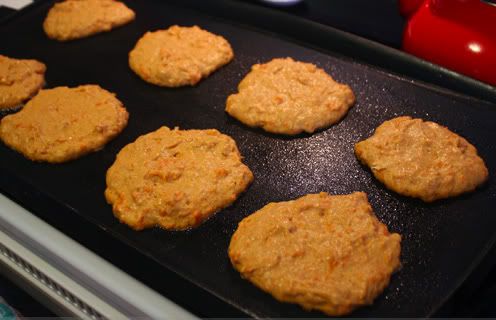 3. Preheat a large heavy bottom skillet (we used our griddle) over medium heat for at least 3 minutes. You will know it is hot enough when a drop of water dances around the pan. Spritz with a light coat of cooking spray. Pour 1/2 cup of pancake mix and cook until the top looks somewhat dry (about 3 minutes). Flip and cook for another minute. Top with pure maple syrup.
mmmmmm. i want some more right now! maybe i'll make them for myself for dinner tonight!