I have not had a lot of luck with vegan desserts since going vegan about two months ago. BUT this pie is amazing. I have made it three times so far and it has gotten better every time. I love that it doesn't rely on things like vegan butter and tofu and egg replacer. Things just taste better when they are whole foods, and not super processed replacement items.
This recipe is from Kristen's Healthy Kitchen Recipes. I bought her book at the Immersion I went too. Everything I've tried so far has been really good! She led a cooking demonstration with her six kids and husband and was super inspiring.
Here are the ingredients you will need for this creamy chocolate pie.
4 ripe avocados
1 cup date paste (pitted dates and water blended until smooth)
3/4 cup cocoa powder
2 tsp vanilla
water
It is super easy. You just mix all the ingredients in a food processor until they are creamy. You add as much water as you need for your desired texture. I never have to add very much. You can serve it as a pudding, or put it in a crust. I used a store bought crumb crust that happened to be vegan because I have not tried making my own crust yet. I want to try it with a nut crust!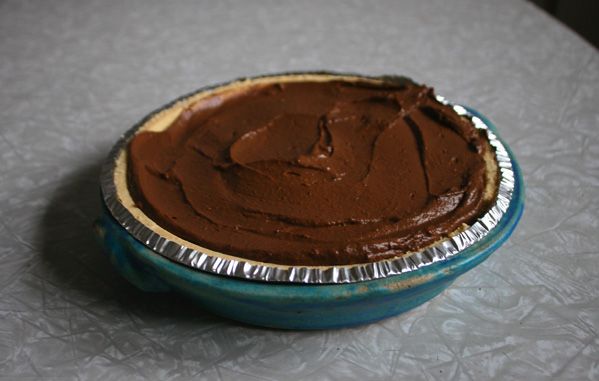 This pie turns out so rich and delicious! The avocado is packed with delicious fat and the dates add the sweetness. I brought this pie with me to a family Christmas and those that were brave enough to try it loved it! (I'm trying to teach Travis not to go through everything that is in the food we're making before asking someone to try it. Hearing that it is avocado makes a lot of people not even want to try it, but if they didn't know, I doubt they would think it wasn't just chocolate.)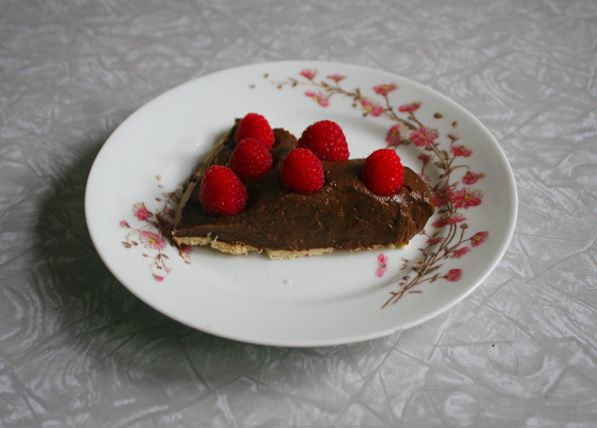 This time I had the bright idea to put some fresh raspberries on the piece I was eating and it made it even better! I'm probably going to do that from now on! So there you have it, a delicious, rich, dairy free pie! And even though this is pie is made with healthy whole foods, it is in no way a low fat recipe. Let me know if you try it!