I love to bake. I love trying a new recipe that will keep me in the kitchen all afternoon. But I also like to have a few quick recipes that never fail when i have a sweets craving or some last minute guests. I've had a few favorite chocolate chip recipes but this one is now my favorite. I can make them without getting out the book now. So i thought i would share it with you!
Cakey Chocolate Chip Cookies from Cookies by Martha Stewart
This recipe has less butter and brown sugar than a lot of other recipes, so the cookies are thick and fluffy. So perfect. I love to dip them in unsweetened vanilla almond milk.
2 1/4 cup all purpose flour
1/2 tsp baking soda
1 3/4 sticks of unsalted butter (room temp)
3/4 cup granulated sugar 1/4 cup packed light brown sugar
1 tsp coarse salt (very important! coarse salt is the BEST in baked goods)
2 tsp pure vanilla extract
2 large eggs
2 cup semisweet chocolate chips (i like 1 cup white chocolate/1 cup carob chips)
1. Preheat oven to 350. Whisk together flour, baking soda, and salt in a bowl.
2. Put butter and both sugars in the bowl of an electric mixer with the paddle attachment (just a regular old hand mixer will work too). Beat on medium speed until pale and fluffy (about 2 minutes). Reduce speed to low. Add vanilla and eggs, mix until combined (about 1 minute). Add flour mixture, mix until just combined. Stire in chocolate chips.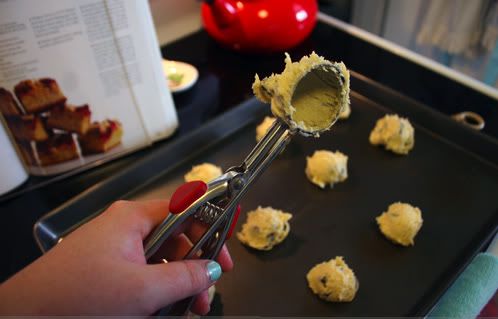 3. Drop heaping tablespoons of dough onto baking sheets, about 2 inches apart. bake cookies until centers are set and edges are golder (10 to 12 minutes) rotating sheets half way through.
let cook on baking sheets for 2 minutes, then transfer to wire rack to cool completely. Cookies can be stored up to a week in an airtight container. enjoy!