here is the day i was within hugging distance of conan! he is the third of my "boyfriends" i have gotten to see in the past two years. now i just need to somehow meet rivers cuomo.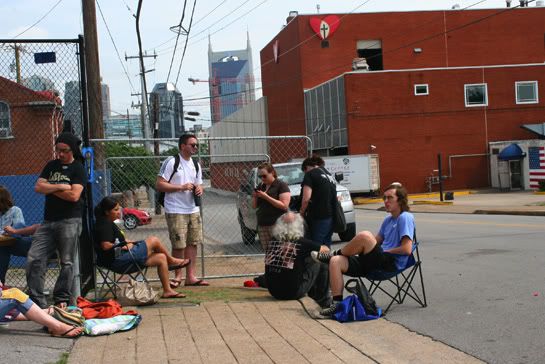 so like i said before, the show was on thursday, and it got announced on wednesday. i was worried about how early we should get there because it was first come first serve and i definitely wanted to get in. we left to house around nine am so we could do a drive by and see what the line was like. it was just those people, and we decided to stay. some of them had gotten there at 8 pm wednesday night! and the girl right in front of us had been there since 6 am.
travis held an umbrella to keep us out of the sun and we read for a few hours. i tried to play my ds but it's impossible to see it unless you are somewhere kind of dark. which is annoying.
ryan and his friend erin go there around 1:30. it was so freaking hot. we were moved into the side alley and there was NO shade. i think it got into the high 80s/low 90s.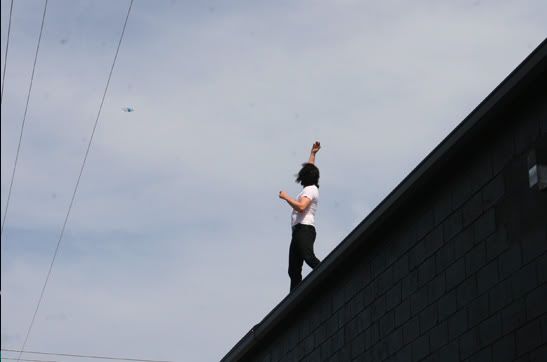 then jack white came out and started throwing water bottles to us.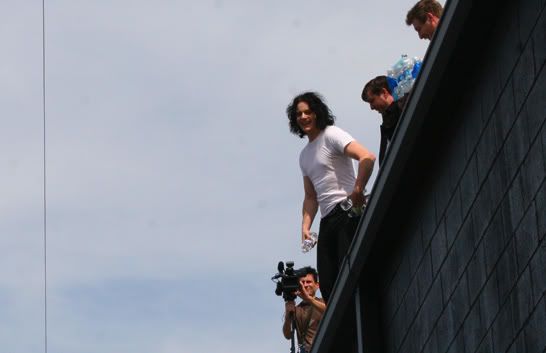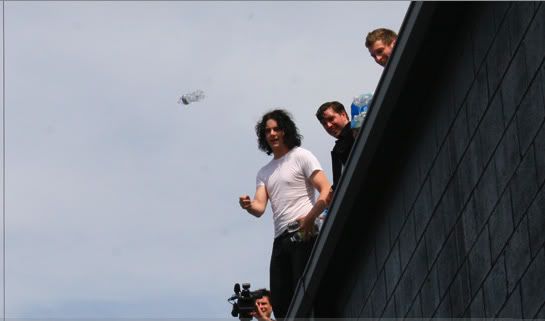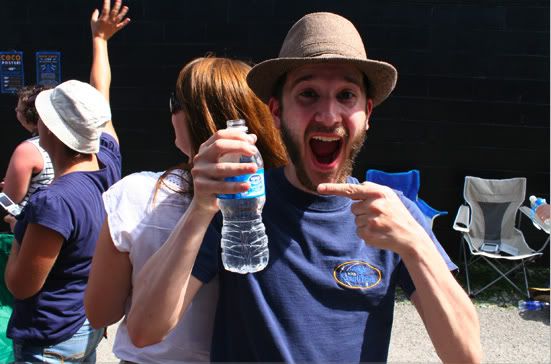 ryan caught one! ahh!
million years of waiting. it was pretty fun at the front of the line. we'd all been there so long we didn't worry about our spots. people were spread out getting sunburns and playing cards.
travis and ryan left to get dinner. this is the first piece of broccoli i've ever eaten.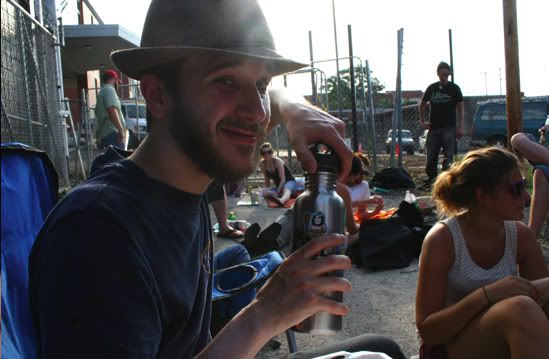 travis got a horribly hilarious sunburn. it was his fault though, he refused to put on sun screen for some reason. i got a funny little burn from missing a spot.
so out of the over 1000 people who showed up, only 300 got in. and there were almost 100 on the guest list. so i'm glad we go there early. no pictures allowed inside, which is a bummer because we were SO CLOSE! as in less than 20 feet between me and the cone zone.
jack white came out and introduced conan as an up and coming rockabilly star. we weren't sure what to expect, i was thinking mostly stand up, but he played it pretty straight and it was really just an awesome set of rockabilly songs! he did three elvis songs (King Creole, Blue Moon of Kentucky, and Poke Salad Annie), rock this town! monkey business! a cover of 7 nation army! on the road again!
at one point he said, ""I've had a crazy six months. ... Six months ago, I was the host of 'The Tonight Show,' the greatest franchise in the history of television. Then I started a live tour, going from small theater to small theater. And tonight I'm pressing a vinyl recording. I'm going back in time! Next week I'll be on vaudeville. Then I'll be a steamship captain."
best of all he started playing "creep" by radiohead and was laughing saying he couldn't play it unless he did a chimney sweep accent. and needed a top hat. so he ended up singing the whole song in a hilarious accent and jack white hopped up on stage halfway through and brought him a hat.
at the end jack white joined him to play "20 flight rock" and it was awesome, just as you would expect. before he left the stage conan said "This is probably the most fun I've had in show business…This means everything to me. This was so cool." and he was clearly moved.
the whole thing was taped and it's being put out on vinyl! if you came to the show you got to order the limited two color vinyl edition. amazing. i can't wait to get it!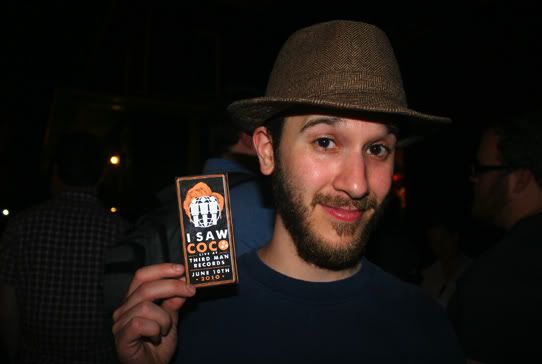 as we left they handed us these little silkscreen tickets! adorable!
so we got in the huge line to buy merchandise. we heard he was signing posters up front by he didn't do it very long. i was a little bummed that i wasn't going to meet him, but then he walked out through the front to get to the bus!
ryan shaking his hand! he was talking to erin here. she said something like "wow that was great!" and he said, "you got in? great!" very enthusiastically.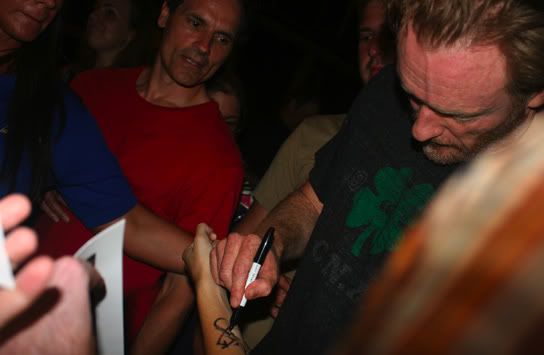 he told her "PLEASE don't get this tattooed"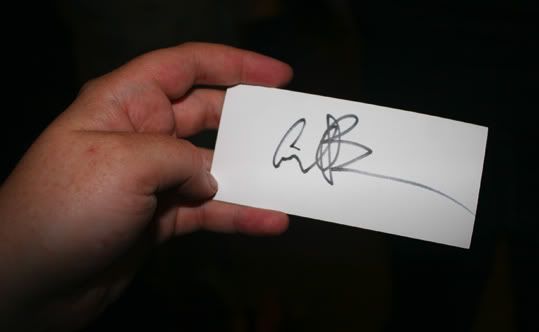 security was really rushing him by, so you couldn't really talk to him, but i got my ticket signed.

so it was totally worth waiting in the hot sun for 12 hours. pretty much a once in a lifetime thing. i love conan even more than i did before.