I am home alone tonight. travis is spending the night in smithville after doing massages all day. of course the night he is gone the temperature has to drop dramatically! I'm going to freeze! (travis is the warmest person on earth. it's like having an electric blanket.) Today the weather was really weird. A scary storm left me fearing for my life in the afternoon. But this morning it was nice and we did a random craft show at whole foods. ryan works there and let us know about it two weeks ago.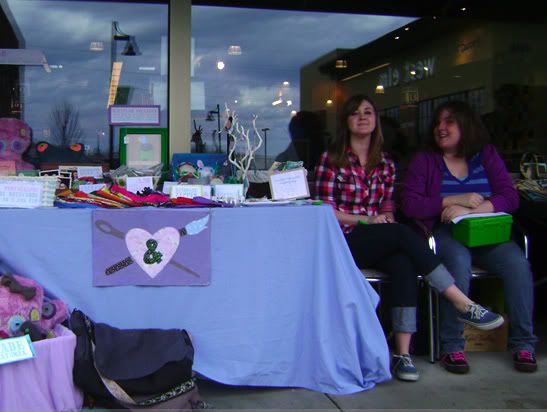 i prepared a lot for this one.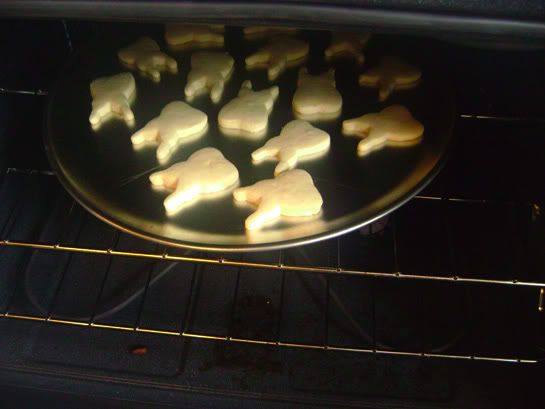 i made over a hundred cookies. I iced them, and made cute packages for them and i can't believe i didn't take a picture! it was all for nothing because i ended up giving them all away cuz no one bought them. dang. they tasted really good though. i think i got the flour/butter ratio perfect this time.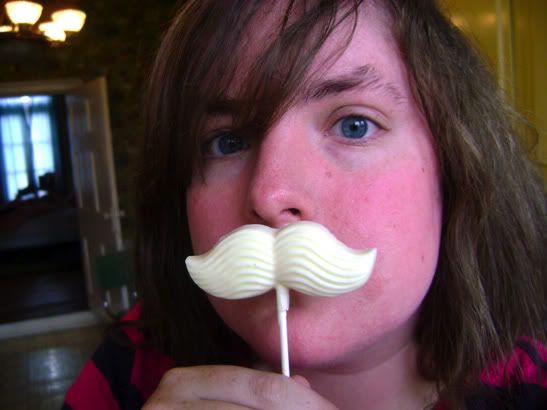 i also added two flavors of mustaches. that is a white chocolate mint one. my favorite. the white mustache is funnier to me than the brown ones. i don't know why.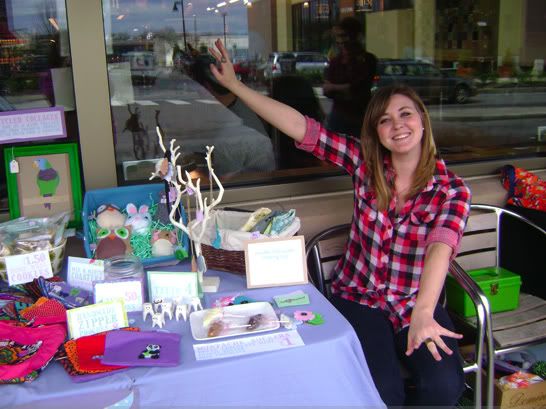 we got there around 9:30 to set up. I was exhausted. i didn't go to bed until almost 6 am and then I got up at 7:30 to finish my cookies. if only i had known! marissa looked cute though.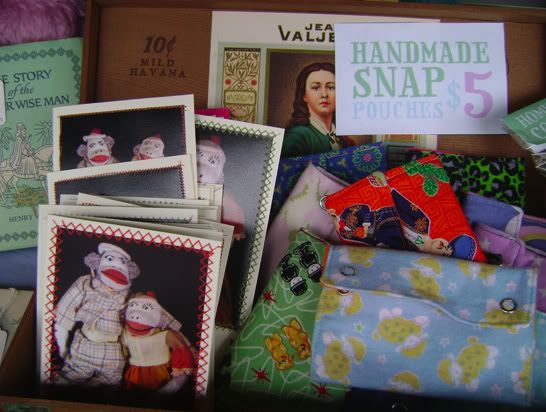 we had one table to share, which actually didn't turn out so bad. but maybe it did. since there was so much people maybe couldn't focus and see everything. Crystal found those sock monkeys at her mom's house. they were made by her great grandma, and her grandma (the late great JJ) made their clothes! so cute. i love her cards. she has another set with photos from her honeymoon to oxaca, mexico.
my new bags. i stayed up and made all of those the night before. they are small totes, with one handle shorter so you can loop the longer one through. i thought they were pretty cute. this is a terrible picture of them though.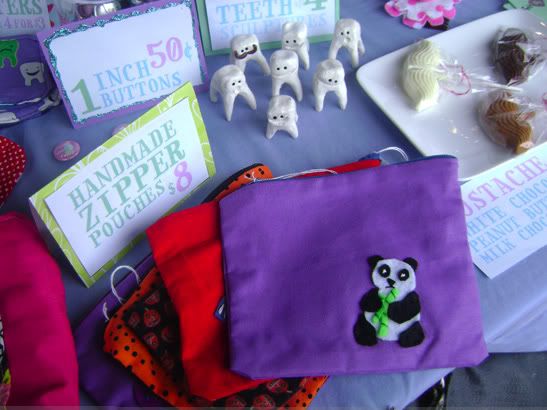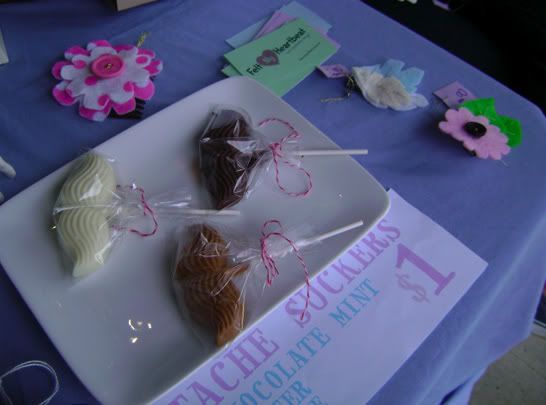 the milk chocolate mustache is for the distinguished gentleman. the peanut butter is more of the rugged cowboy. and the white is for someone who wants to appear wise. those were the only things i sold all day.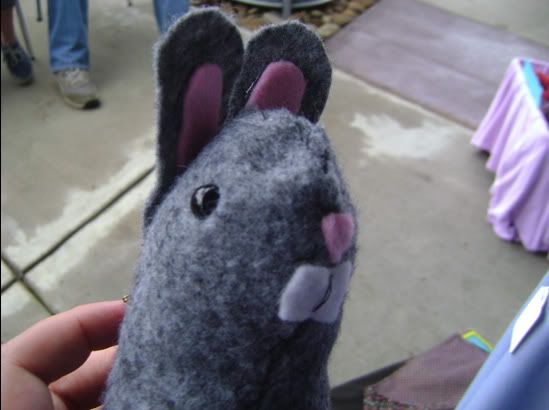 crystal bought that comb, and i bought that bunny, from marissa. so cute.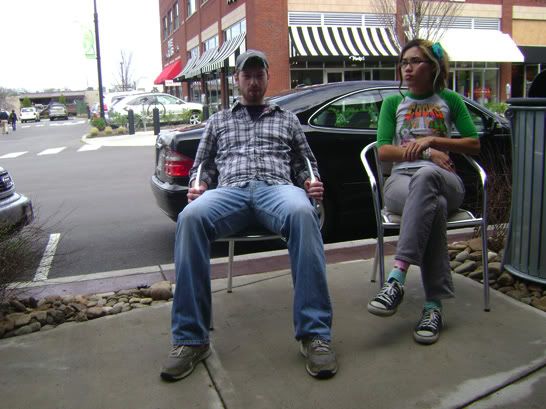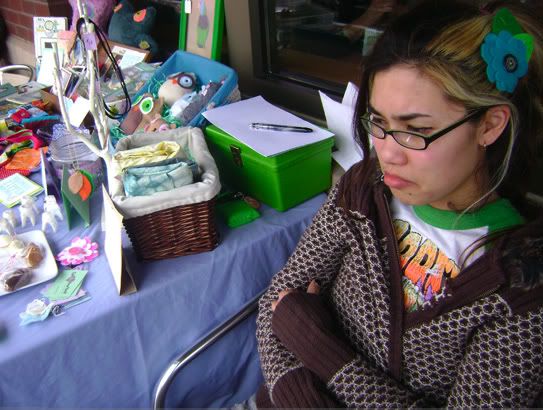 crying because no one was buying our stuff. crystal ended up selling a stuffed elephant and marissa sold a few things. it was still fun though. i went to get a grilled cheese and fries and they gave it to me in a plain paper bag, which was soon soaked with grease. it was awesome! i should have taken a picture of it.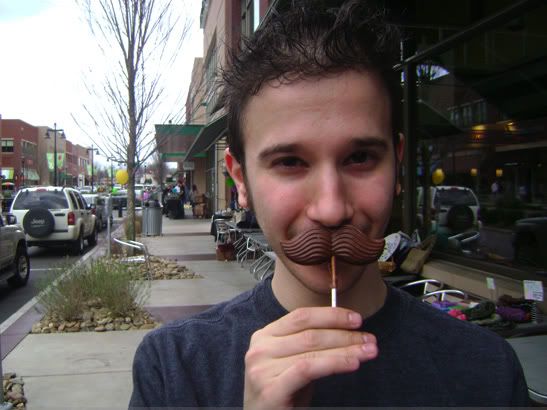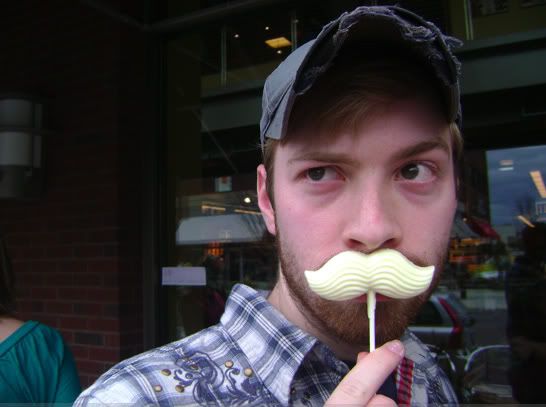 heads up. you will probably be seeing a bunch of pictures like this. until i get tired of my new toy.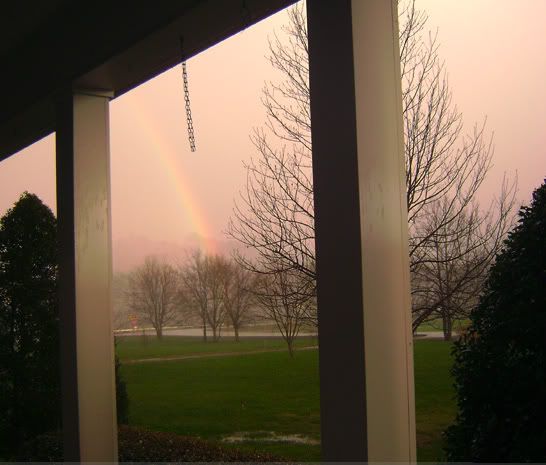 after the show i went to my parents house to have dinner with them and my grandparents. a crazy storm front came through during dinner and it was totally freaky. we hid under the stairs and hail was falling like crazy. afterwards there was this rainbow in our yard! can you see it? you can't tell in the picture but the rainbow went all the way down to the ground not even 20 feet from us! it was so awesome! my grandparents and i were freaking out about it!