Hey! I did day in my life while travis and I were only our little anniversary trip! the trip was so fun! even though it rained a lot.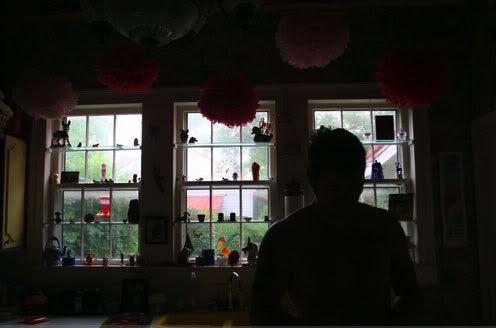 good morning travis!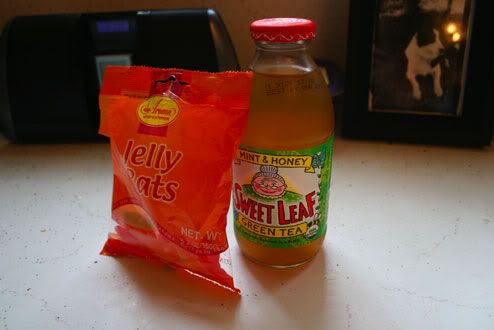 i pack a little car snack. i hold myself back from packing a cooler, since it's only a 2.5 hour drive.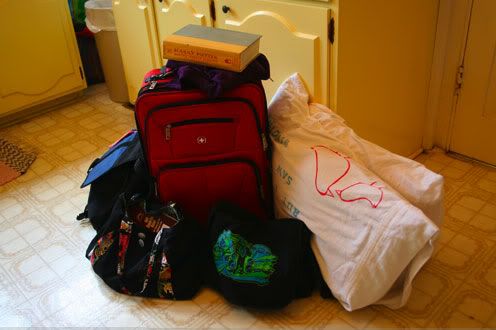 seeeeee, i overpack! for some reason the kitten was really scared of the luggage sitting there.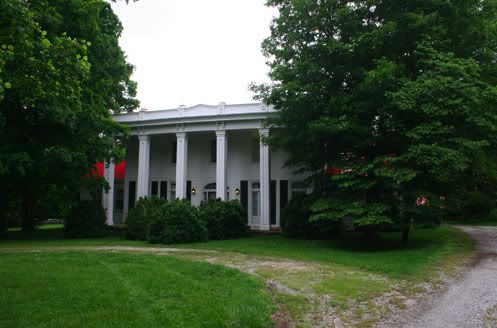 bye house! we're so excited to be on the road!
i see a sign for ruby falls really close to our house! so exciting.

you can see travis' cat wounds from a cat rescue gone bad. poor thing.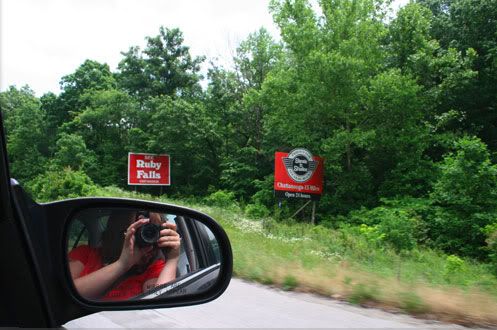 getting close! we talk about going to that steak and shake for lunch. but we forgot about it later.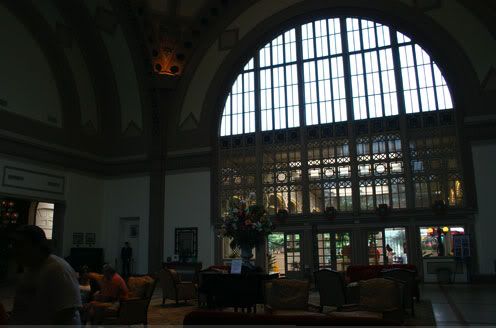 the lobby of our hotel! we are staying in! the historic chattanooga choo choo. it's so pretty! i couldn't get a good picture because of all the light coming through the windows.
we are staying in a converted train car! which one is ours! i am so excited!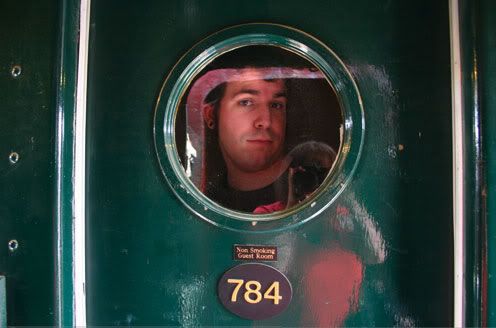 there it is!

cute!! travis found this place and booked it for us. he is pretty good at knowing exactly what i will love.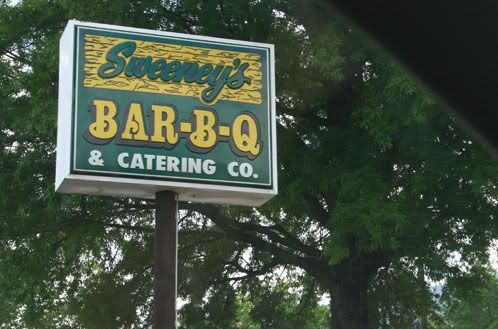 we get our tickets for rock city and stop for lunch on the way. we crack lots of lame jokes about how we hope the bbq isn't made of chopped up people. (we love sweeney todd)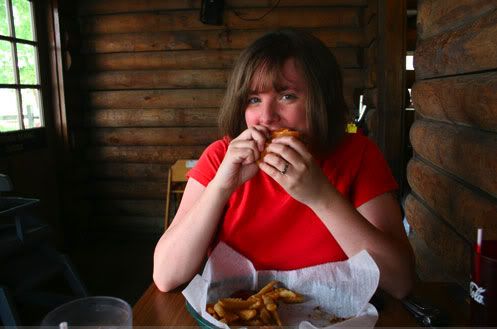 yum! it was really delicious!

Cute rock city sign! I was hoping they would have some stuff with that cute bird on it in the gift shop. they didn't. It was all lame. Such a bummer.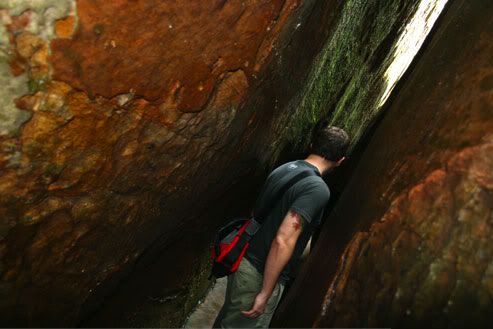 we drive up look out mountain and get into rock city! i've been wanting to come here really bad for over a year. we take the enchanted trail through the needle's eye first. so fun.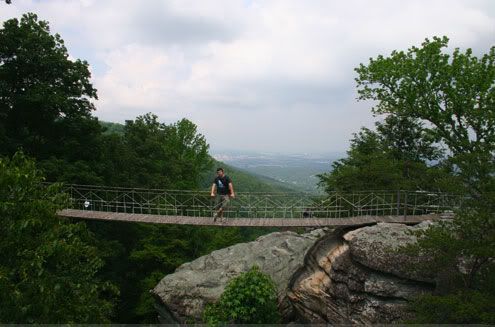 the swing along bridge! not as scary as i thought it would be.

on a clear day you can see seven states, and the smokey mountains. it was overcast though.
the view was still great.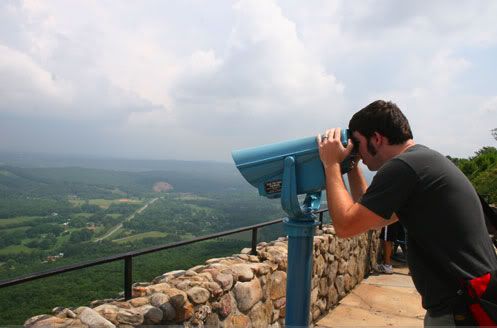 here we are at the top of lover's leap!

choices, choices. hmmmm that's easy. i can't wait for fairyland caverns!!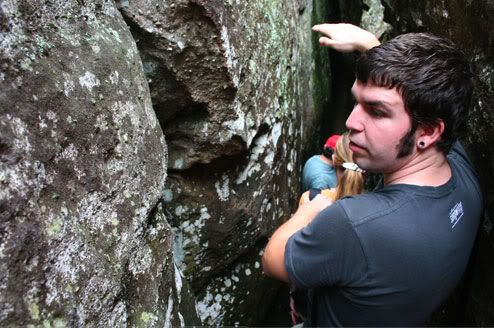 fat man's squeeze!

another view of lover's leap.

cute little rainbow corridor!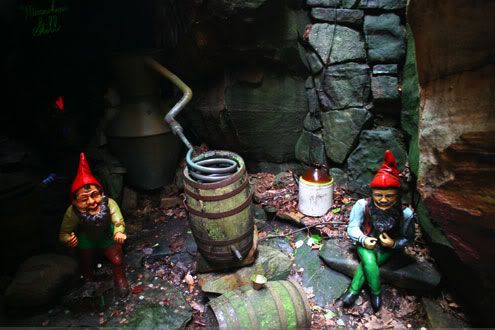 here is the hall of the mountain king. i love how majestic that name sounds.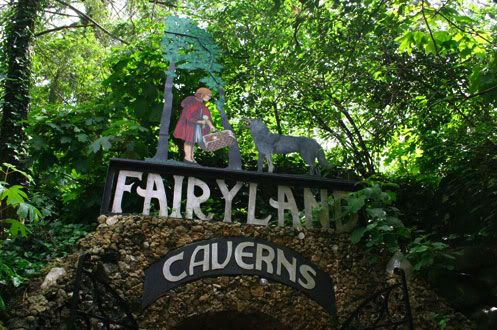 yes!! the part i've been waiting for! so basically fairyland caverns is a long cave with creepy black light gnomes and fairytale scenes. it's so scary!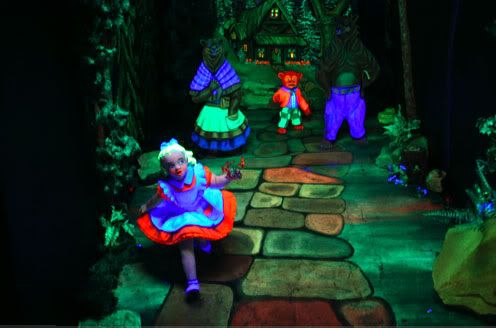 so hard to get pictures! these are probably half life sized. and you look through weird little black light frames. like a nightmare! if you use your flash you can see all kinds of trash and cigarette butts.
the scariest part is the nursery rhyme room, because it's really big and there is a creepy tape playing of kids singing. oooo i loved it!
goodbye gnomes! the weirdest thing was there was NO ONE in the cave with us. and there were tons of people at rock city. it made it even creepier.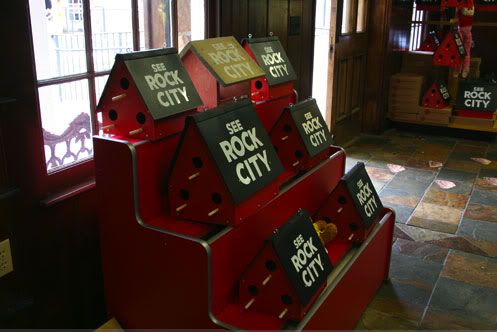 i wanted a tiny rock city bird house, but they only had this big size! so dumb. i finally found a little one the next day in a random western shop. actually, the souvenir shops were all disappointing. and i love cheesy stuff.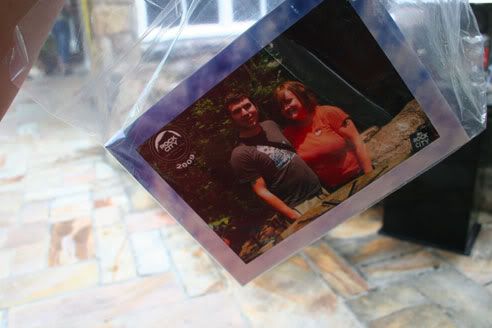 we bought our over priced picture from the front of the trail, since it was a special occasion. and it turned out really cute. it started pouring down rain as soon as we were done with the trail, which is lucky for us!
now we're driving around the mountain looking for ruby falls!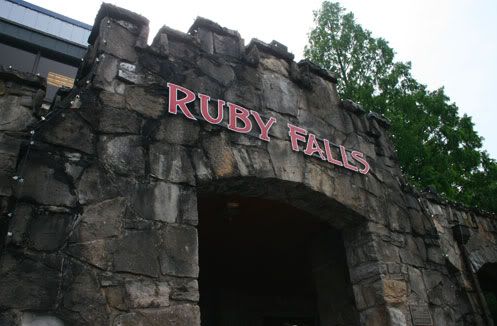 there it is! horray! i had been here in the eighth grade and kind of remembered liking it.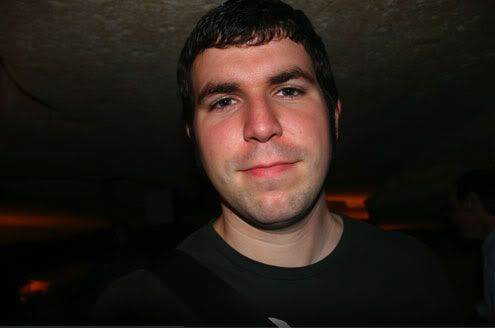 travis over 250 feet below the earth! by the time you get to the falls you are over 1000 feet below the mountain.

mirror lake.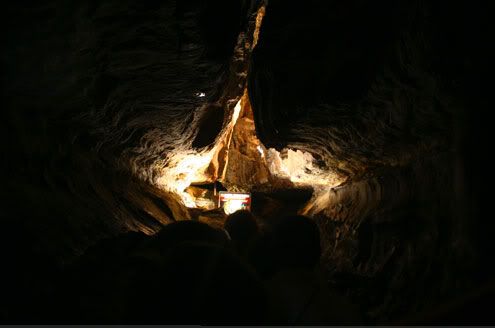 the cave was pretty. but i was pissed off for most of the tour. we were near the back of the group and the lady in front of us was stopping to take a million pictures so we always got far behind and couldn't hear the guide at all. i wanted to punch the lady in the face! she was taking tons of pictures with a crappy camera with her flash one so they weren't even going to turn out well! but soon we were at the falls! you walk in, in pitch black, and then they light it up!
so beautiful!!

we headed back to the hotel to get ready to go out to dinner. we wanted to eat somewhere fancy. but we forgot it was memorial day, and by 7:30 almost every place was closed and no one was out! dang!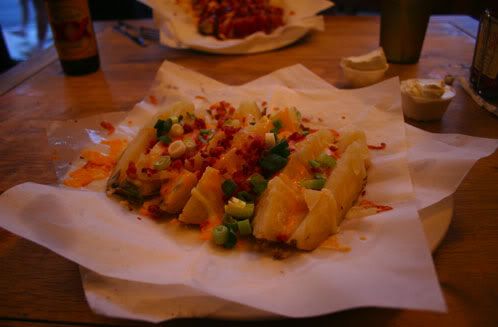 we ended up at a place called mudpies on the river front. i had a stuffed potato with cheese, bacon, and scallions. it was really really good! we were the only ones in the restaurant. it was so weird.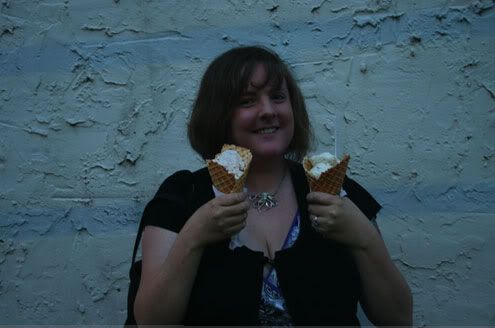 we got ice cream at a place called clumpies right down the street. i got pistachio an it was amazing. travis got banana cream.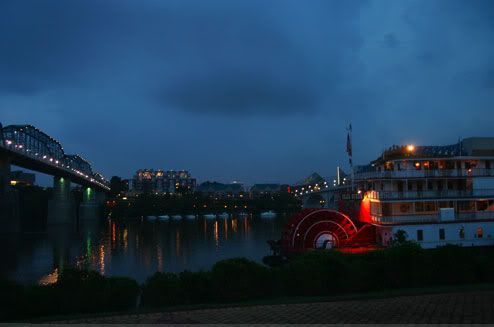 we walked down to the riverfront through the park and it was so romantic! there was heat lightening in the sky and a guy on the walking bridge was playing saxophone. which was carrying nicely down to the river.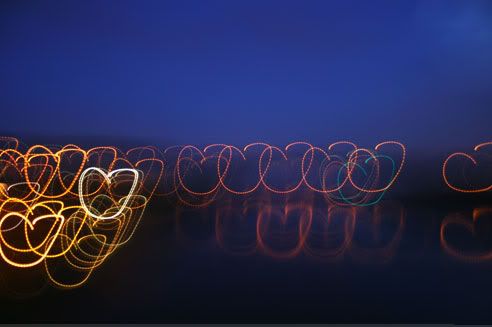 we walked halfway over the pedestrian bridge and i took heart pictures of the light in honor of our anniversary. we smooched on the bridge then headed back to the bridge when it started to rain.

it was pouring when we got back to the hotel. it sounded awesome on the train car roof!