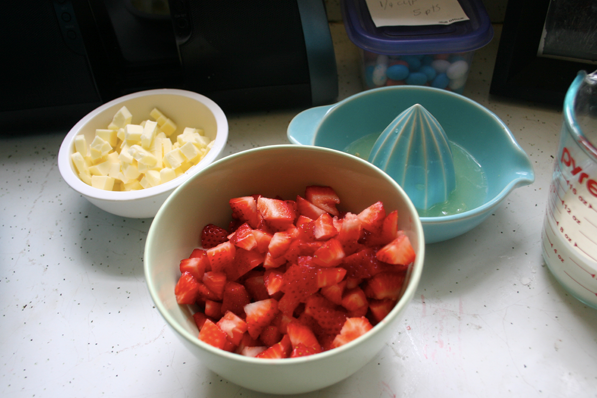 a few people asked me about these cookies i made for our anniversary party...so here is the recipe! It's from the June 2009 Martha Stewart Living.
these cookies were even better than i thought they would be. they were really soft, but the sanding sugar on top added a crunch that was really nice. also i had never had cookies with fresh strawberries in them. so delicious! i love this recipe and i'm going to make it again no matter what.
Strawberry Shortcake Cookies
Makes about 2 Dozen
12 ounces of strawberries, hulled and cut into 1/4 inch dice (2 cups)
1 teaspoon fresh lemon juice
1/2 cup plus 1 tablespoon granulated sugar
2 cups all purpose flour
2 teaspoons baking powder
1/2 teaspoon coarse salt
3 ounces (6 tablespoons) cold, unsalted butter, cut into small pieces
2/3 cup heavy cream
sanding sugar (for sprinkling) (you can get that at a craft store in their wilton section. i don't think it would be the same without it.)
1. Preheat oven to 375. Combine strawberries, lemon juice, and 2 tablespoons granulated sugar. Whisk together flour, baking powder, salt, and remaining sugar in a large bowl. Cut in the butter with a pastry cutter, or rub in with your fingers (i tried both and thought using my fingers was easier) until the mixture resembles coarse crumbs. Stir in cream until dough starts to come together, then stir in strawberry mixture.
2. Using a 1 1/2 inch ice cream scoop (i used my cookie scoop. you can use a normal spoon) drop dough onto baking sheets lined with parchment, spacing evenly apart. Sprinkle with sanding sugar, and bake until golden brown, 24 to 25 minutes. Transfer to a wire rack and let cool. Cookies are best served immediately, but can be stored in an airtight container at room temperature for up to one day.