today i went into whole foods to fill out some paperwork. i'm going to be working there again on monday! only part time, but maybe that will give me time to find some freelance work. who knows.
even though we've been pretty broke since i left that terrible job, we have been able to make some small purchases at flea markets/antique stores. i have made a few cute additions to our salt and pepper shaker collection, which is almost exclusively animals:
i wanted some squirrels like this at the salt and pepper shaker museum but they were 38 dollars! these didn't come with the tree they are supposed to hang on but they are cute anyway (and only three dollars!) so i hung them from little nails in the window above my sink. the lady i bought them from was SO NICE. she was like " i know they aren't a complete set but i thought they were so sweet and i hoped someone would love them." mission accomplished.
cute owls we picked up in princeton, kentucky. JAPAN is stamped on the bottom. i have lots of japanese napa wear animals planters in storage waiting for me to plant stuff in them.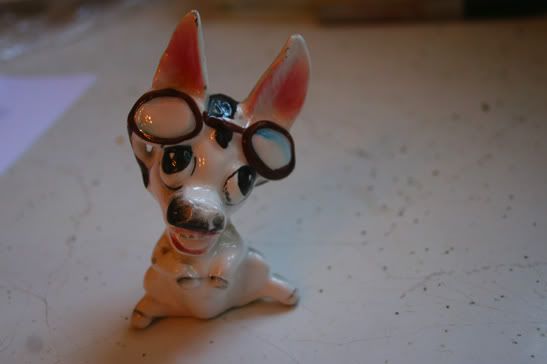 this little guy was labled "mr. donkey" and is missing his mate, but i loved him so much, i bought him anyway! i got him at the spring hill antique mall. so cute.
for some reason almost everything i buy at antique stores is for my kitchen.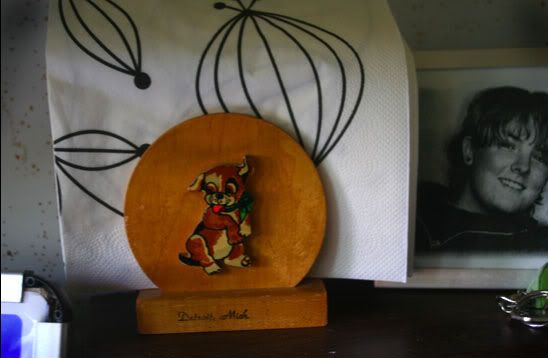 cute puppy napkin holder! ah! we already had a cute old napkin holder but this one was even better. it's sitting on top of our old fashioned radio. for some reason people always ask us if it came with the house.
set of glasses someone hand painted to match a famous poppy pattern. i got 5 for three bucks. the lady at the counter couldn't believe it! she was very talkative, and i think she was disgusted when i didn't know what poppy pattern she was talking about.
the same lady then made this bag for me to take my stuff home! she stamped it, and wrote on it! how cute! she also reminded me three times that they had ice water and cookies at the front. she probably kept talking to me because she thought i was going to steal something. maybe not.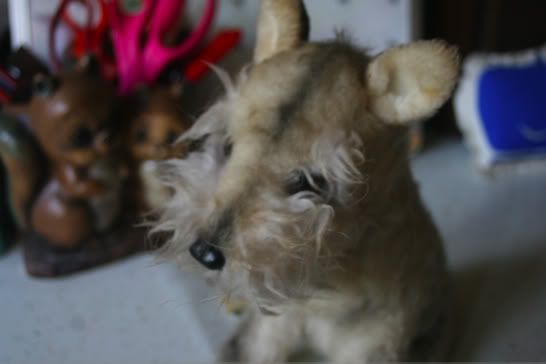 a cute old stuffed dog that i fell in love with in a weird junky booth at the flea market.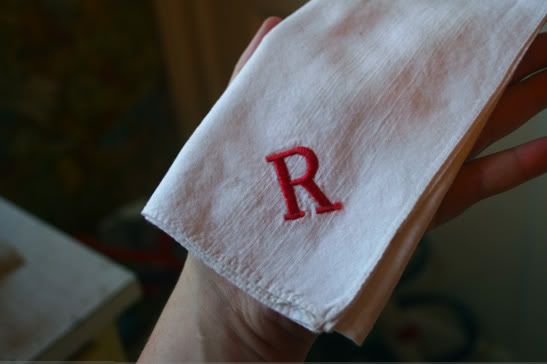 hanky with an R. since my name is Rae. i don't know what to do with this. but it was only a dollar.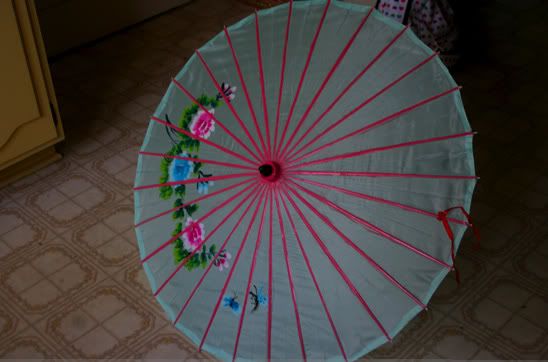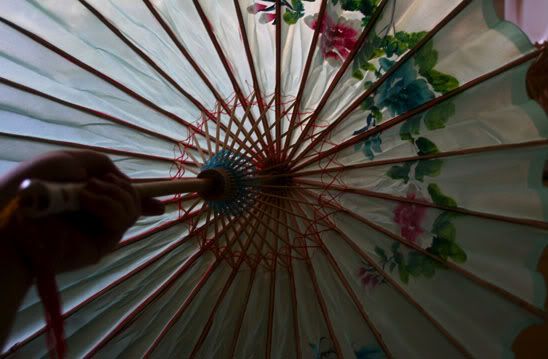 not an antique, but a cute parasol for future photo shoot. crystal bought one too.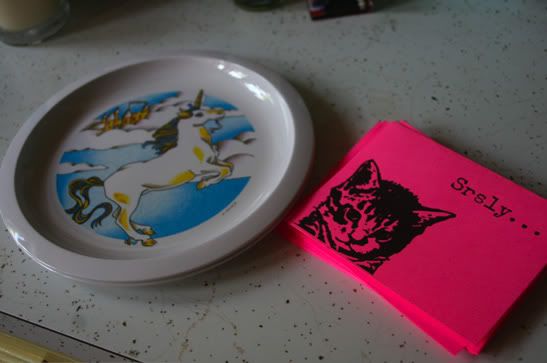 unicorn plates: 25 cents! kitten cards: 1 dollar for eight! yes!
i love antique stores/flea markers. fo sho. when we buy a house it will probably be almost completely decorated in antique store finds.