we are going to memphis this weekend, and it's elvis week! we are going to the vigil saturday night and i am so pumped about it. the vigil is held every year on the anniversary of elvis' death. you walk up the driveway of graceland to the meditation garden (where elvis is buried) with a candle. thousands of people come out. they make shrines to him in the streets...we went a few years ago, but waited until really late and the crowds thinned out. i want to see the opening ceremony this year.
i took murray to the vet this morning for his yearly shots and checkup. little baby is 10 pounds now! he used to like the vet because he was tiny and the ladies all cooed over him, but this time he hissed and did that kitty growl and puffed up his tail. so bad. they did a "fecal floatation" and it was just humiliating for the poor dear. but he is healthy, and doesn't have to go for a year. he is running from me whenever i come in the room, which is heart breaking. i hope he'll forgive me by the afternoon.
here are some pics from when i wasn't confined to the house....first i'll show you some from when travis and i went to a really old cemetery near downtown nashville.
it prompted lots of talk about what we want to happen when we die. we both want to be cremated. i don't know what i want him to do with my ashes though. i wouldn't mind them being buried in the backyard, like we did with my dogs ashes, but i bet there is probably a law against it. what do you want to happen to your body?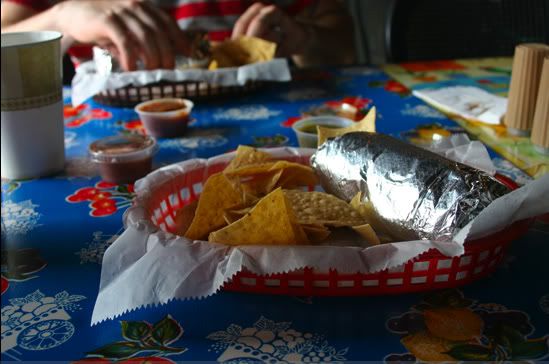 another travis' day off baja burrito lunch. i'm still obsessed. i can never decide what kind of salsa i want. they have a really good tomatillo one, and they also have a really good pineapple one. so i usually get both. yum.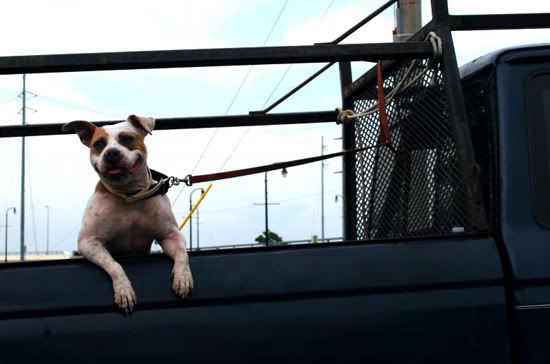 we saw this dog in the back of someone's truck on our way to the cemetery to do some letter boxing. he was so cute and kept posing for me.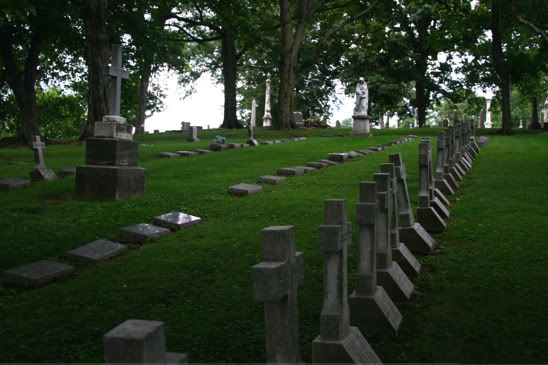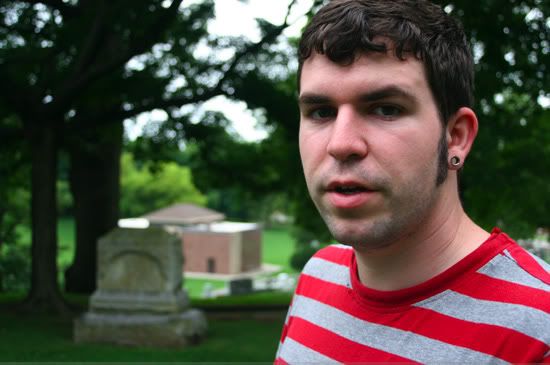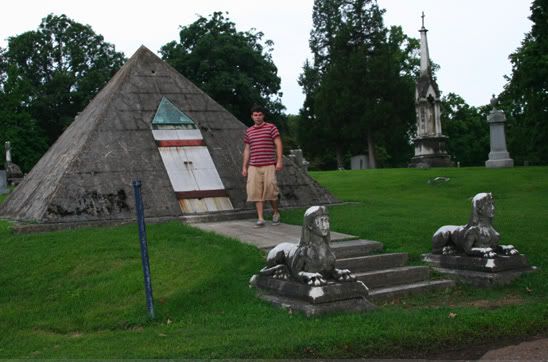 this old cemetery is really awesome. especially that pyramid. so creepy. this part of it is really really old. travis' parents took us on a tour of old nashville cemeteries randomly one easter.
here is what we were there for. clown graveyard stamp. haha.
i got some gold ink to use with my signature stamp. yes!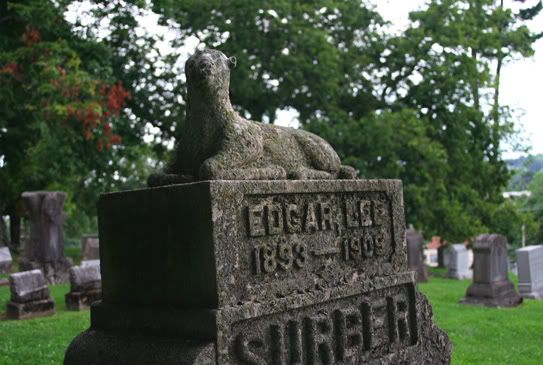 i love lamb head stones. i know they are kids, but the lambs are so cute. i told travis that i want a cute animal on my grave. i actually told him he could but a cute stone rabbit or deer from a garden store and use that to mark where my ashes are, and decorate it every year for dia de los muertos.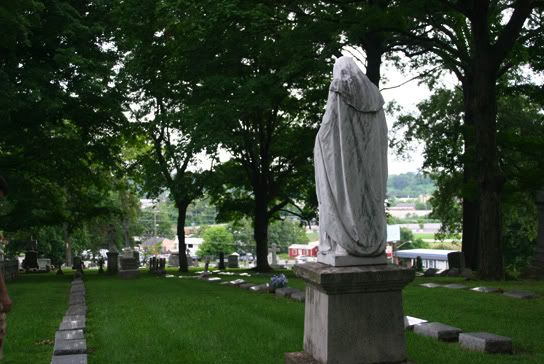 this cloaked lady (turned out to be a nun) freaked me out really bad. as we were walking towards it i was thinking about how creepy it would be if she turned around, then i started imagining it. i'm very good at freaking myself out.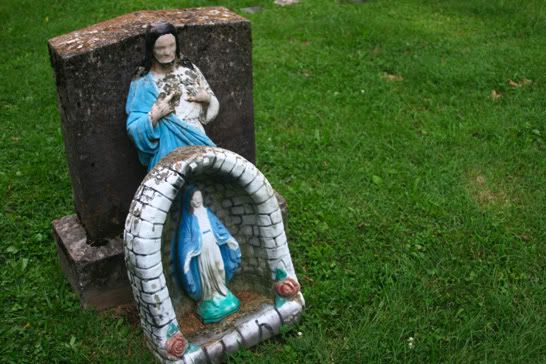 scary! like a zombie coming out of the grave! i love all these elaborate old head stones. some are 15 ft tall!
we were supposed to go to derek's house after this and see his new scooter. but we were so tired we just went home. it's been so hot and humid here lately that i don't want to be outside at all. i planned a little letter box trip for myself and then only made one stop because the hike (a little over a mile) was just so unpleasant.
the heat also sucks because our electric bill was almost 250 dollars this month! that is over a hundred dollars more than it has been since we moved in! ahhh! i'm going to have to keep the thermostat way up. looks like we already spent the money i made working for the magazine last week.