so it's raining like crazy in tennessee today and we are stranded at whole foods! when we got here customer's cars were FLOATING AWAY in teh parking lot. there is water in the store, halfway back is flooded. they've barricaded the front doors so no more will come it.
and it's not supposed to stop raining until midnight. omg i want to go home so bad. our basement is getting wet and we don't have flood insurance and i'm freaking out.
so send me some good thoughts so we don't get washed away! we will literally probably have to swim to our car to get home. daaangggg it!!
EDIT: We finally got to leave! it took us an hour and a half to get home! (it usually takes 15 minutes) so much craziness.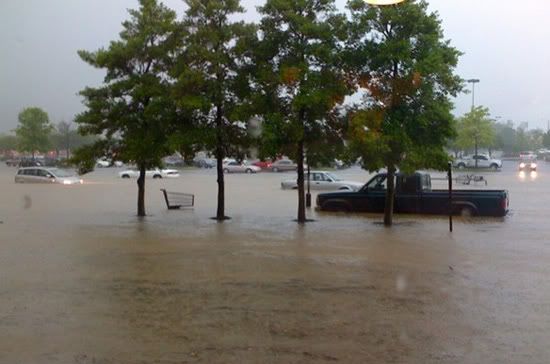 can you see the bags of compost we used to try and keep the water out? the picture with the truck in in, it actually got deeper than that! the carts were almost submerged.