I am SO EXCITED to see this movie. It is a documentary about Wayne White! Not only did he graduate from my alma mater, he was the set designer for Pee Wee's Playhouse! Among other things. Seriously, watch the trailer, you are going to love it!
Pee Wee's Playhouse was a HUGE influence on me as a child. Wayne White did a bunch of the puppets and was the voice of Randy. He also was a designer on Riders in the Sky and Beakman's World, which I also loved.
Now he is mostly known for these incredible word paintings that he does over vintage landscape reproductions.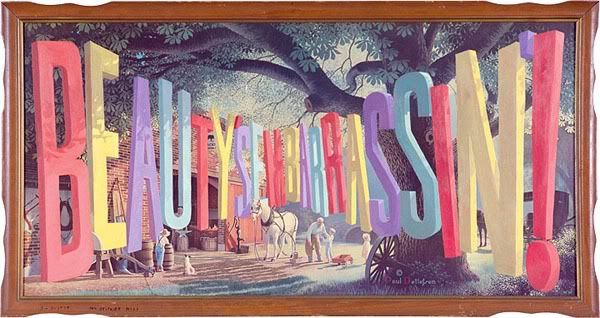 I love the part in the trailer where he says "My mission is to bring humor to fine art."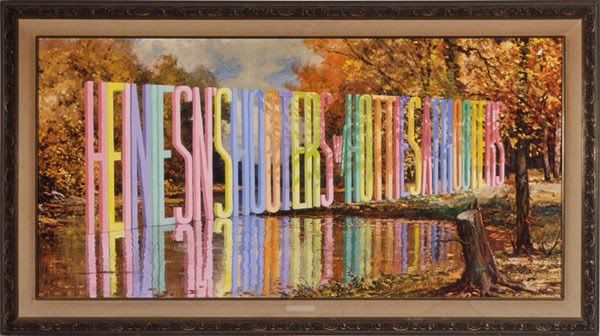 "Heinies n Shooters w/Hotties at Hooters"
All these images are from his
website
. I looked through ALL the galleries, cackling and annoying Travis the whole time.
He came and spoke at a student design event when I was in school. I remember it being hilarious and completely inspiring. Which I needed to be reminded of.
This year one of my goals is to be creative again. You probably don't know, but I have a B.F.A. in graphic design. I graduated in 2008 and after a brutal job search that ended with lots of rejection I pretty much gave up and lost all confidence in my creative abilities. I started college as a painting major and it has been years since I've even thought about painting. And it is a shame because I always loved it. So I'm going to take some inspiration from Wayne White and try to make art again. Even if I never show it to anyone. Art doesn't need to be serious, and it doesn't always have to be perfect. I'm going to try and remember that. We'll see how it goes.