Are you ready for a million posts about our road trip to Florida? We had a really great time. I actually forgot it was winter! I keep trying to leave the house without my coat and being surprised when I see snow falling from the sky! So here is day one!
We spent the whole day driving. But we used one of my favorite resources, Road Food, to find fun places to stop and each. First was the Varsity in Atlanta, Ga. It was so cute! Here is the drive in part: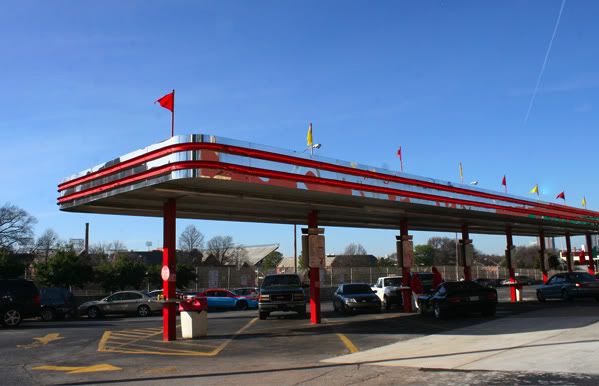 There are probably 12 registers open and you just walk up and they say "whata ya have? whataya have? whataya have??"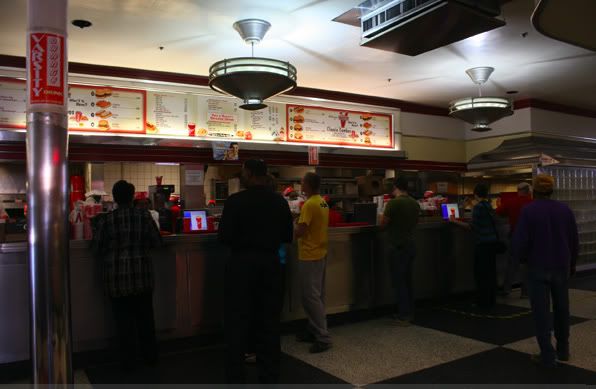 Travis ordered for me while I tried to get a picture of this awesome mural without a glare. I never succeeded. Lookit all those cute dogs! I love it.
Yummmmmm. We got grilled cheese, which was just ok. Their burgers and hot dogs are supposed to be really good. Travis had pimento cheese on his and I tried it for the first time. I will begrudgingly admit that it was good. For some reason they gave us two bags of chips, even though we ordered two sides. So weird.
Those onion rings! Probably the best I've ever had! They were perfectly crispy.

The fried pies were recommended on the site. I think we got them on a bad day because they were kind of burnt and weird. Not terrible, but not what I was expecting.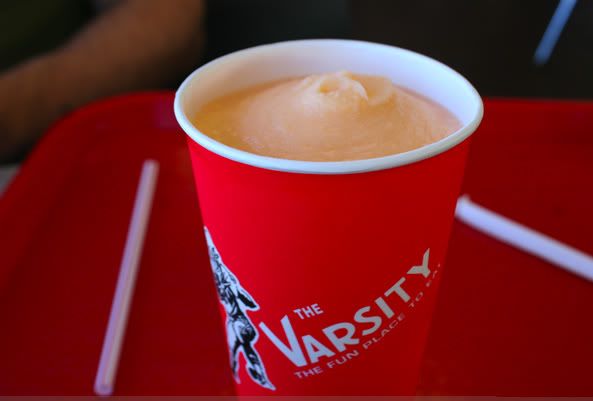 My favorite was their signature drink, the frosty orange. It was like a perfect mix of a sonic slush and a milkshake. I loved it! I want another one now! I actually made Travis stop on the way home so I could get another one.
On the way out there was this guy doing pencil drawings. Most of them were of places around Atlanta and I was looking at old drive ins and movie theaters when I stumbled across the perfect gift to get my dad for his birthday (which was the next day)
We were actually going to be going to the Ponce Inlet Lighthouse in a few days with my dad! He loves that place and we have been a few times as a family. This drawing was the last one before you walked out the door. I feel like it was meant to be! And my dad loved it!
Back on the road, we listened to this book on tape. It was really fun. We were actually laughing out loud and lots of the kitty stories. We are both cat ladies. Of course the end was sad and totally bummed me out. Ugh, why do I never expect that with animal stories!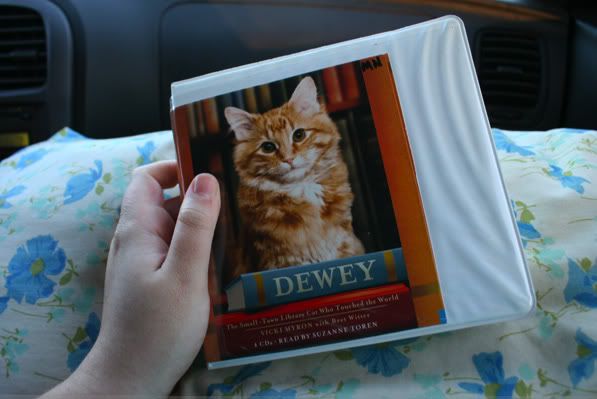 We got to Savannah and went to this restaurant, another Road Food recommendation. We are pescetarian and had been looking forward to all the great seafood you can get once you get to the coast.
We shared a fried captain's platter and it was really disappointing. The scallops were the best part, and they weren't anything amazing. I didn't even love the flounder, which is my favorite! So sad.

And look at that TAIL! It really grossed me out, and the bones were in there too. Barf!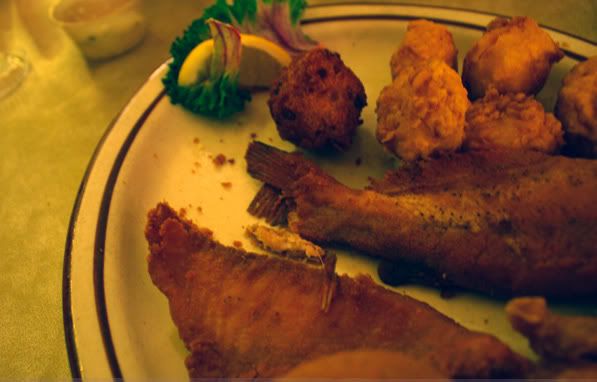 After dinner we stopped in a Microtel to sleep and I pulled out my books to do some more planning. Oh man I really can't wait to show you the rest of the trip!