Travis started his new job today! To celebrate, we went out to dinner! We had planned to go a Korean place that Travis is in love with, but it was closed monday. Then we tried to go to the Gerst Haus, but it was closed! Then I was about to DIE from hunger so we went to Chuy's. Haha. Do you have one in your town? It is a chain, but it is pretty cute inside! (This is his proud face)
See? It was about 4:30 so it was dead! But when you get to work at 6am, 4:30 is a pretty good dinner time! (I feel so old! We went to bed at 10:30 too!)
Their chips are so good! Really thin and freshly fried. Yummmm.

I got a huge bean and cheese burrito. Travis had fish tacos, and as my gift to him on his special day, I didn't make him wait to eat it until I took a picture.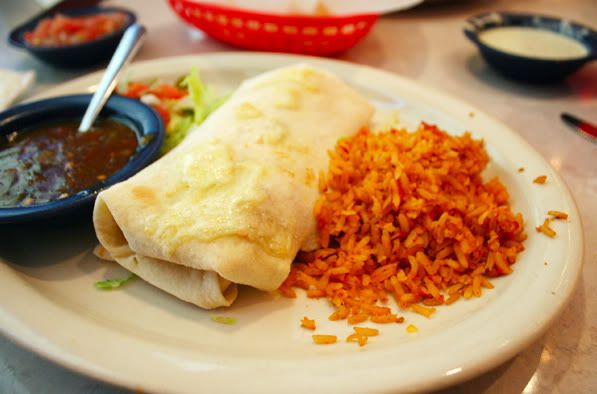 After that we went across the street to Gigi's cupcakes! Mine was Merry Margarita! It have been loving citrus this summer! Look at all that icing! I had to wipe some of it off because it was just too much!
While we were enjoying our cupcakes this pink hummer limo pulled up! Then about 10 little girls poured out! Mostly wearing pink. It was a birthday party, and they got to ride in this from Lebanon (probably 40 minutes away) just to get cupcakes! How fancy!
Travis got double chocolate. And squashed it before I got a picture!

So here is to Travis and his new job! We're really excited for this change and I think it is going to be great for us.