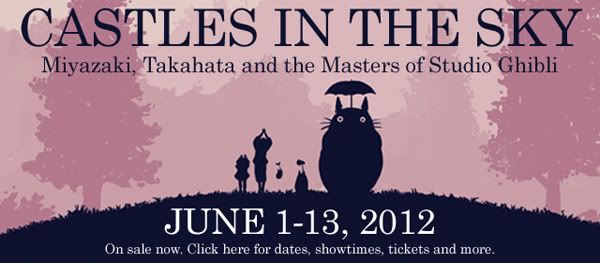 I am so excited that the little local theater, the Belcourt, is having a Miyazaki and Studio Ghibli series right now! Some of my favorite movies are included, and I'm trying to see as many as I can on the big screen. Sadly I'm going to be out of town for 4 of the days, but I'm still going to get to see a lot! Nashville friends, click the top photo and you can see the schedule! They are showing the dubbed versions during the day, and the subtitled at night.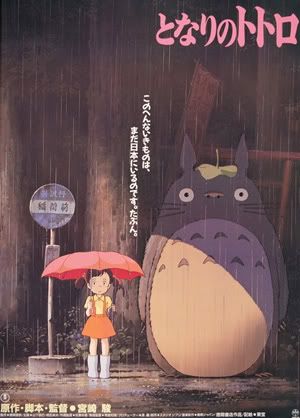 Last night Travis and I went to see My Neighbor Totoro. It was my first time seeing it in the original Japanese (and my 100th time seeing it overall, haha) and I think I liked it even more! The dubs are good, but there was just something about the original sound. Totoro is so incredibly cute funny! The theater was packed. I think it was the most nerds per square feet I have even been around, and that includes the Pez convention!
I'm bummed that I won't get to see Howl's Moving Castle on the big screen. It is playing while I'm gone. The artwork is so stunning in that one, and the story is really amazing. Which is true of all of these movies. If you are in town, that is a great one to see!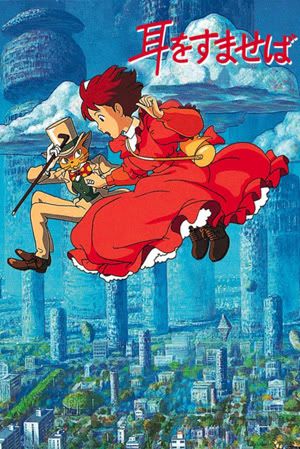 On Saturday we're going to make a day of it and see Whispers of the Heart and The Cat Returns. I haven't seen either before, so that will be fun! My friend Kevin recommended them. I really wish I could have bought one of the passes to see every movie they are playing! But I have to go to work.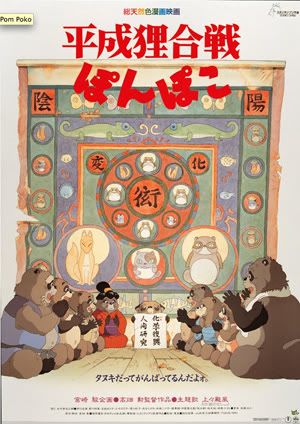 On Saturday we are also going to see Pom Poko! It looks so cute! It is about Tanuki (Raccoon dogs!). I have a statue of one by my backdoor. I love them so much! I hope this one turns out to be as cute as it looks.
When I get back from the airport on Friday we're going to see Spirited Away. It is one my favorite movies of ALL TIME! If you haven't seen it before, come out on Friday night, or if you aren't in Nashville you need to rent it! The first time I watched it, I watched it twice in a row, I loved it so much. The story was so magical and different from anything else I'd ever seen! We're seeing that one in the original Japanese too.
If I have time I'll try to fit in a few more, maybe Castle in the Sky or Princess Mononoke. Any other Miyazaki fans out there?