There are at least 6 sales every weekend now that the weather is nice, which is awesome/bad for my wallet. There were two that looked good this past weekend, and I ended up going to them with
Lisa
and
Eartha
Kitsch ! I think we should call every time we hang out a meet up, and get sponsors and swag bags or something. I'm so happy I met these girls in person. They are so much fun! Lisa recently wrote
a great post
about looking at the listings on
estatesales.net
and deciding whether a sale is worth going too. If you aren't studying the pictures every week you might be missing out!
Here is the box of goodies I brought home.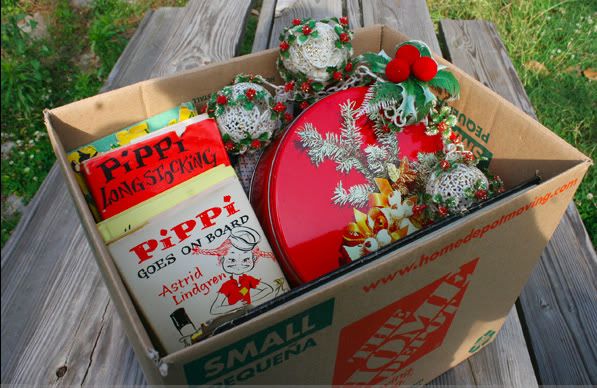 We met at Eartha's house (and the front room was amazing and I'm hoping the clutter was just hidden in the rest of the house! if not, how do you do it??) and rode together to the sales. The first one was pretty close to her house. I had actually gone the day before because I just couldn't wait, but there was still great stuff to see! This is the sale where I picked up the squirrel dress!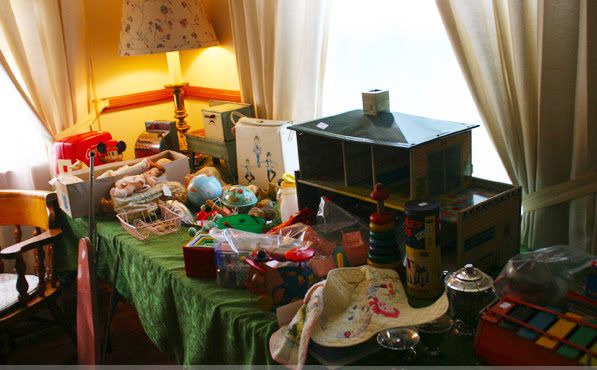 There was a whole table of toys from the 1950's! A lot of the interesting ones were bought before we got there, but there was still some great stuff. I'm still holding out for the perfect metal doll house. I even have the perfect spot picked out for it!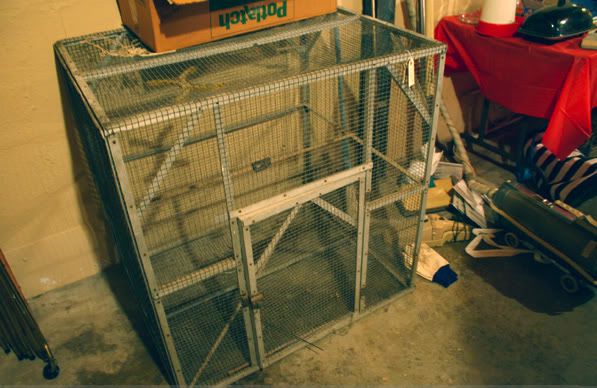 The fabled monkey cage! It wasn't as exciting and I was hoping. I think I was imagining something with a tiny palm tree in it. I wish there had been a picture of the monkey in the cage! There was a hand knit dog outfit on that table to the right (It was tiny though, so I didn't get it. Also, the girls have a pretty full wardrobe already).The family apparently had lots of pets, including two toy poodles.
Very nice granny craft. I was able to resist because of the price.

So many cute toys!

Here is our collective haul! Can you see a theme? I think Eartha said it best. "Who let the dogs out?" Hahah. Look at that portrait! I had seen it the day before and LOVED it but really don't have a spot that it will fit on my walls. Thankfully Eartha got him (his name is Luther!) and I know he will be put in a place of honor. Luther was actually in my dream last night! Look at his sweet face! It makes me want to get huge blown up framed pictures of all my animals!
Here we are driving to the next stop! I remember thinking "remember what we're talking about right now" because it was really funny but now I've forgotten, of course. Cool story, bro.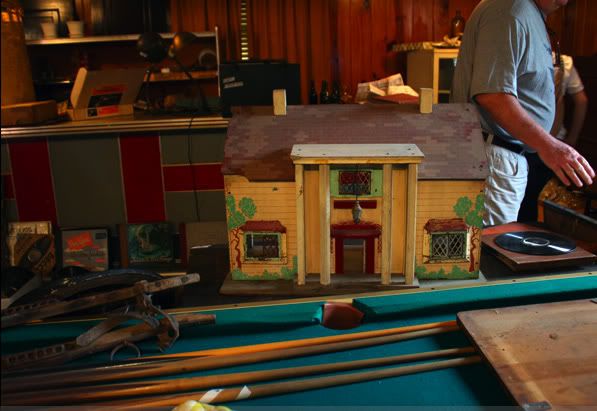 The next house wasn't as full of amazing things as we were expecting, but there was a bunch of cool stuff to look at. Like this cute wooden doll house! The pictures had shown a whole table of vintage Halloween. I'm sure that got snatched right up.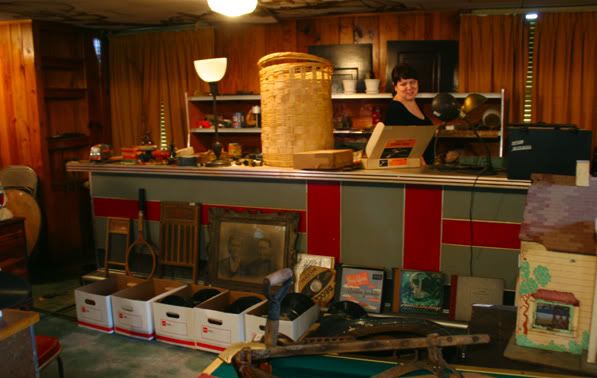 That counter is from a diner! With a metal edge! And those stripes! I wish there was a place in my house it would go! What a cool piece. I didn't even see a price on it.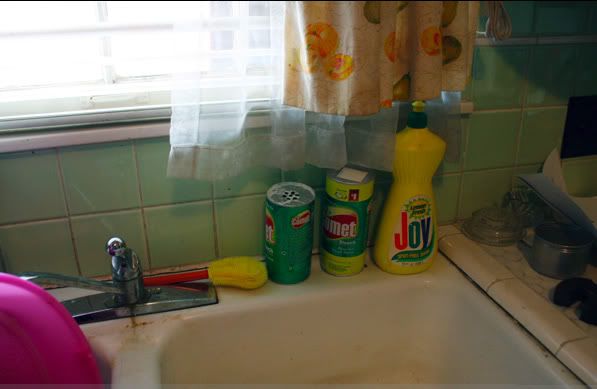 Eartha debated asking if she could buy the Joy, but never did. She found a really cool potato chip can! I never look for vintage packaging like that, but I'm going to have to keep an eye out from now on! Don't you love the mint tile in the kitchen? And Those curtains look more interesting than I remember... are they oranges? Hmmm.
I kind of wish I had gotten this crewel work. The flowers are really "puffy" and coming off of the background. I thought it was too big, but now I'm thinking I could have made it work. Oh well. This is the room in which we found Lisa clutching some of the best vintage dresses I've seen at a sale like this! Just you wait until she posts about them! She also told me "Please tell me if I start to look like Grandpa Munster" when the wind blew her beehive and I've been cracking up about it ever since. (Well, that was later. There was no wind in this house, even though the house kind of felt like it was falling apart.)
I'm always tempted by these vintage Electrolux vaccums,. but I'm not sure how I would display it! They are cute though!
Now I've got five shakers like this. They are all different though! This guys blue lip is pretty great.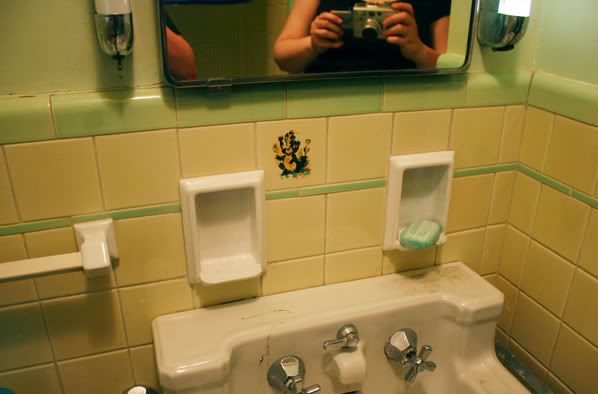 Look at the skunk decal in the bathroom! I had to include this zoomed out shot because Eartha and I kept pulling out our cameras at the same moment and taking pictures of all the same things. So if you want to see slightly different angles of all of these images, just head over to her blog.
After that sale we stood around in the driveway and talked excitedly for a while. It was so fun to go to sales with them! Travis can sometimes get impatient when I make my third round through a house and start digging through bins of vintage Christmas paper scraps, but these ladies get it! I didn't feel self conscious about my craziness at all. I hope we can do it again soon!
I stopped at Sonic for a snack on the way home and saw this cute van!

Cheese tots are my weakness! I shared these with Travis though. I know better than to get the huge size just for myself! A slush and some cheese is a great way to end a fun morning of estate sale shopping. I'll show you what I got tomorrow! It was a pretty great haul!