Finally checking this off my food to try list! As a reformed picky eater, it is big for me! (example: I never tried broccoli until I was 25 years old. Ridiculous I know) Seoul Garden is just a few miles from our house and Travis had been here with some friends. He tried to get me to go with him more than once, and I always made excuses. But I decided to be brave on Saturday and give it a go. (Also, I am a drama queen)
As we walked up I noticed that they are open until 2 am on Saturday nights, and do karaoke from 10 until 2! We might have to go back for that! When you go in they ask if you want a table with a grill (for their barbecue) or not. We said no, so we were put in this sad little room in the front that was dark and lonely. We kept laughing and saying it felt like we were being punished.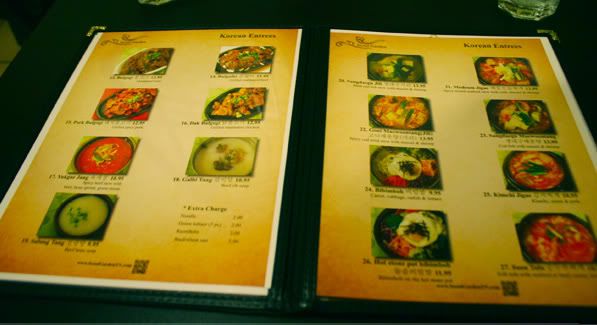 I like that they have pictures on their menu for n00bs like me. I got the bibimbap in a stone bowl.

Here is what it looked like when it got to the table! See the plate of meat next to Travis' hand? For some reason we thought it was vegetarian...so we picked it all out and I brought it home for a treat for the pugs. The bibimbap has rice on the bottom, then vegetables (carrots, cabbage, radish, lettuce) with a fried egg on top. The bowl is REALLY hot and the rice is sizzling when they set it down. You get 8 little bowls of sides to share like kimchi, and diakon and fermented things that I was too chicken to try. But I ended up really loving my dinner. I've been looking up recipes to try and recreate it.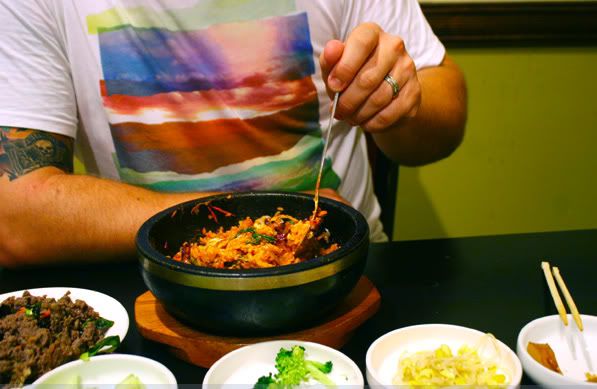 Travis put lots of sauce and red pepper flakes on his. I added it at the end and it was awesome. I can't wait to go back! I can now say I'm a fan of Korean food.