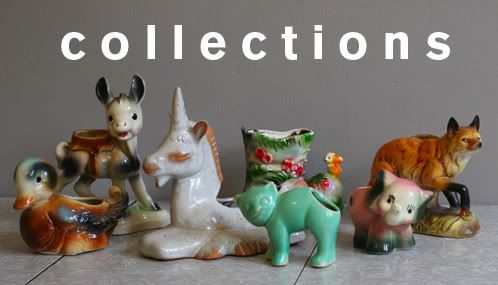 I have lots of poodles, and all different kinds, so I thought I should break this collection into two posts.
I think I first saw these amazing poodle bottle cover on
Heidi's blog
a while ago. I LOVED them, but never seemed to come across them. I don't really buy much stuff online, where the possibilities are endless. I've got enough stuff as it is! So when I found the pink one with the red tongue at an estates sale I was thrilled! The rest have been picked up sporadically throughout the year.
They are all covering bottles except this one covering toilet paper! That is the only one I've bought online. I just NEEDED one! Look at those pom poms. I need to learn to crochet so I can make ridiculous things.
Their heads come off so you can still use the bottles! How much do you love the one on the Aunt Jemima bottle? I love these silly guys. I probably won't pick up many more because this group looks GOOD on top of my hutch in the dining room. But I'll never say never.
These black guys are my favorite style of vintage poodle figurine.
My poodle collection started with this thing. I saw one like it in an estate sale listing, but by the time I got there it had already been snatched up. I found out the next day that it had been broken while the man buying it was waiting in line and ended up in the trash. The poodle spice set continued to haunt me. I saw it at a few antique malls for over 75 dollars, but I just couldn't bring myself to pay that much! Then, on the way home from our trip to Florida last year, we stopped at one random antique mall to break up the long drive, and there this lady was, with one broken puppy, for less than 10 bucks! I REALLY love it. I like to imagine the type of family that had spices in something like this.
Two cute book ends.
Gina
sent me one of these!
I'm not sure what this poodle is supposed to hold, but isn't she cute?
Some salt and pepper shakers of course.
And a silly ash tray. It's pretty funny that I have at least 5 ash trays in my house, but have never smoked. Sometimes they are just too cute to pass up!
I'll show you the rest of my poodle collection later! Someday I hope to own a little teacup poodle! I need to see if their is a poodle rescue near me. Of course, I might never be able pass up the chance to have more pugs. We'll see!