Last night we had my parents and my brother and his girlfriend over for a birthday dinner for my dad. He is 53. I'd been meaning to have them over since the wedding but never got around to it. I think it went really well and we had a lot of fun!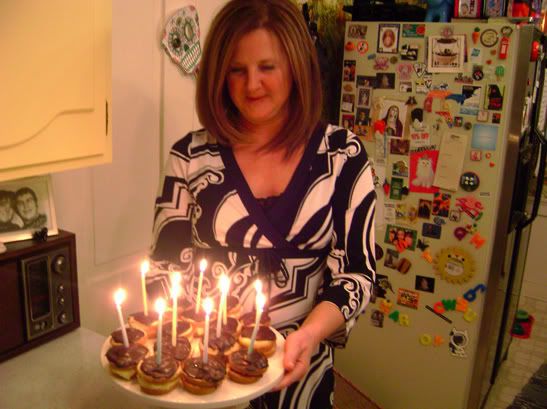 and since the house was clean i took some pictures to show you.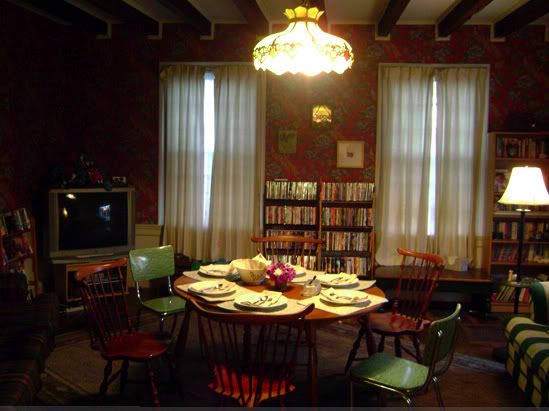 i didn't want to go into the blocked off part of the house since it's cold out so we moved the couches and made the living room into the dinning room for the night. i got to use my placemats and cloth napkins that we got for the wedding and that was pretty exciting. i also like having an excuse to buy flowers. i can't wait til things start blooming in the yard and i can just pick things!! my mom brought me a bouquet as a hostess gift. which was really cute.
for dinner I made a poppyseed chicken casserole that my whole family is just crazy over. we also had rice, 5 grain sourdough bread, cantaloupe grape and strawberry fruit salad, and for appetizers i had regular salsa and pineapple mango salsa from work.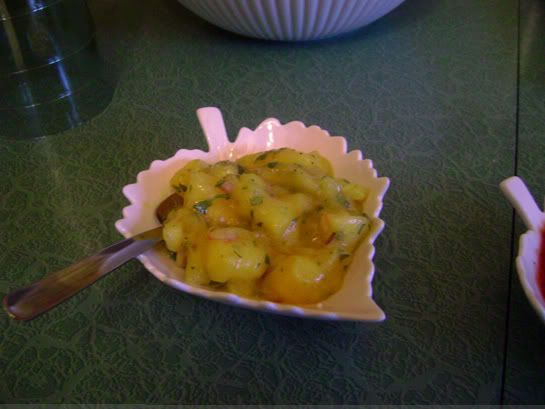 they make it fresh in the produce department and it's so good. it's mango, pineapple, cilantro and onion. I didn't think my family would eat it but they scarfed it all down!!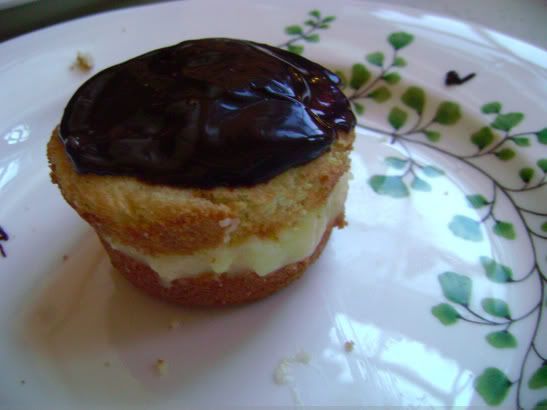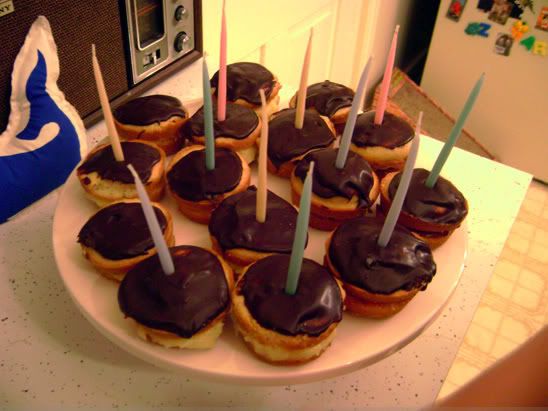 for dessert i made boston creme cupcakes. that is my dad's favorite cake. i got the recipe from the current issue of martha stewart living. i was really worried about making the custard and chocolate stuff from scratch but it turned out really well. my dad LOVED them.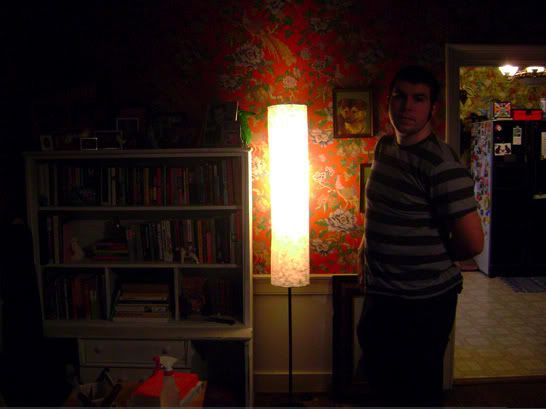 we got that lamp for christmas and finally put it up yesterday. it's got a great amount of light for watching tv.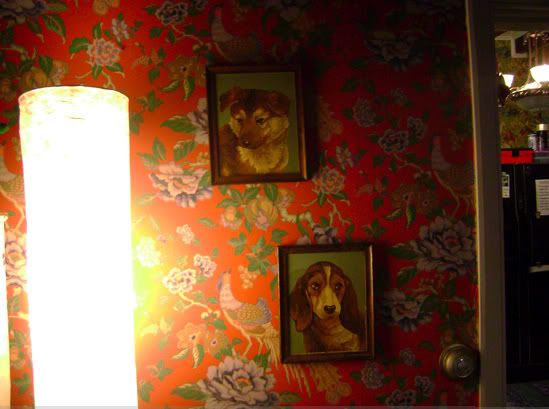 i also finally hung up these 1950's paint by numbers and i can't believe how good they look against that wallpaper!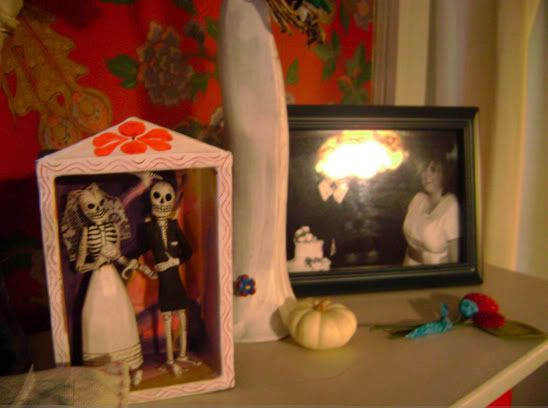 there is our little wedding display. my cousin blake gave us the skeletons in the little box for christmas and they are so cute! you can't really see from that crappy picture but there are tiny tiny little white birds at their feet! so cute.
through the kitchen to the living room. i'm glad we got that red microwave.
kitchen table and travis blinking. hahah. brett gave me that sweet elvis sillk screen for christmas.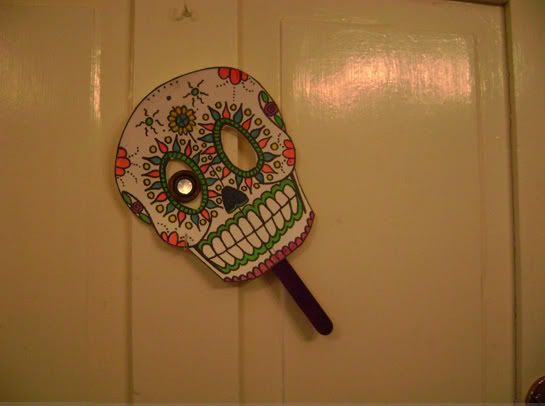 crystal gave me that mask and i put it over the peep hole in the kitchen door. it looks creepy in the dark when the hole is lit up by the outside light.
kitchen counter. crystal made that whale for me for christmas. or really, i saw it at her house, told her i loved it, and she said she had made it for me and then wasn't sure i would like it so she didn't want to give it to me. hahah. crazy.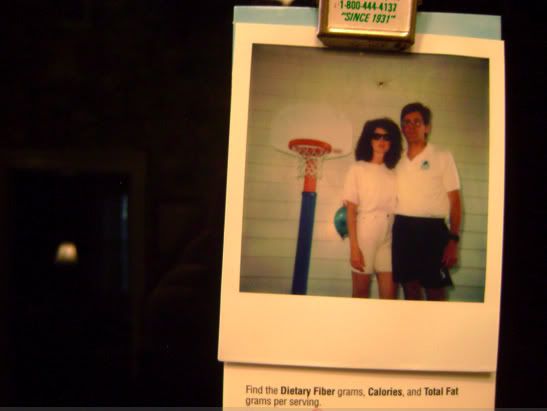 i found this old polaroid of my parents. cute.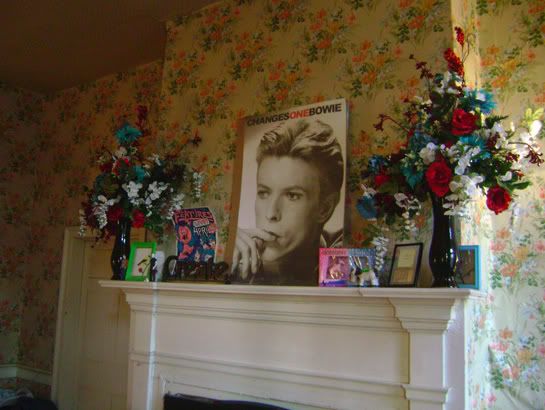 mantle in our bedroom. wedding flowers and david bowie.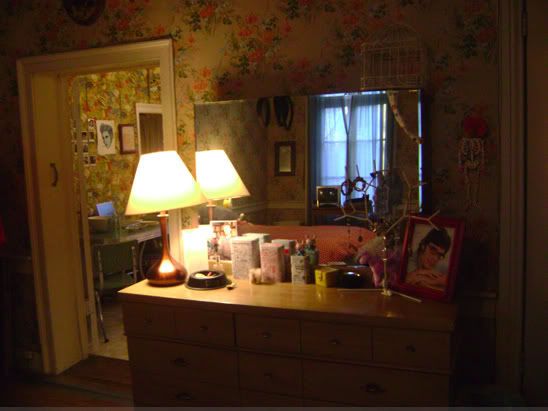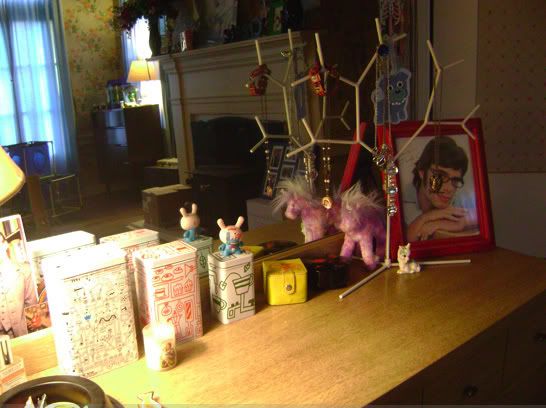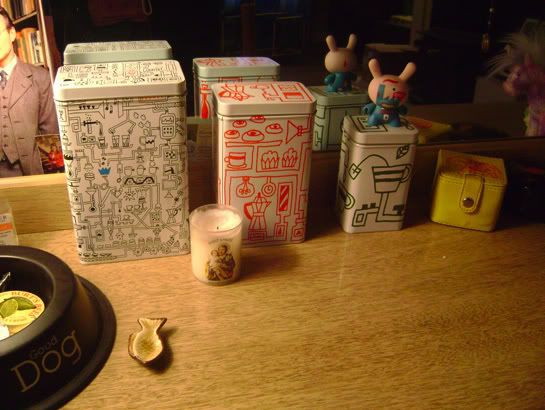 and that is my dresser. my parents brought it over about a month ago. i am SO GLAD i don't have to share with travis anymore. and i can spread all my junk out.
and of course, here is my cat. little murray hewitt. he is so big!