When we bought our house (in december 2009) i was really excited about getting our whole to do list done and the whole house decorated within a few months. and of course that didn't happen. so the other day i decided to finally hang some art above travis' dresser (a great mid century piece he got from his parents house). i wanted it to look "manly" because most of the house is pretty twee. not that he cares at all. so i got out my huge bundle of silk screen posters (i KEEP buying them even though i don't have enough wall space for them). here is how it turned out!
i'm pretty happy! the skull was a gift that our best friends bought for travis in oxaca, mexico! the turtle planter was already his and holds his change. i want to find another pennant from something in tennessee. i will probably eventually get the posters actually framed. but that isn't in my budget right now.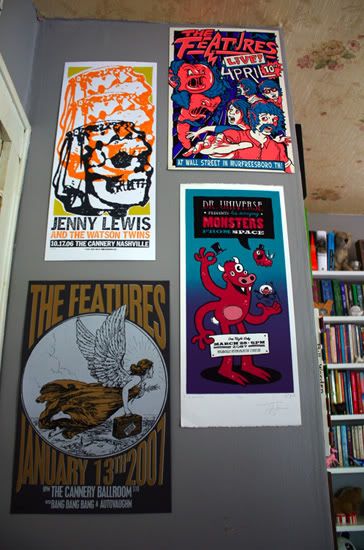 then i hung up so more on the weird little wall behind our door. can you tell i love the features? the monster show one was made by my dear friend kyle jones.
it was so fun to go through all my posters! i had forgotten about lots of them! like this cute zombie pet one! I LOVE that band, but don't listen to them much because travis can't stand it. haha.
speaking of cute things my friends made, my friend crystal made me these pins last week! i love them so much! i only wish i had requested a richard simmons one too. you can check out her
etsy shop
if you are into cute horror stuff! i like her vinyl wallets a lot. she made me a cute pokey little puppy wallet!
she also made me this sweet phyllis brooch that priscilla REALLY wants to eat. she was fast asleep and someone seemed to know that i had it out and zoomed over before i could even get a picture! haha, she is determined.