I'm not sure the exact date that we got miss phyllis (it was very shortly after my first pug rose was killed and i don't want to know the date) but it was in november of last year. So happy one year Phyllis! Here is her story!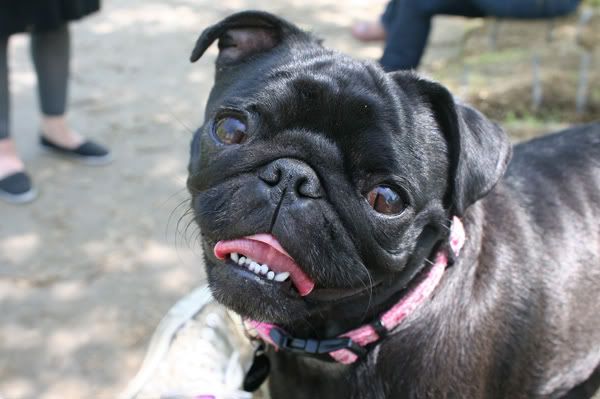 It was incredibly devastating to me. I have been very fortunate and have had very little loss in my life. Travis and I were trying to get a pug puppy from a less than reputable source because I felt desperate for another pug. It fell through (thankfully!) and Travis decided to go to a dog adoption event at the Nashville Zoo while I was at work. He showed up in the last hour of the event and asked at the front if any of the organizations had a pug. He was directed to the Metro Animal Control booth and there she was. They were calling her Suzy. She was one of only two dogs they had left. He called me at work and told me he had found a three legged pug and i said to use his best judgement and decide for me. He brought her by work after picking her up and i was instantly in love. i actually went into the back room and cried because i was so happy to have her. here she is the day we brought her home: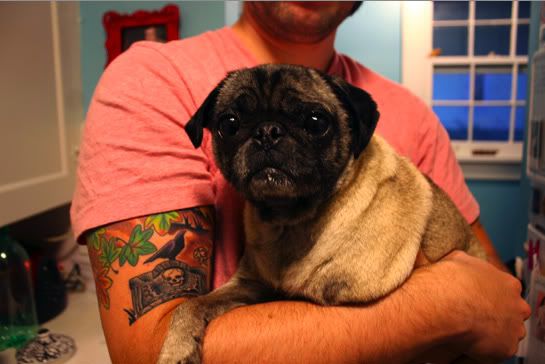 she was found as a stray. they guessed she was four. she is missing lots of teeth and has just three legs (obviously). her leg was removed a long time ago, and she still has her shoulder and part of her leg bone, which our vet said is incredibly unusual. she had no guesses at to what could have happened. you can tell she has had puppies before too. she had been at the pound 6 weeks so we probably saved her. and she definitely saved me. without her i don't know how long it would have taken me to feel like a normal person again. we needed each other.
she is a tiny little pug with the curliest tail. sometimes i forget that she only has three legs. she can jump up on the couch! it is pretty amazing. she loves attention from people and wants nothing more than to sit in your lap. when we go to the dog park she spends most of her time trying to get strangers to pick her up.
she has the saddest face in the world. and she groans and sighs whenever you hold her. people always thing she is growling at them but that is just the noise she always makes. she doesn't bark much. just when i leave her on the bed when i leave the room. or when she really wants a treat.
she is a spoiled little thing who gets carried everywhere. she knows that you will come pick her up, so she won't even come when you call. she just sits down and waits. she likes to have her nub tucked to the inside. i've tried to tempt her to come to me with treats, but that doesn't even work!
riding in my backpack.
she loved her sister priscilla from the start. it made her a lot less clingy. her face look even sadder next to priscilla. we call her sad sack all the time. they are almost always in the same bed in the morning when we get them up. and every once in a while they will both get really excited and actually chase each other. pretty freaking cute.
this picture KILLS ME. it is my background at work.
sometimes i carry her around in this.
and sometimes she rides around like this.
so happy gotcha day to you phyllis! you have brought me so much joy this year! pretty much the cutest little thing i've ever seen. here is to many many more years with you in our family!