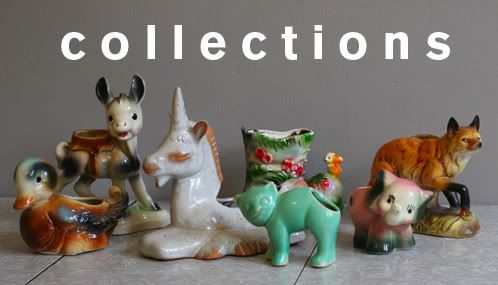 Here is another collection that is woodland creature themed. Deer are amazing animals, and you can find all KINDS of cute vintage deer pretty easily while thrifting. After I started writing this post I found a bunch of other deer around the house that I forgot!
I love these little flocked deer. I found the whole family at an antique mall for just a dollar!
These are teeny little bone china deer I found at a fancy estate sale. I think the guy with the money box was insulted when all I brought up were these tiny things.
I saw a little wall mount just like this on the
Dainty Squid
and I have been on the lookout ever since! I was so happy to find one at an estate sale! I keep that calendar on my birthday because I'm too lazy to change the date. And the other deer is a brooch.
Some sweet little sitting deer.

The little deer with their butts in the air are salt and pepper shakers from a national park.

I started an accidental Bambi collection. I recently added a read along record. That framed piece is a page from a vintage kids book. That is such a fun place to find art!
I love the little deer handle from this sugar bowl. I had a tea pot that matched but the cats knocked if off my shelf and it shattered. It was a very sad day. They don't knock down many things in the house, but they always seem to find the things that I like best.
So there is my sweet little deer collection.