Oh man, i had SUCH a hard time narrowing down the pictures to post of our trip to the Wizarding World of Harry Potter. So this is a long post. If you aren't into Harry Potter you might want to close the window now, haha. So anyway, on Saturday morning we got up early and headed to Universal. We have been talking about going since it opened, and when we got our invitation to my cousin's wedding in Lake Mary we knew it was the perfect time to get to the Wizarding World too!
The weather was so perfect. It was warm but not muggy, and as we walked from the garage to the entrance Weezer was playing and I was so happy! When you walk into Islands of Adventure you can just see a hint of the Hogwarts castle and I swear I almost started crying. Nerd alert! We hurried through Suessland and Lost continent (or something) until we rounded a corner and there was the entrance to Hogsmeade. It was so amazing. I couldn't stop taking pictures of it!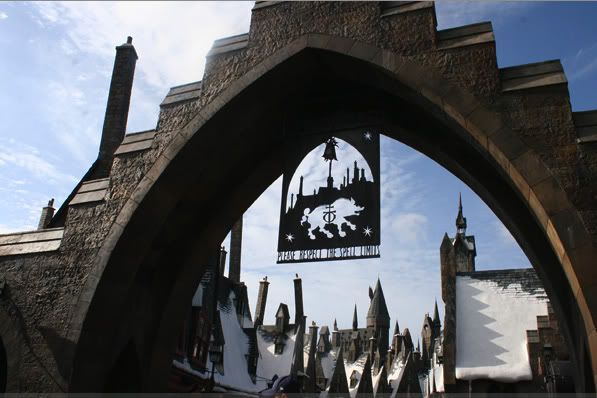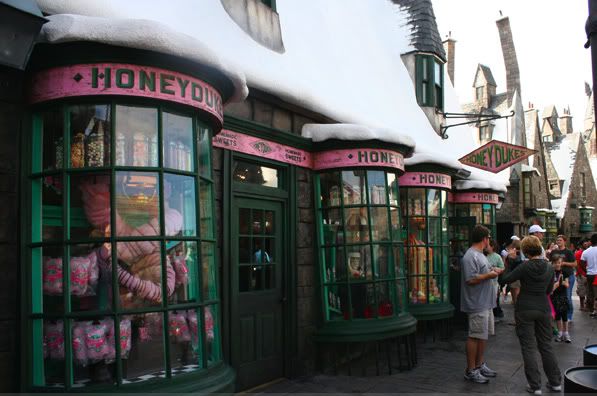 They really have made every detail perfect. I was happy that we go there early, and went off season. The crowds really weren't bad until later in the day.
The window displays were incredible! I loved how everything in the shop was packaged like it was really from Honeydukes. I bought a chocolate frog, two boxes of Every Flavor Beans, and some Pepper Imps. I would be embarrassed for you to see the receipt, everything was SO EXPENSIVE.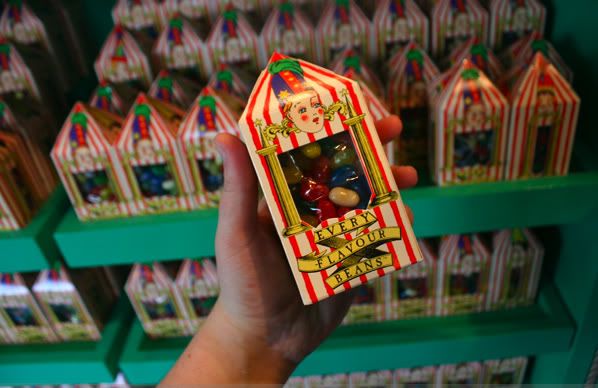 Then we got in line for Butterbeer. I wish the souvenir glasses would have been cute. What a shame.


Pumpkin Juice!


Travis got a regular butter beer.

I got a frozen one. It was SO GOOD. Like the most delicious cream soda you ever had. Mmmmm totally worth 4 bucks.
You can't go inside all the shops, but they all have perfect window displays and signage. There is a great Gilderoy Lockhart display in the bookstore. I wish you could have bought his books!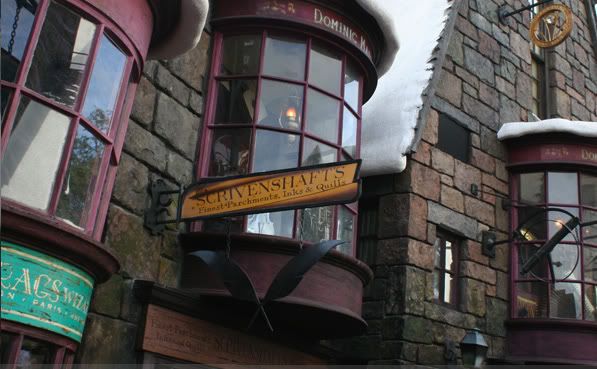 Ugh, why does nothing ever have MY name on it? We got one of these of course.


I loved all the pennants in the line for the Dragon Challenge ride.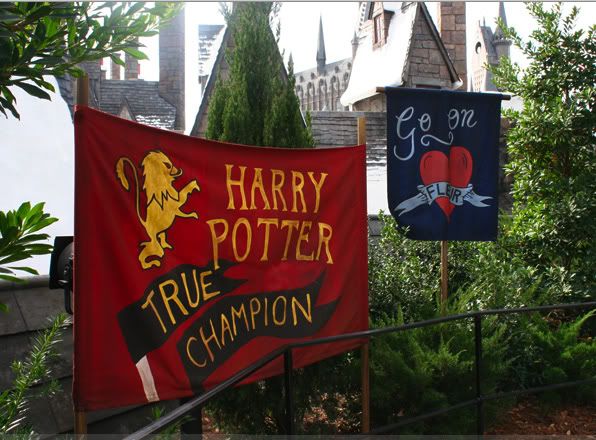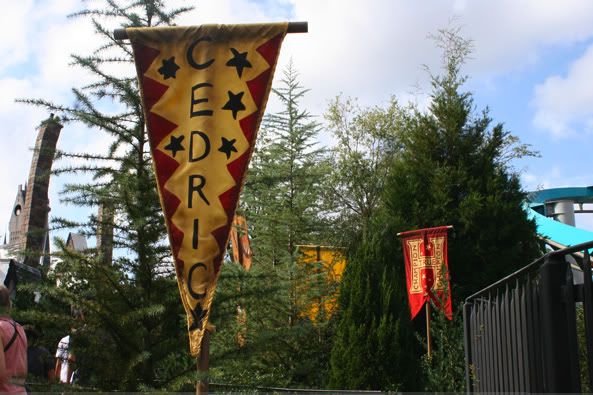 I don't like this kind of roller coaster (I get sick) so I always try to get picture of Travis riding them. There are his little legs in the back.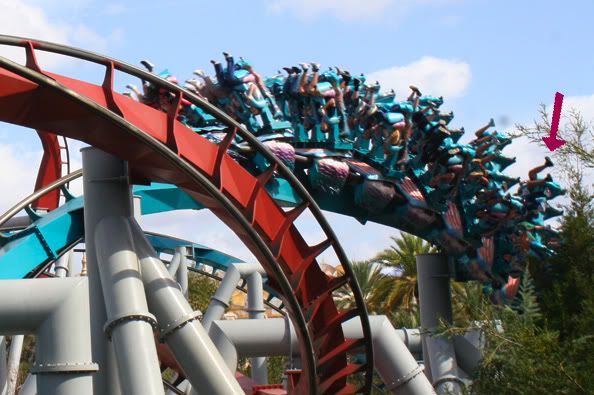 And there he is in the top corner. I was SO CLOSE to getting his face! Dang. Travis says that ride was really fun. I wish i would have walked all the way to the front of the line though. Travis said there were lots of cool props on display.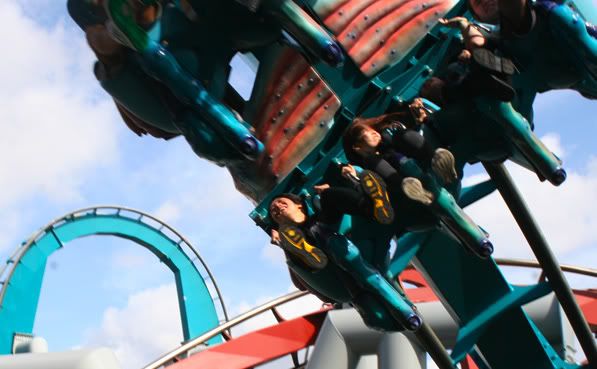 Then we waited in line for Ollivander's. It was pretty cool. I wouldn't wait longer than 30 minutes though. This was actually the only line we really waited in the whole time we were in the park. Mostly it just took a long time to walk through the lines to the front of the ride. It was awesome. I usually don't like theme parks because I HATE waiting in line for hours to ride one ride. Anyway, Ollivander's, they pick one person and help them find their wand. I wonder if you get a discount on the wand if you get picked? I was talking about getting one but they were super expensive. Of course.

Hogwarts Express!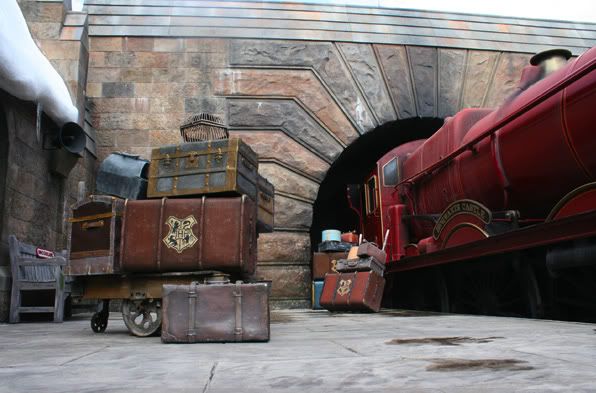 Someday I will ask someone to take a picture of us, instead of awkwardly photoshoping us together.

We rode the ride inside Hogwarts four times. It was so amazing, best ride I have ever been on. We figured out if you sit in the far left seat (if you are facing them) the dragon comes out right in front of you. It is SO FUN. The first time we rode it Travis was really screaming, which was fun because he is usually really stoic and acts like things are no big deal. The only complaint I had was the line was moving so fast we didn't get a chance to look at all the cool stuff inside the castle! Dumbledore's study was probably my favorite.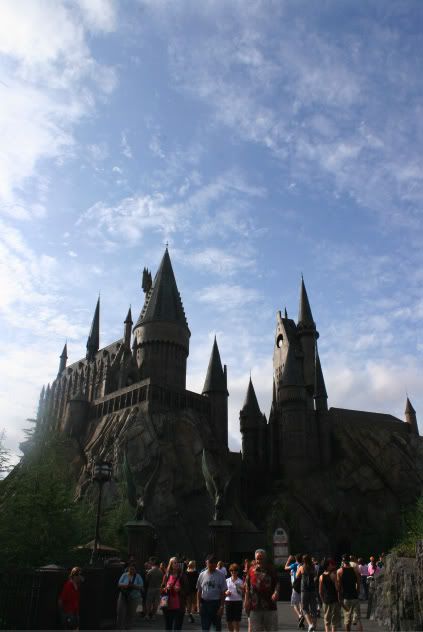 Of course we had lunch at the Three Broomsticks.


They have an exclusive beer called the Hogshead brew. So cute.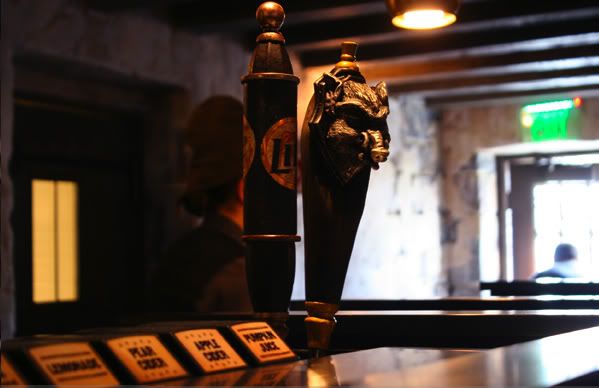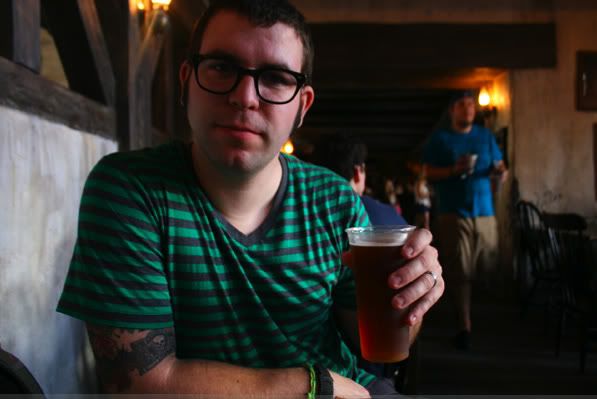 We got fish and chips! The other food looked pretty delicious too. Cornish Pasties and roast chicken. I got a fizzy pumpkin drink and it was so yummy! The food was expensive but it actually tasted really good. And continued my fried fish marathon.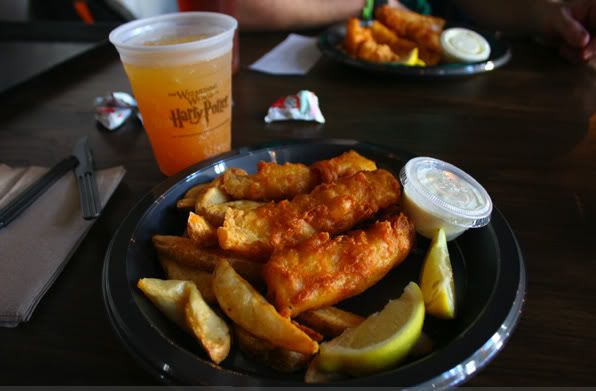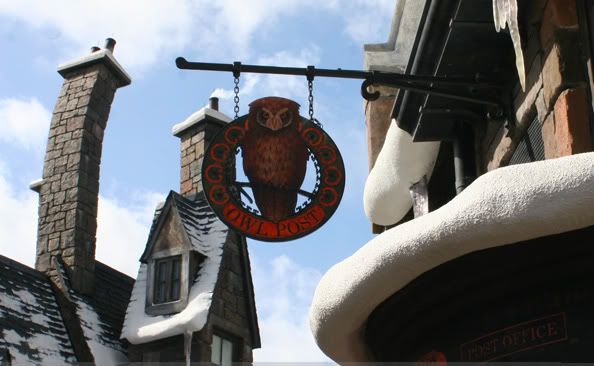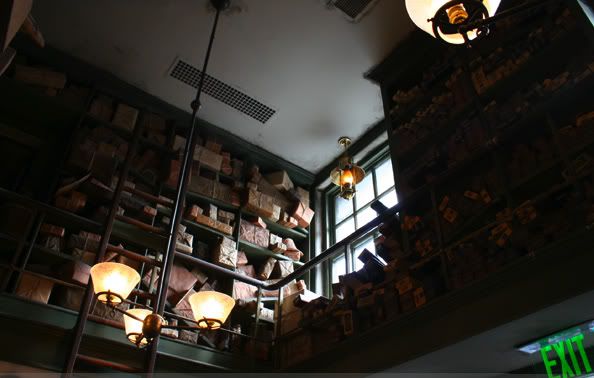 I love perfect every detail was. The packages piled up in the owl post building were so fun to look at.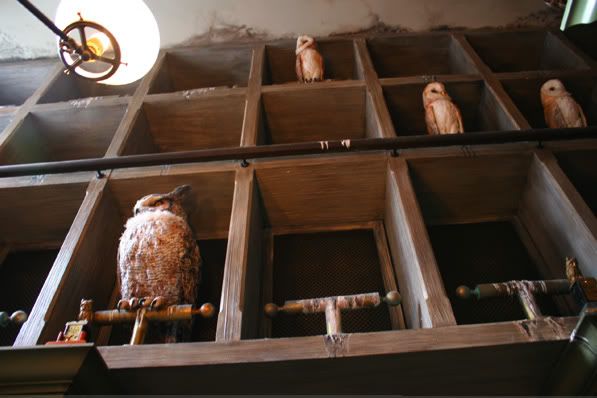 We looked in all the shops but there wasn't a ton of stuff we loved that we were willing to pay the price for. But Travis did get a cute Durmstrang shirt and a patch. I got a glass with the Hogwarts crest and a Snape key chain. They had really pretty time tuner and deathly hallows necklaces but I didn't even ask the price. They had awesome prop replicas of the Nimbus 2000 and a Firebolt!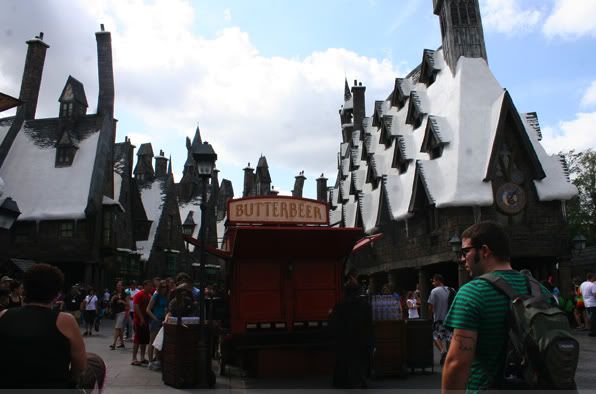 I got another butterbeer on the way out of Hogsmeade. It was so hard to go out of that part of the park and go to the other areas!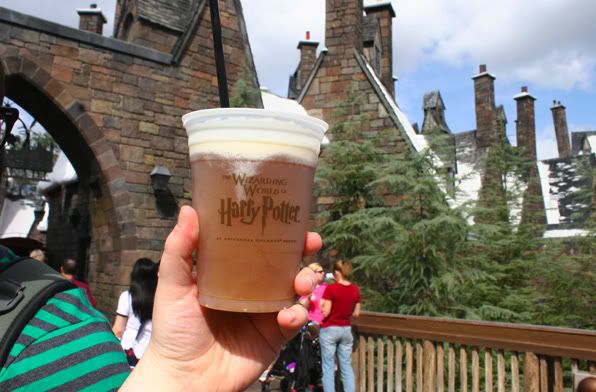 So in conclusion, the wizarding world was awesome! Totally worth the price of admission. I'm so glad we were finally able to go! And the first week of February really was the perfect time to visit. We hardly waited in any lines!