To borrow a phrase from
The Daily Puglet
, Phyllis really needs some good juju sent her way. This morning I let them out of their room as usual, and they both freaked out and ran around while I got their breakfast ready. When I turned to put their bowls down, Phyllis was sitting weird, and then I noticed she couldn't stand up. She wasn't letting her back left leg (on the same side that she is missing a leg) touch the ground. So of course we rushed her to the vet. She wasn't crying or anything, but when you only have three legs, one not working is kind of a big deal.
Thankfully, it doesn't seem to be anything serious. Our vet (the great Dr. Paula at Animal Ark in Franklin, Tn.) says she probably just sprained or strained it. She doesn't pull away when you move it around or press it. She gave us an anti-inflammatory and I have to help Phyllis around for a few days. And try to get them to calm down when they get fed, so it doesn't happen again. I don't know HOW I'm going to accomplish that.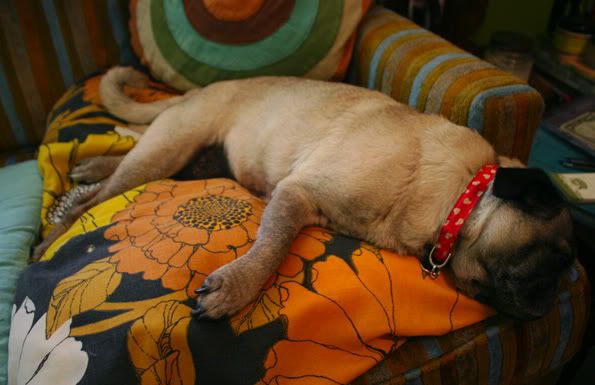 So please send your best juju to Phyllis so she can be back on her feet soon. Even for a little lady whose hobbies are sleeping and sitting on the couch, that is a bummer.