We're back from out trip! It was (mostly) fun! I made it my goal to leave my computer at home, and keep off the internet for the whole three days. It almost happened, Travis' brother had his computer out so I did a little bit of comment approving and blog reading, but I was mostly good! It was actually really fun to not have been able to go through pictures while on the trip. I had forgotten about lots of these pictures until I pulled them out tonight!
So you know the drill, here come a bunch of posts about our trip:
I almost always get Travis to pull off 65 North at this exit. It is so good! Look at that logo! It is hard to see, but that pink thing next to the building in the background is a pink elephant holding a martini!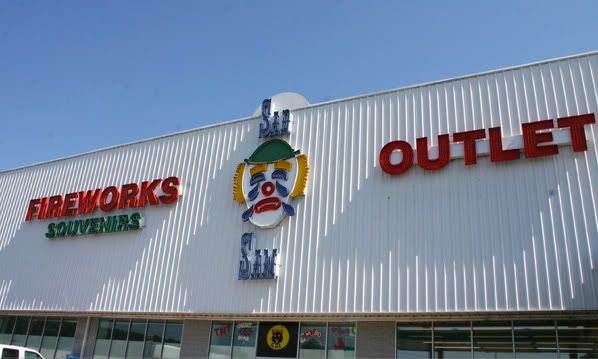 So in love with that logo. Who designed it? Who thought that sad clown would sell fireworks?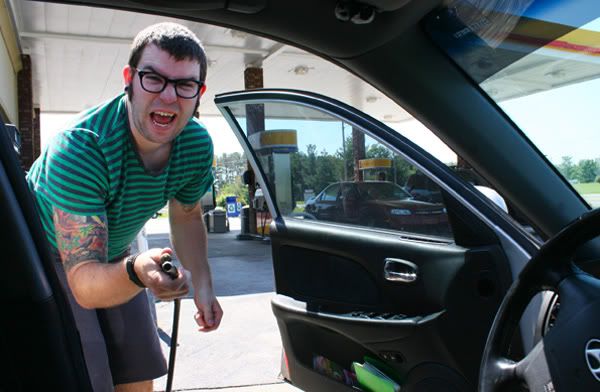 Shooting me with air. Happy Anniversary!

This guy is right next to Sad Sam's. I love him.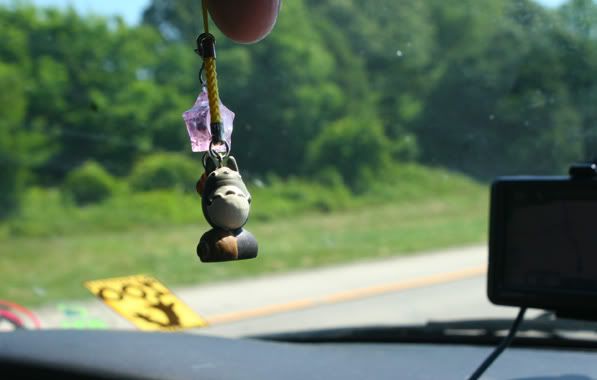 I also love Totoro.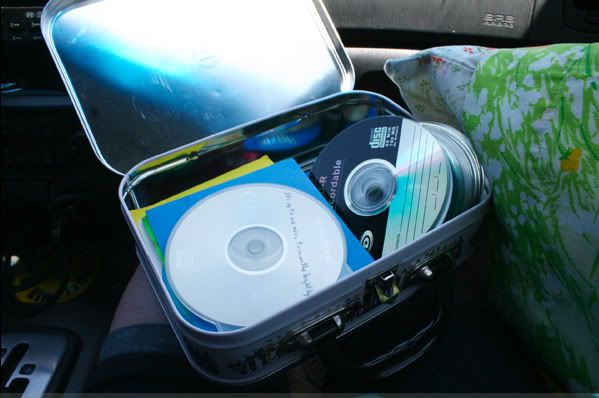 I'm making myself go through this lunchbox full of unmarked mix cds from high school and college. Some are good, a LOT are horrible. It has been a lot of fun to go through them.
Our first stop was Louisville. This car was parked in front of Travis' brother Jordan's apartment. I love that town. Travis would love to move there. And go to Lebowski Fest.
We picked up Jordan and headed out to Barrel of Fun! We tried to come here before, but it was closed for the season. Thank goodness it was open this time! I love a good building shaped like something else. Especially with stripes, and a papier mache ice cream cone.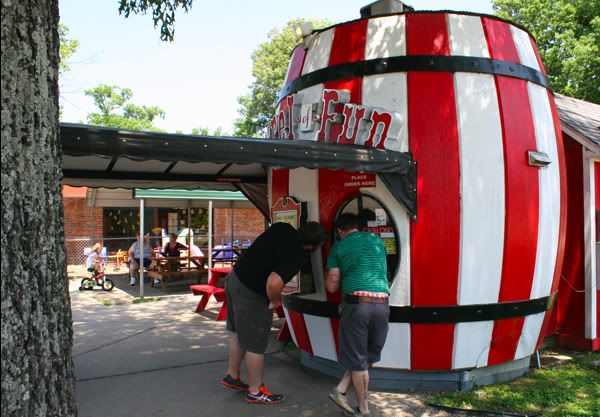 Brothers.

I have never seen Travis eat a banana split. He decided this weekend it was going to be his new go-to dessert order. He ended up with 3 over the 3 days! I have to admit, it was pretty awesome. I had never had one!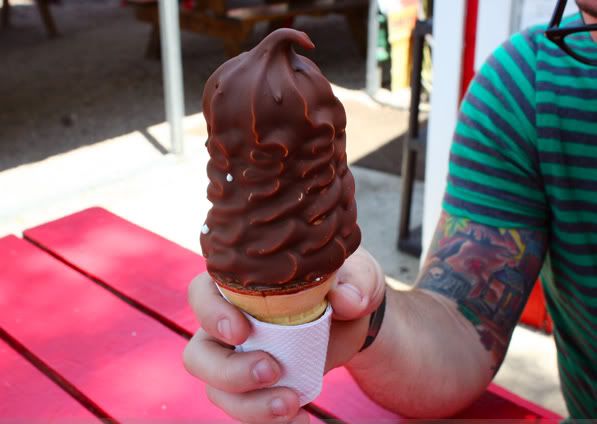 I got a derby! One of my favorite things! It is soft serve with a hard chocolate shell. Mmmm, look at how pretty it is! I prefer butterscotch dip, but not a lot of places have that.
Coming soon:
maybe the best antique mall ever
cincinnati? more like cinci-nasty!
horse betting and mint julips!