I hadn't done a tone of vintage shopping in Louisville, and was happy to get some tips from
Jamie
and
Gina
. They both mentioned
Tickled Pink Memorabilia Mall
so that is where we headed first! It definitely did NOT disappoint! They post pictures of the new stuff they add on their facebook almost daily and sometimes it is TORTURE that I don't live closer!
There was so much good kitsch everywhere! And most of it at (good) estate sale prices!

Travis and Jordan digging in the basement.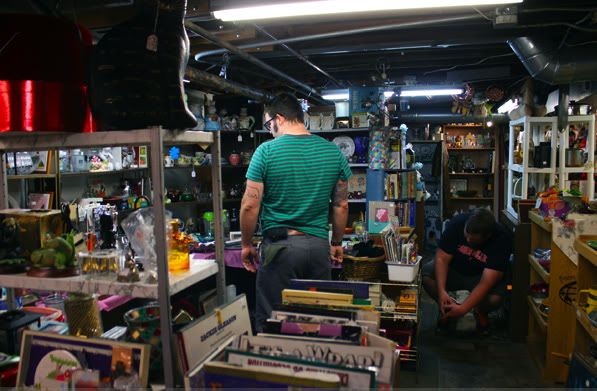 Look at this picture! Look at the polar bear about to dive under the water! This moment is so perfectly captured, look at his form! I didn't buy it because it was part of a big batch of pictures, and none of the others were very interesting. Now I wish I would have asked if I could buy just this one.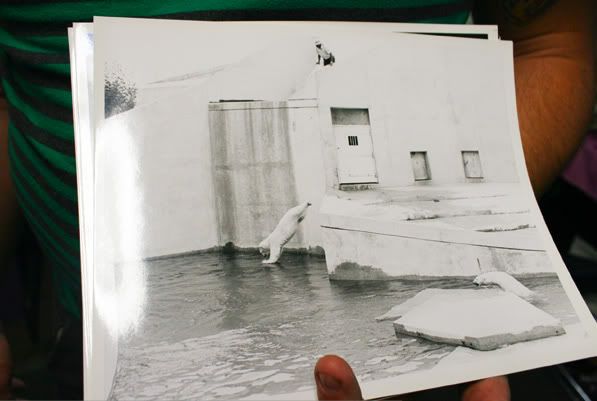 Didn't buy this little guy either. He is so sweet!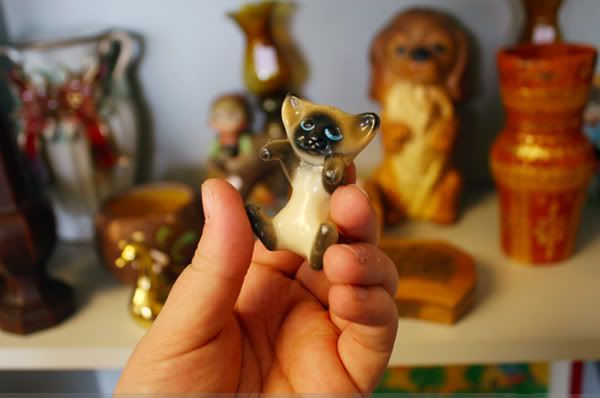 My biggest regret is not getting these his and hers ashtrays! I love them! I could have used them to hold our toothbrushes or something.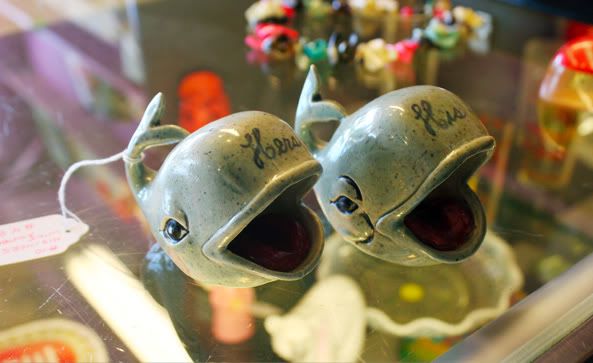 Old fashioned pet carrier! I really wanted this, but Travis said No. How cute would one of our cats look going to the vet in that thing! Uggggh I love it! I would make Phyllis get in it too.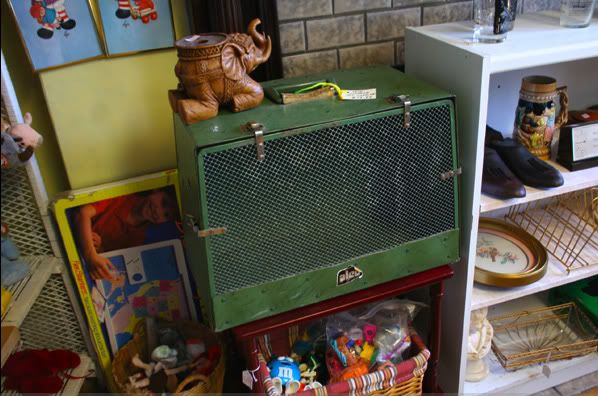 When we were checking out they asked if we wanted to check out the garage. We didn't have the room to bring home any furniture, but there was SO MUCH good stuff back there! My favorite was a great dinette table for just 30 bucks! For real, this store is a dream. The owner buys whole houses full of stuff and prices it low so dealers will come buy it. Everything was so reasonable, I can't wait to show you what I got! Travis and I kept looking at each other in disbelief at the prices.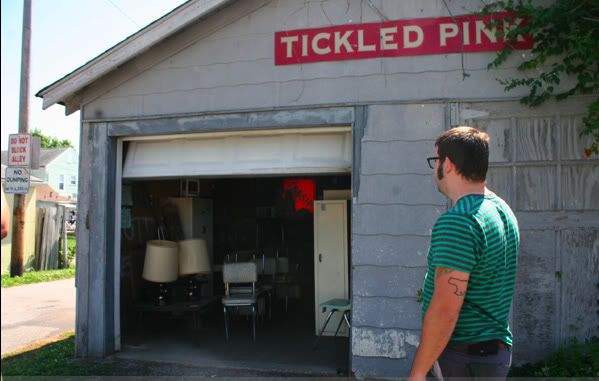 We tried to go to this cute place, but the owner had gone on a errand. Isn't that hot air balloon cute? It looked like they had a lot of vintage in the store, but I couldn't see what the prices were like. We'll definitely go back next time we're in town.
Then we went to Yesternook, on Gina's recommendation. It was in an old funeral home!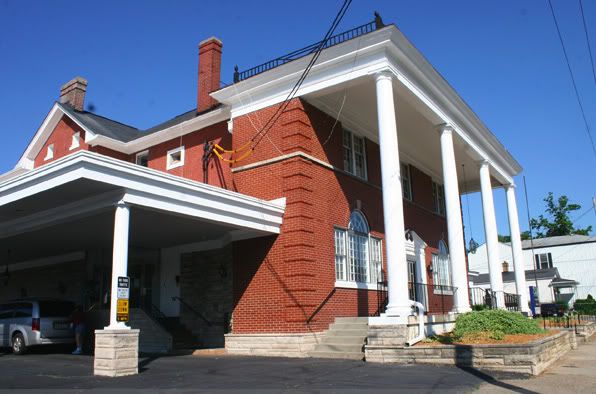 Such a pretty cart. I need a good chip and dip set like that.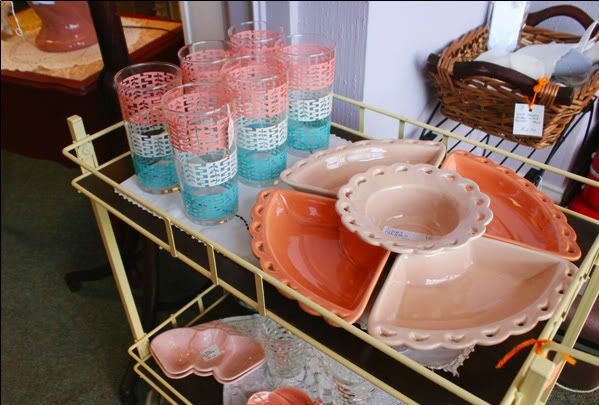 I came across an old scrapbook. They are usually empty so I didn't have high hopes.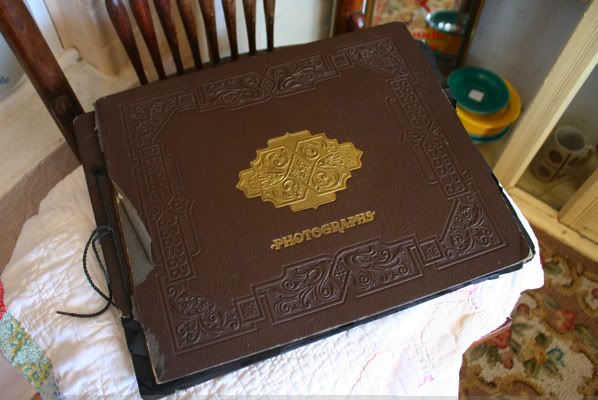 The lady must have bred Pekinese. That top one is a puppy in a little high chair! I bet there are 30 peke pictures in there. And of course I collect vintage pictures of dogs.
Then I found a page of pictures of cats cut out of magazines! Sold! There are also some seemingly random obituaries, and newspaper stories about murders, and articles about dog shows. I think whoever made this scrapbook and I would be friends.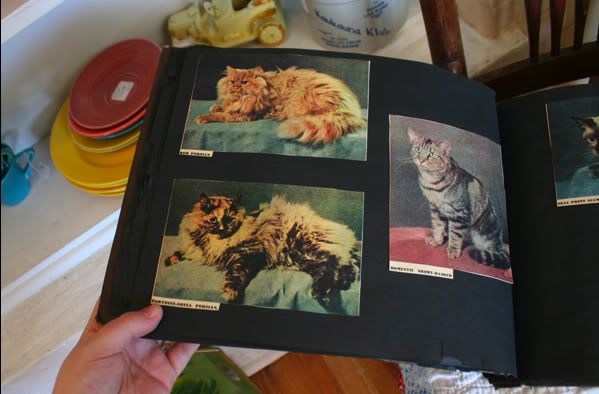 Oh man, look at how cute this Beatles card is!! If it hadn't been 8 dollars I would have bought it to put in a little frame. Oh Ringo.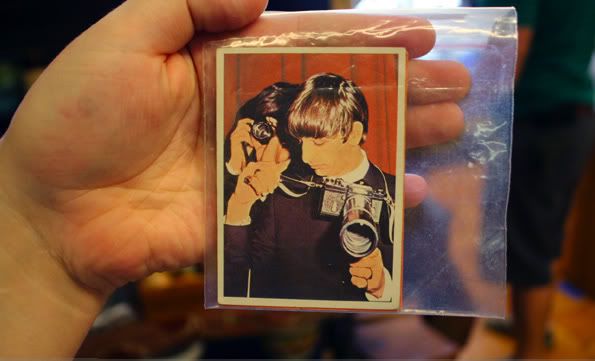 By that time my sister in law was done with school and met us at Hammerheads for dinner.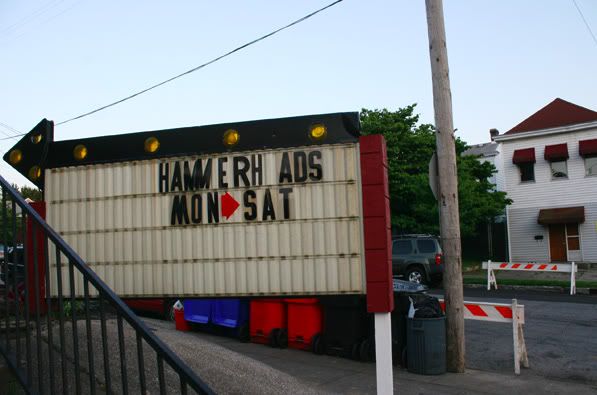 Brothers waiting for a table. It would be nice to sit outside, if the dumpster wasn't sitting open 10 feet away, haha! The wait at Hammerheads is usually long and usually confusing, but it is worth it!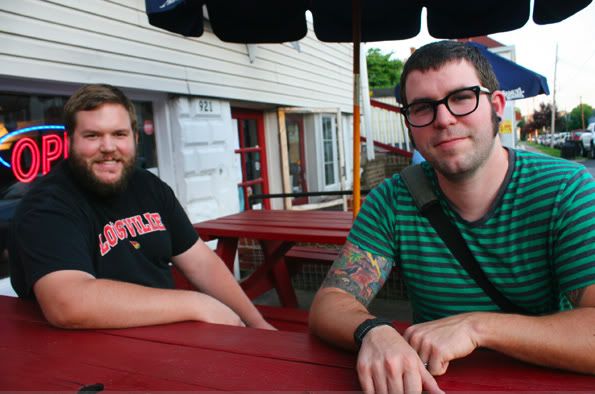 I got the smoked catfish sandwich and regular fries. Their truffle fries are amazing, but I always eat too many and feel like garbage later. Oh man, I love their food so much! Next time I'll try to get something different. (like the smoked mac and cheese,with truffle oil!)That sandwich is just so good!