Somehow in all our visits to Louisville over the years we had never made it to Churchill Downs or the derby museum. We ended up there on a race day, so it was crowded, but it ended up being good!
They repaint this dude every year to match the current derby winner! Cute.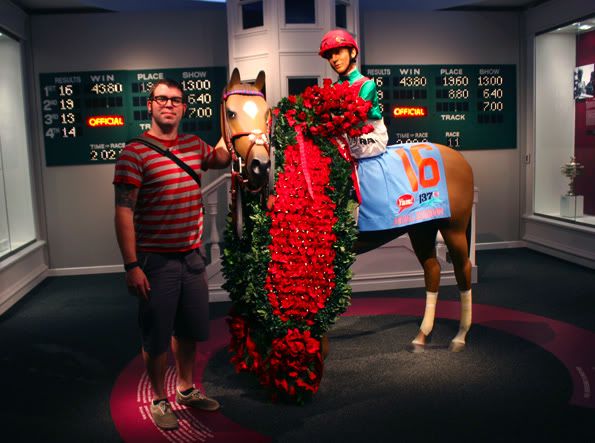 There is a big exhibit about derby hats too! I think it said that they change these out yearly too. People submit their hats and they get voted on. I would love to wear this horse head one.

Or maybe the horse butt.

The museum was really fun and interactive! There was this game where you pick what kind of horse you are riding (one option was front runner) and you run races against the other two. There is another one where you can place fake bets based on stats, then watch the races to see how you do. It was fun!


At this station you record yourself calling a race. Travis pretty much ignored the tips and was saying things like "And now there are some horses running..." To bed you couldn't get a copy to take home.

I love the flowers! And the metal mint julip cups. The winner is presented with 12 cups like that, to use at their party the next year I guess. Haha.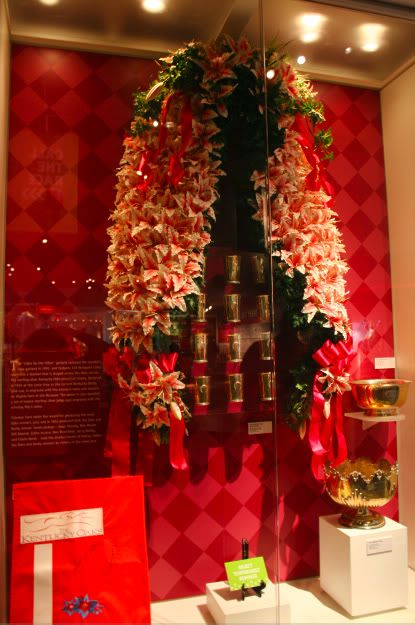 Jockeys are so cute! There was a cute diplay of their little uniforms. There was also the horse shoeing hall of fame, with a video of the shoeing process. It blew our minds, for real!
If you aren't a little dude, the jockey clothes make you look like an idiot! Those goggles! Tool academy for sure. There was a scale to get on too. Jockeys can't weigh more or less than 120 pounds!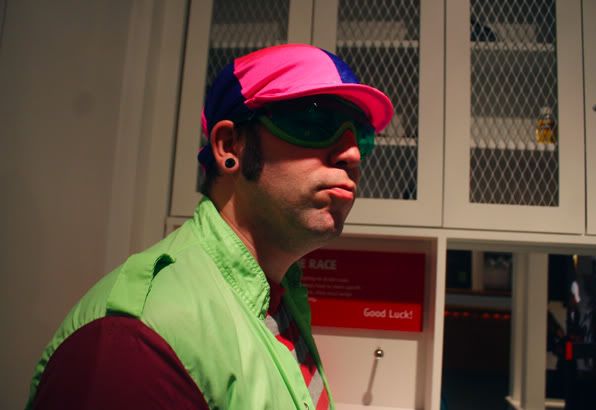 I don't know why they put this unflattering lighting over the best photo op in the place!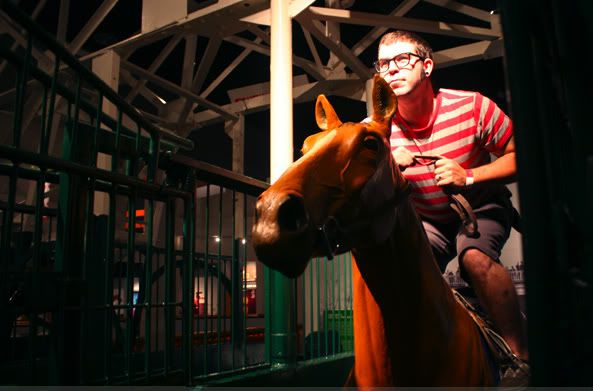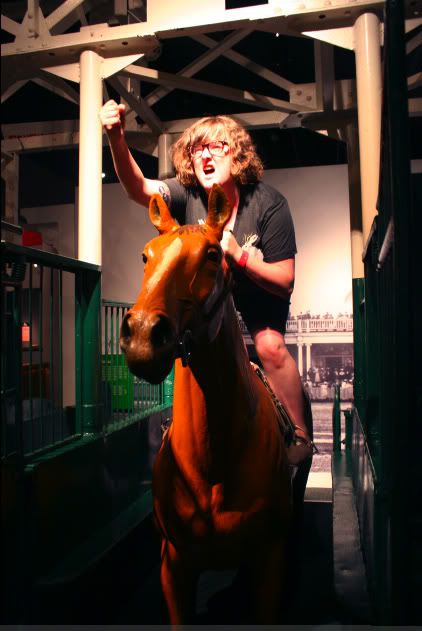 I really recommend the derby museum! Even if you have no interest in horse racing, the interactive exhibits are so fun! We were there for a few hours, then we asked about how much it was to get into the races. The guy at the desk said that sometimes their members don't use all the tickets for the museums box, and gave us tickets! It was awesome! So I recommend going on a race day, so you can get the whole experience.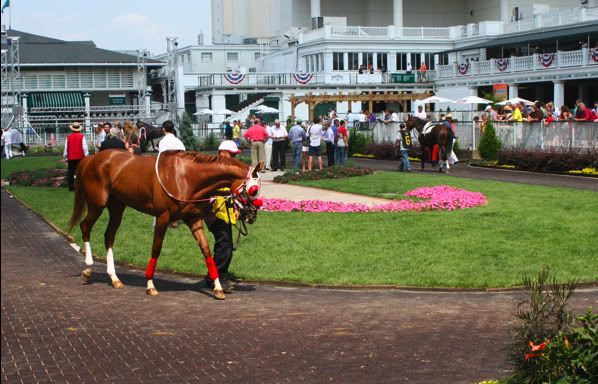 The complex of Churchill Downs is pretty impressive! We took what we learned in the museum and went to check out the horses before the race. You are supposed to look at their gait...or something.

We decided to place a little bet! We bet 5 dollars on 6 to win, and 1 to show. (We learned in the museum that first, second, and third are win, show, place in racing). We were SO awkward at the wagering window! Total noobs.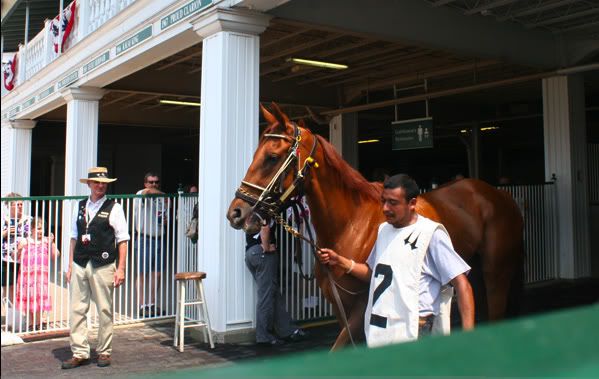 More pretty horses! Check out the T on his head!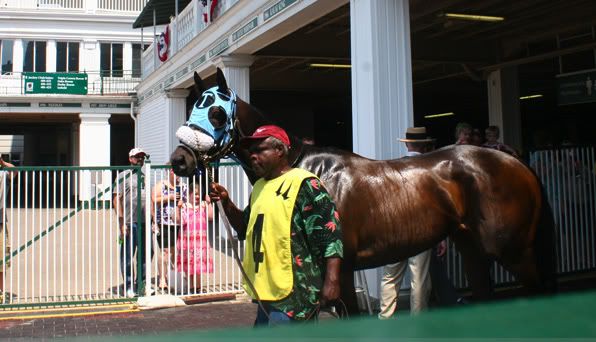 After the race some of the horses get a bucket of water thrown on them to cool down. It looked refreshing! Travis told me I should get the job of throwing the water.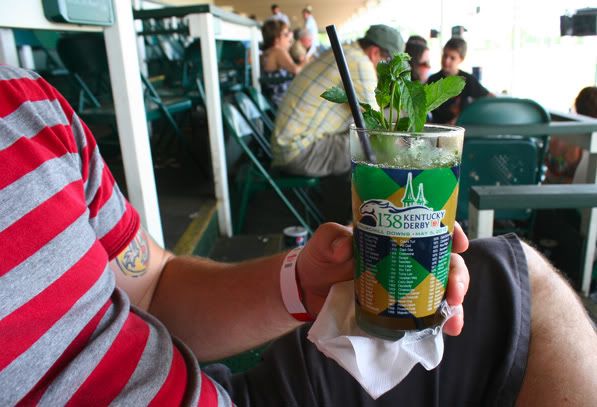 We got a mint julip to share! It was GROSS, haha! We ended up throwing half of it away.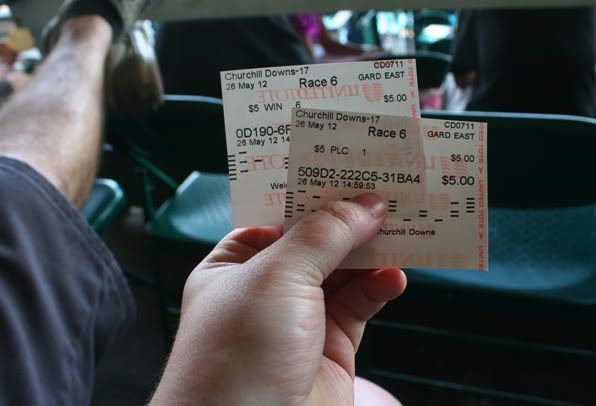 Our bet tickets! How exciting! My dad when on a work trip there when I was young and he brought me back all of his tickets. I loved it! He also sent me a postcard with a baby horse on it.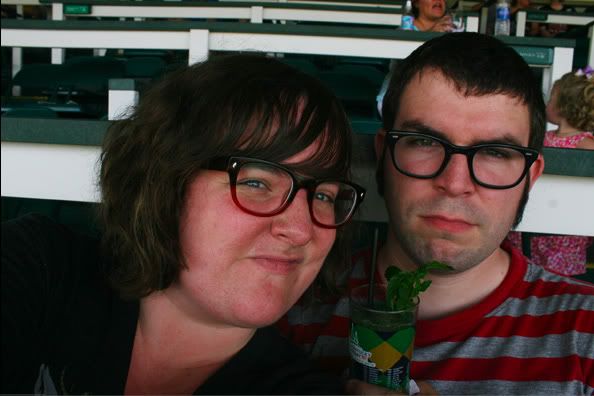 Hanging out in the box! I think this was a "what do you think of the julip" face. The track wasn't very crowded. There are races every 30 minutes. We watched the horses who were running in race six warm up.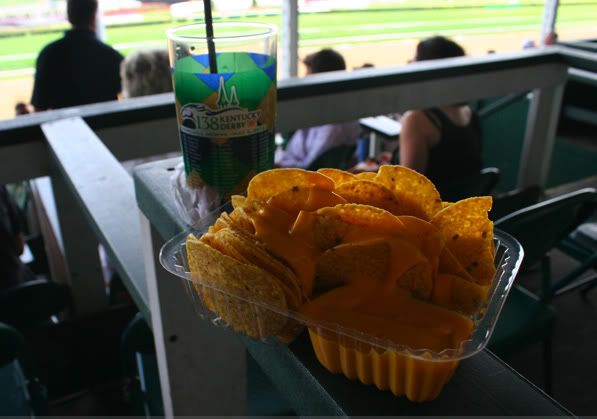 We are classy.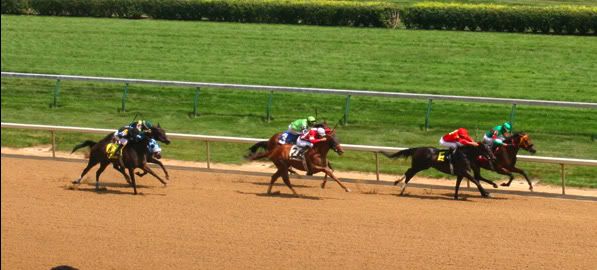 Woooo! Look at them run!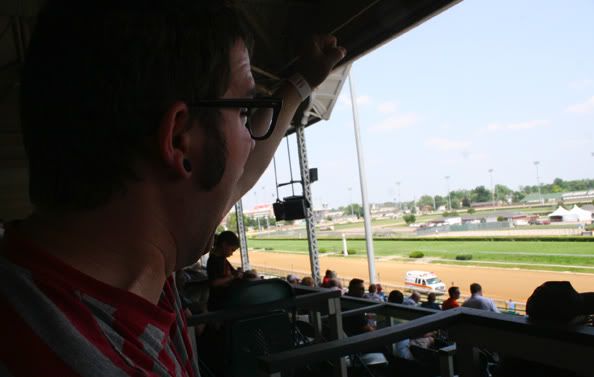 Travis was actually cheering! The race was short, but pretty thrilling.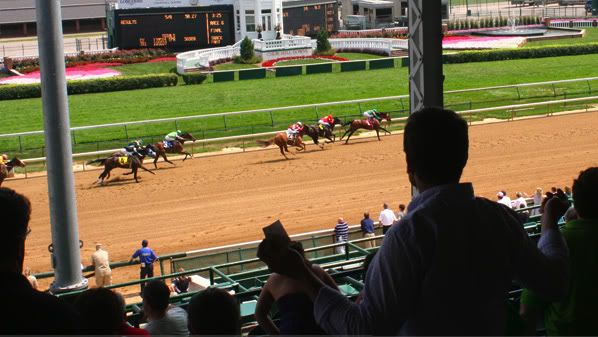 Go six! Go one!

One won first place, so we won 21 dollars! I don't totally understand how the betting system works, but it was cool to win! We were satisfied after our win and decided to head home. Churchill Downs was a really fun way to spend the afternoon! But I would NEVER want to be near it during the derby.