Here is my haul from the two sales we went to this weekend! The sales were pretty good. Most of this is from the first house that had all the toys and kids clothes. Hopefully this post isn't too long!
Honeycomb santa, a knit wit kit (I'll got more into that tomorrow. it needs it's own post!) A cute record set with circus animals...
My whole house will probably be dog themed one day. I just love dog stuff! I love that colorful dog with the weird teeth. The one of the top left is from 1910! Check out what it says...
"Hello Emma. When are you ready to come home. Let us know and we will come after you. We are going to Aunt Marys for dinner tomorrow. Look under the stamp" I love that they sent someone a postcard to see when they wanted to come home! All that could totally be in a text message today. I guess she would have to know she wants to come home in a few days, then send a postcard back.

I couldn't resist this little bottle opener! This house had a great bar in the basement with all kinds of cute bar wear.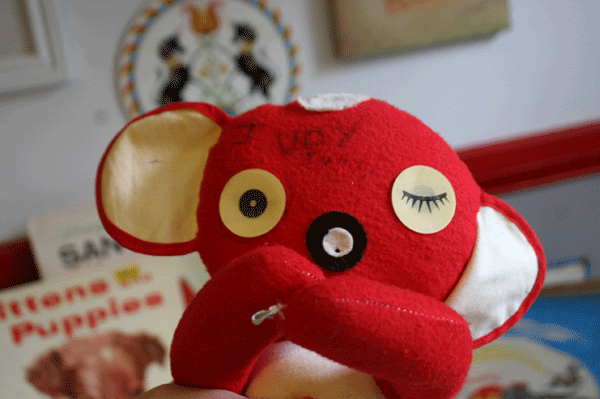 I got this little autograph animal with blinky eyes! I need to think of something cool to do with vintage stuffed animals. I have a few and I want to display them. I guess I could set up my guest room and put them on the bed.
I picked up these health magazines just because I liked the covers. The one with the horse on the cover pulled me in with the blurb "Ringworm Rampage!" Ahhh!
I learned a lot about ringworm. You can get it from the barber! Or at school!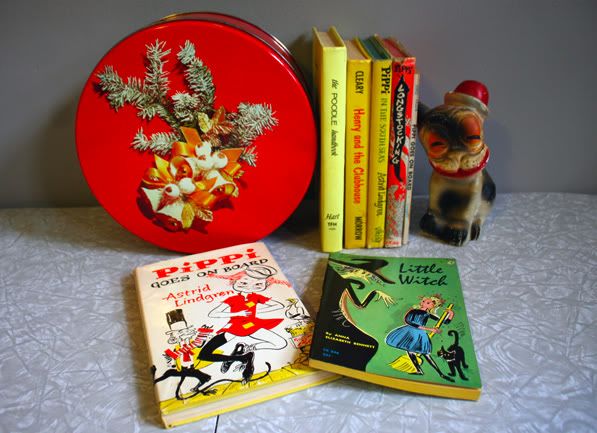 I got some great children's books, and a Christmas tin. i love the side of the Pippi boook with her name in the stocking shape! (that dog isn't from this sale, I just needed something to hold up the books)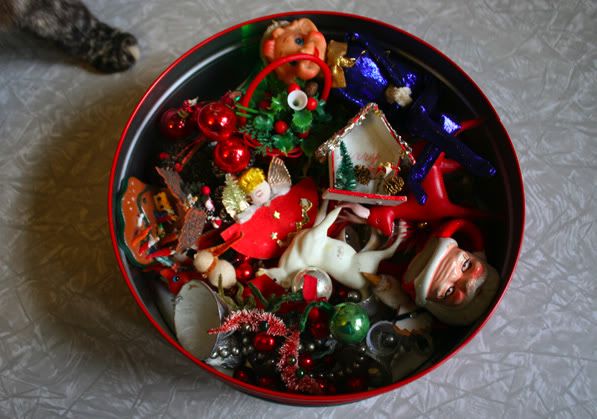 Cute tins like that one are so great for storing your Christmas goodies! Here are some of my recent vintage Christmas finds. And Scampi's foot. She would NOT leave me alone!
From this weekend, a deer with broken antlers, some cardboard bells, little plastic nativity (I can't resist them!) and a Christmas brooch with little pine cones.
A dangly ball decoration, and some glitter trims.

"five seconds to packaging glamour!"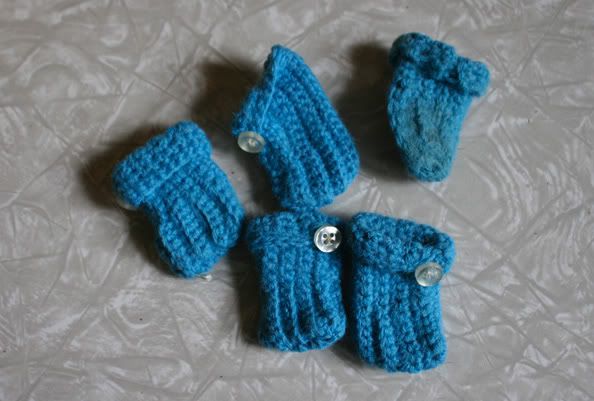 I bought these little booties hoping they would fit Phyllis. Not even close! I was so bummed! She just kicked them right off. The were for a toy poodle originally.
Travis actually got something at the sale. The razor in the back he has had for a long time, he actually uses it to shave. The one in the front is a travel one! It comes apart and fits in a little case!
Ok, here I am again, buying baby clothes for a baby that might never be. Haha, I just can't resist! These clothes are from 1956-1960. Most of them were 50 cents!
I wish I had that plaid shirt in my size! And the red striped makes me think of Travis.

I can't resist things with little animals on them. The lamb is on some little shorts.

St. Louis zoo shirt! I'm guessing this is from 1958.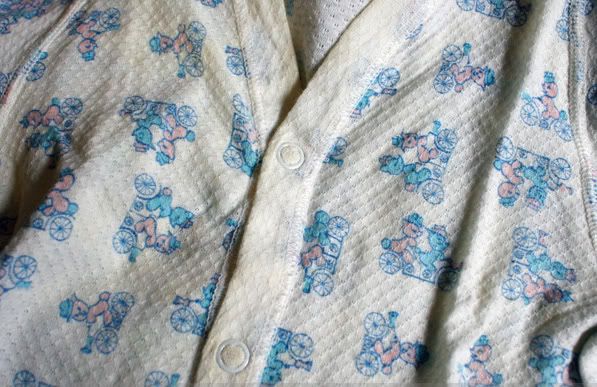 Look at this sweet pattern! These are little pajamas.

A few sun suits. How sweet would the red and blue ones be for fourth of July?

The mittens again. I'm probably going to frame the poodle ones for my poodle collection.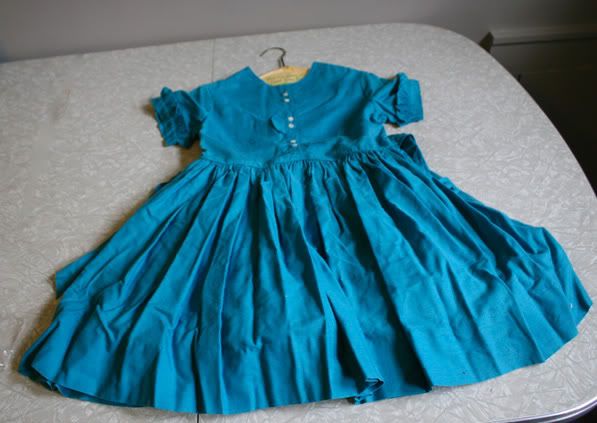 This one isn't as amazing as the squirrel dress, but it was too pretty for me to leave behind.

I love the pretty details on the front.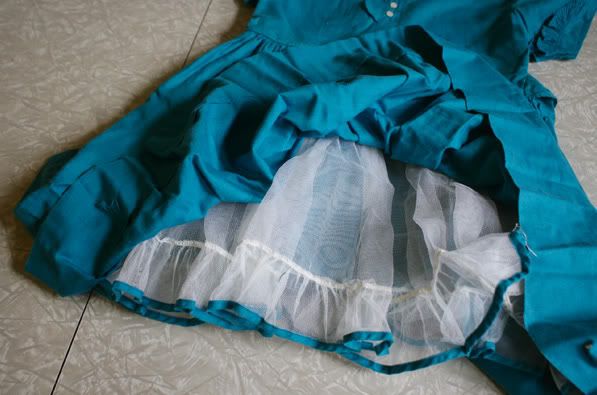 And the skirt. I really wish this one was my size! It is pretty perfect.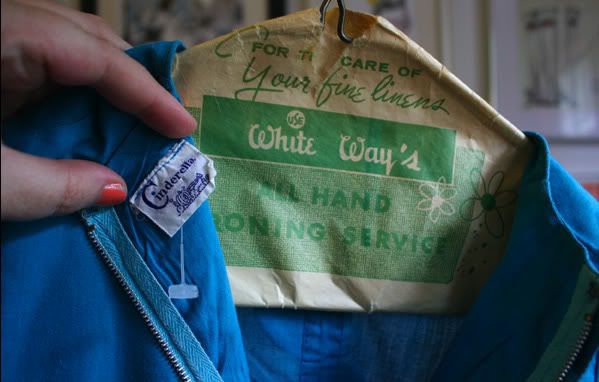 Cinderella brand. I like the hanger too. If I was worried about ironing I would totally send mine out. I hate iron!