Like I said, I had to do a whole post about this craft kit that I got at one of the estate sales last weekend. It wasn't priced, and I was worried they would charge me 30 bucks or something...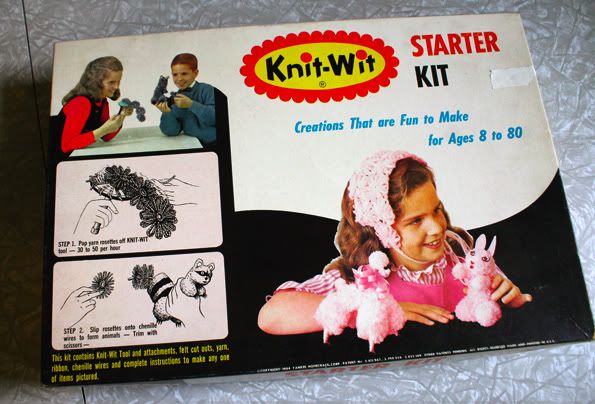 But look at that cover! The bunny! The weird "hat"! The poodle! I had to ask! And they ended up only wanting five bucks. Perfect! Sold!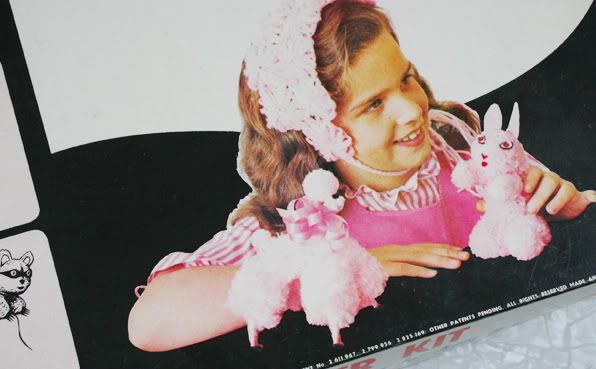 It is so cute, I've been looking online to see if I could find other kits or patterns, like the cute octopi on the box! It turns out you can still buy
knit wits
! Apparently it is one of those "As Seen On Tv" things and you can make an afghan in 48 hours. They have a pattern for a daisy afghan, which reminds me a great afghan I bought at the flea market! I can't see much in the picture, but I wonder if mine was made on a knit wit! i should try it out.
My kit comes with patterns for all three projects on the front, plus a few other ones. Those bunny slippers! There is a whole tree full of birds too. On the official site they still sell what seem to be vintage patterns like this poodle and humpty dumpty.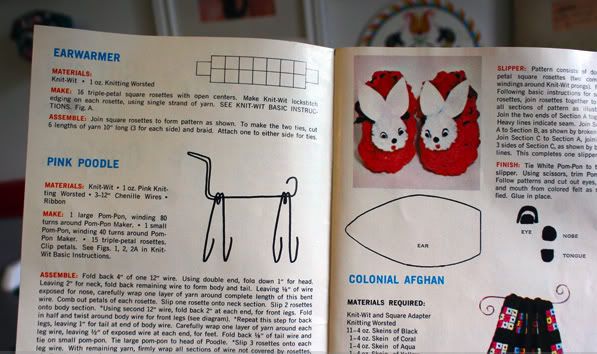 Before I buy anymore, I need to check it out and see if I can make the rabbit. I love that all the pieces are in here, and that pink bow. I hope this was a gift, and the bow was stuck in there because of how perfectly it matched.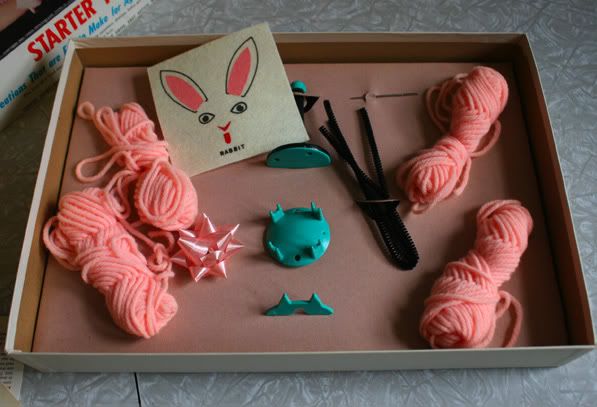 If you search on ebay you can find some cute stuff for the knit wit, including a few kits!
1965 Rooster Kit
Men's Swimwear (yarn bathing suit!)
Afghan Pattern Book