I'm sitting at the airport waiting for my delayed flight flipping out about missing my second flight to Nashville. This trip has made me realize I'm not into flying at all! To much stress for little ole me. Otherwise this trip has been INCREDIBLE and I can't wait to share it with you. I've got a couple hundred photos to sift through so that will come up soon, but while I'm waiting for my plane and contemplating eating some airport food, I'll try and calm myself with a post about home.
We have this little room at the back of our house that we use as a utility room. It has the washer and dryer in it, it is where the dogs sleep, and it had turned into a junk pile. Poor Phyllis and Priscilla didn't have much room to move around (even though they are only in there at night) It is also the entrance to our house for us, since we almost never use the front door. So last week we were both off and I got tired of it and made Travis clean the whole room out with me. We pulled everything out and put it in the side yard. It looked like we were having a yard sale!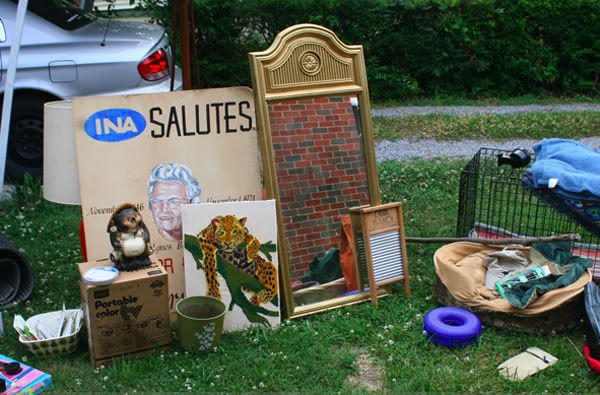 This is a bench from a vintage mule buggy! It was in the last house we lived in and the owner let us keep it when we moved! I love it. It is from Columbia, where they have a big mule festival every year.
Almost every pair of shoes we own had made it into the utility room. And jackets. And tons of random thrifted stuff that needed a home. See the lion puppet? I can't get rid of it, even though I don't know where to put it!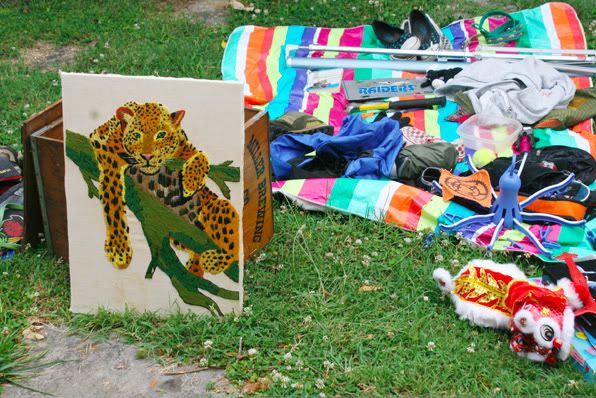 Here is the room cleaned out. I'm sure this happens to everyone who buys a house. When you first move in you make all kinds of changes and lists about things you need to do. But then after a few months you decide to take a break, then it's been two years since you last worked on the house. This room had all dark paneling when we moved in (don't worry vintage fans, it wasn't the coveted knotty pine, just almost black wood that made the room look too small). Travis painted a lot of it, it took so many coats! Now he says he is going to paint the window finally, and then the ceiling. It really makes a different! I need to make some cute curtains too. I like the wallpaper though. And the weird brown snowflake linoleum.
I kind of wish I had taken a before picture, but I'm also kind of glad I didn't. It was so full of junk! I felt like I should document the changes though. It is fun to look back and see how our house has changed in the background of other pictures. Sorry if this is boring! I don't have any beautiful
Yvestown
style afters, I wish!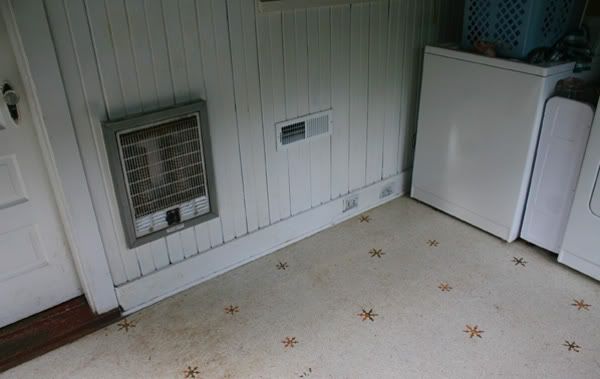 Do you like the old oil lamp style light? Haha, I really want to pull it down and put something else up, I just need the perfect thing. The pugs don't sleep in that crate, sometimes Priscilla hangs out in there, or the cats do. I made a little cat bed on top so they can enjoy it during the day. I haven't caught anyone sleeping there yet. I spend a lot of time trying to make the perfect "cat trap." Nerd alert.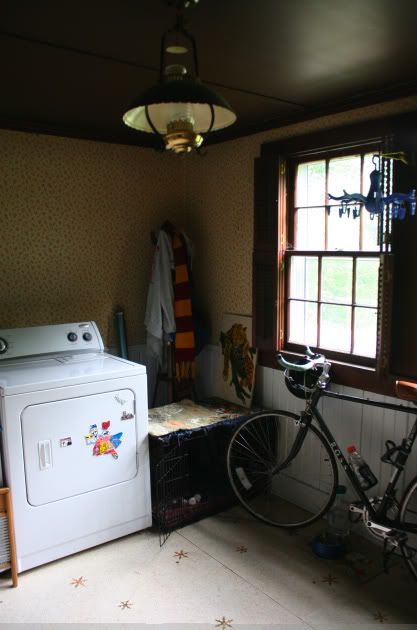 I like collecting these magnets from the places that we've been together. We were so excited to find the Prince Edward Island one! The guy at the gift shop (in Cave City) probably thought we were crazy! I decided to put them on the dryer to dress it up a little.
I finally used the hooks we put up from something useful. Now my daily purse, camera bag, and the harnesses and leashes are in easy reach. The Miller Highlife box belonged to Travis' uncle, it holds messy outside shoes and tools we (well, Travis) use often. That is a little
Tanuki
and some homemade bug spray for the dogs(geranium oil and water! works great!). That window on the right looks into our kitchen. I peak in at the dogs every morning before I go wake them up. That aluminum bat by the door is our home security system.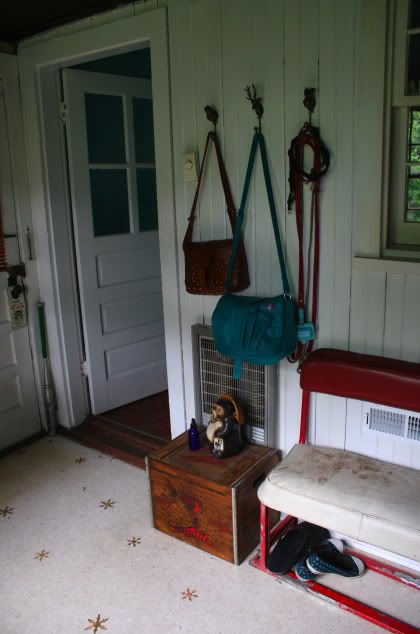 I wish I had a camera that took video so you could hear the sounds Phyllis was making while I took these. So much heavy sighing and groaning and carrying on. I think she was happy that she finally had room to move around in her room, but she would still rather I carry her any time she can't be on my lap.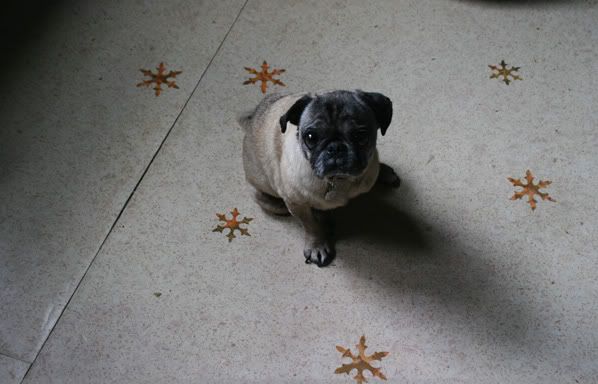 And the part I'm most excited about, our new "quarentine" area! When we bring home thrift/flea market/estate sale stuff it gets dropped off here instead of the dining room. For a LONG time we haven't been able to use our dining room table to actually eat because it has been covered with all kinds of (awesome) junk. We'll see how long this lasts!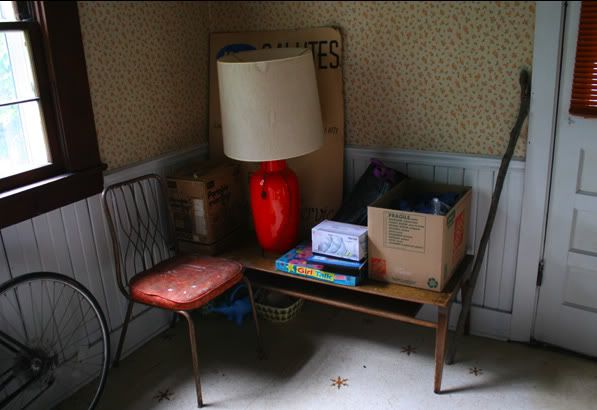 How long has it been since you moved into your house, and have you finished all your renovations? I know I'm not the only one dragging it out. By the end of the summer I would like to have our built-ins done in the living room, and maybe the windows replaced. We'll see.