This is a pretty belated post, I forgot I had these pictures hanging out on my camera card! This is what I got from a sale that was in a great little ranch house. Travis and I actually talked about "what if we sold our house and bought this on" while we were there. There were lots of granny crafts, which is my favorite! Eartha Kitsch beat me there, and you can see the great stuff she get here. I love the cat painting she got, and that styrofoam turtle! There was also a little bottle of glue with a knitted cover, but it was missing it's top. I'm SURE it was a poodle, and looked all over the house, but just couldn't find it. Here is what I did get...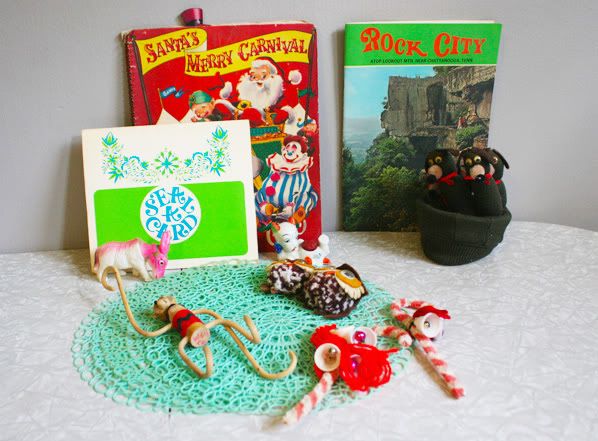 This weird thing is made out of a glove! I just couldn't resist. Weird dog craft with googly eyes? Sold!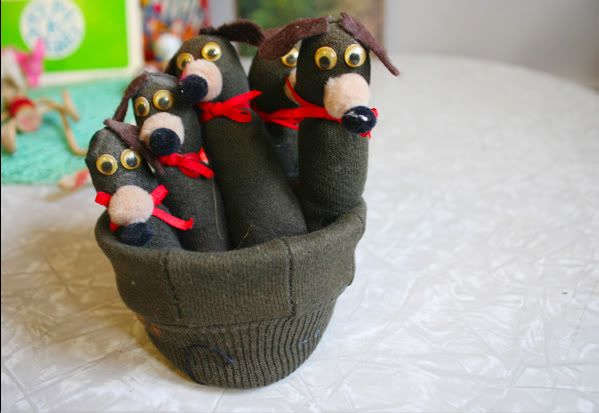 I got this sweet pair of horse pins, and I want to make a sweater gaurd out of the flower clip ons. I had never noticed a pair of horses like this, but since I picked these up I've been seeing them everywhere!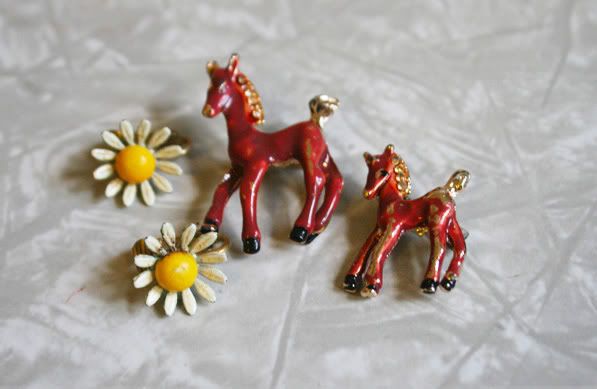 A sweet little dog pincushion that makes me thing of Phyllis. She lays is really awkward positions like that sometimes.
This is what is inside that little "seal a card" envelope up top. The blue pages you can write a note on, then fold up to send through the mail. Then there is a polaroid of a handsome man at what looks like a grocery store, a valentine, and a picture of an owl that looks like it was cut out of a book.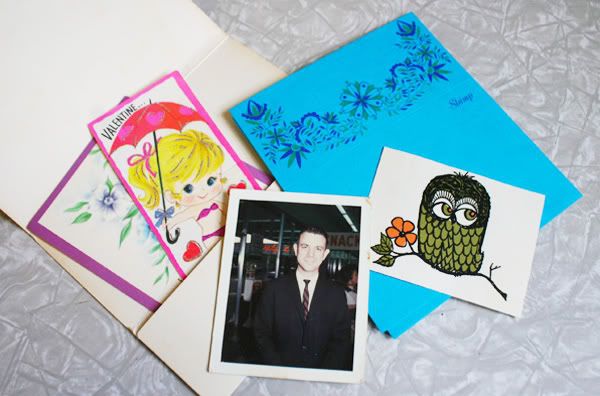 I love reusable doilies! The monkey is made of cork! The owls are handmade magnets, and I love pipe cleaner candy canes too!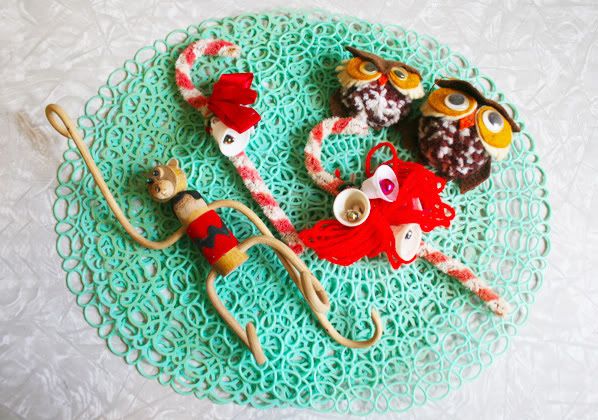 There were some framed images of the Rock City black light caves advertised with this sale, but they were snapped up when it opened. I was really bummed, but then I found this book from the 70's that included pictures of it! Hooray! I've always tried to take pictures in there, but always failed, and internet searches came up mostly empty too. Thank goodness I found this!
The Christmas book is about Santa visiting a carnival. It is a pop up book that has some pretty great pages. I love the sword swallower in this page. There are a couple pop ups missing, but for 50 cents...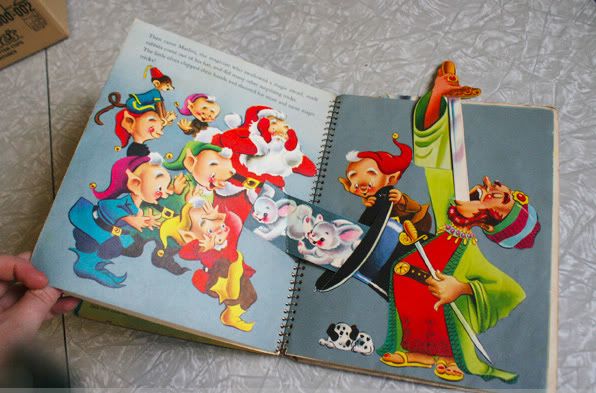 And look at that pretty little tattooed lady!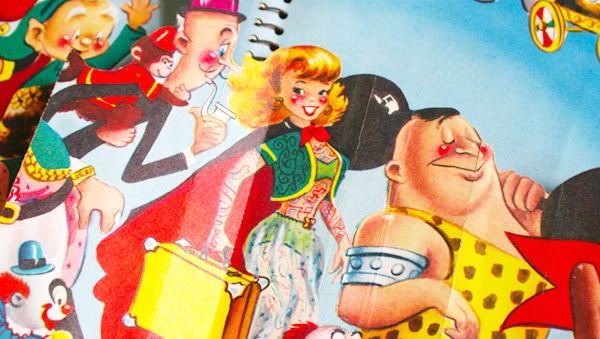 I'm waiting for Travis to wake up so we can go hit a sale that has over 1000 dolls! I never thought those words would tempt me, but they have some really cute vintage stuff! It is run by an antique company though, so we'll see how the prices are.