Travis and I were both off on Sunday. We were both tired after a long work week, but I knew if we gave into temptation and spent the whole day on the couch watching movies and playing on our computers we wouldn't really be spending time together. So we looked through our list of things we want to do and decided to take a little trip to Paris. Tennessee that is.
Paris is about two hours away, and we picked a route that would keep us mostly off of the interstate and take us through part of the state that we had never been. And since I drove, I could stop whenever I wanted! Like when we passed this hotel in Clarksville!
Could that sign be any more gorgeous?

The front office is pretty cute too. Can you picture it when it was new? I bet it was even more beautiful. It is actually still open. As you can see by the rates. I love double sided sign too!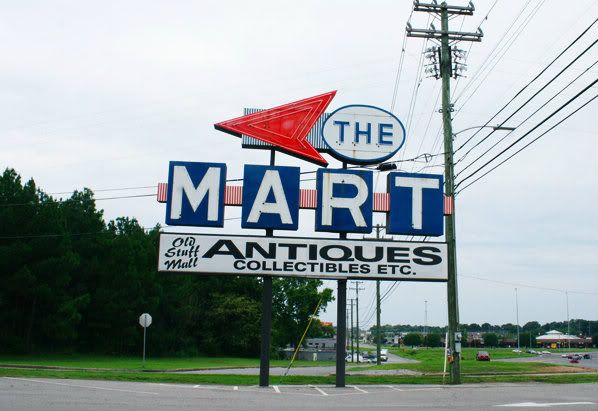 Not much further down the road we passed this sign as well. Gorgeous! You know we had to stop!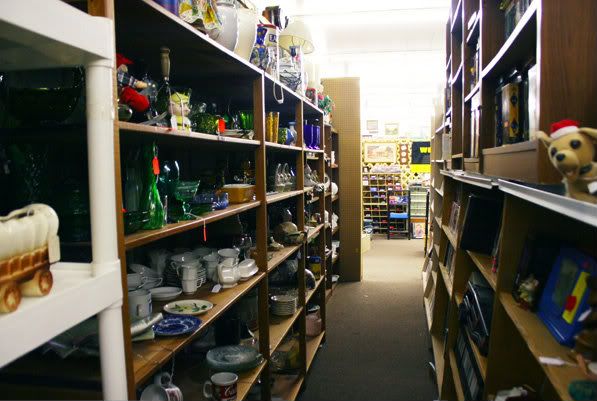 It was kind of weird. We were the only people when we first walked in, and the owner was on the phone having a LOUD mean argument with someone. He didn't stop when we came in, just avoided us. When we checked out later he was actually nice though! The store was packed, and there were lots of really thin aisles and piles of boxes with unpriced stuff.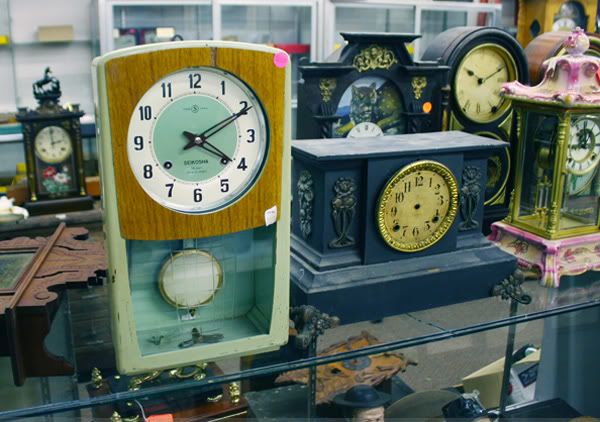 I loved this mint clock! There was a HUGE wall lined with clocks, and a counter in front of that piled with more. The mint one has a sold sticker on it.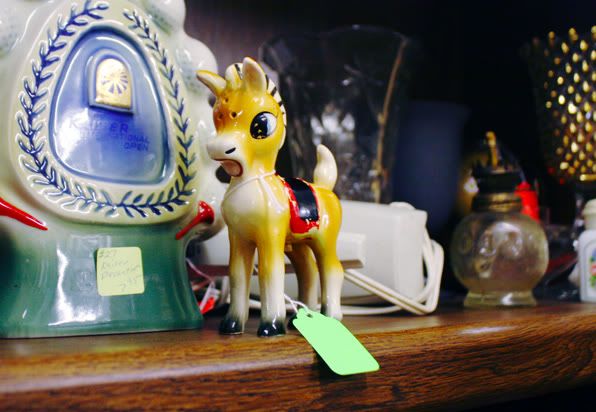 I ALMOST bought this little horse shaker. But he was missing his match, and was a little expensive for just one. But how cute! I love his little flipped tail.
We finally got to our destination, the little Eiffel tower in Paris, Tn. Of course it started POURING down rain about 15 minutes before we got there. So I got Travis to get his umbrella so I could get a picture of him in front of it. The ones of him actually posing were too dark to save. Such a bummer! But now I can say I saw it.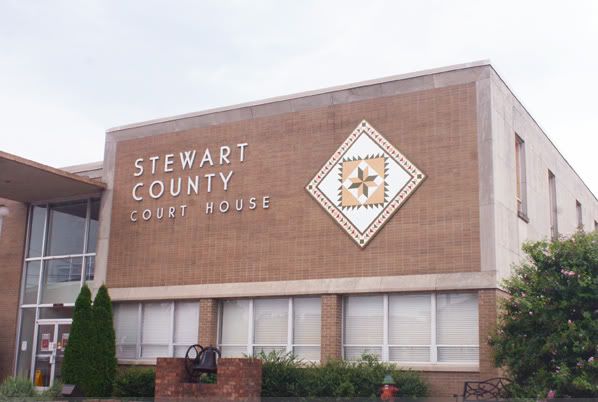 We drove a different way home. As we went through this county we kept seeing those quilt squares on the sides of houses and businesses. I loved them! We looked it up later and they are part of the National Civil War quilt trail.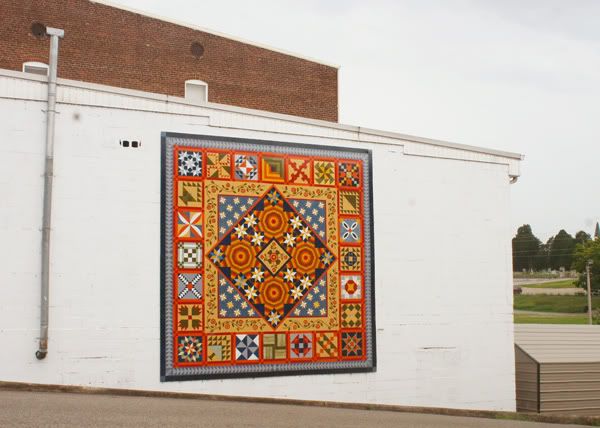 I stopped a took a picture of this one because I thought it was pretty, and it turns out it is the centerpiece of the trail. It is called "Letitia's Quilt" and was inspired by Letitia Smith Walter, a local Civil War heroine from the town.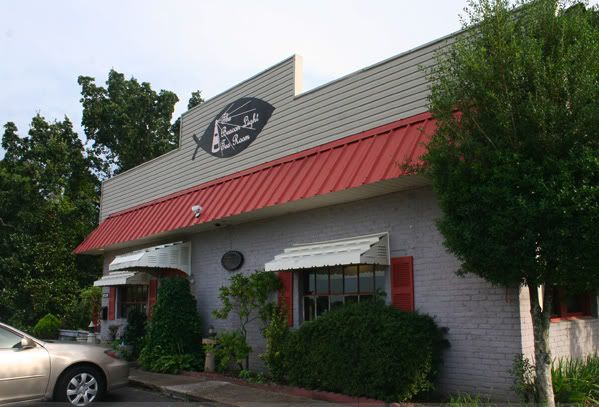 We made our way down to Bon Aqua, Tennessee (I love that town name. It sounds so good in a souther accent) to go to the Beacon Light Tea Room. We found it on our favorite site, Road Food.

The biscuits were SO GOOD. They were small and fresh and just amazing. They served them with peach and strawberry preserves. I love a meal that starts with homemade biscuits.
My buddy. I am so happy we went on this little trip. We held hands and listened to a book on tape and had some good quality time together. I didn't realize how much I would miss not working at the same place as Travis.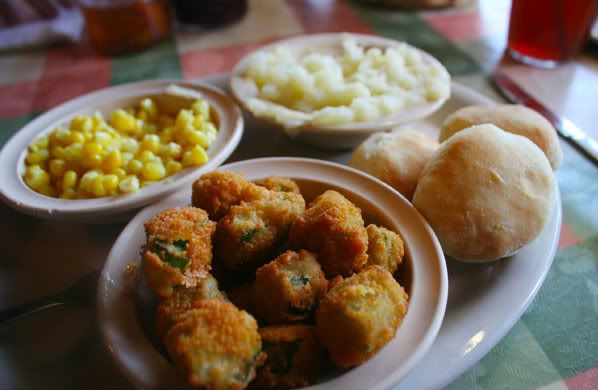 I love meat and three style restaurants, even though we don't eat the meat and have to ask which veggies are flavored with meat. I got whole kernel corn, mashed potatoes, and the best fried okra I have ever had, EVER. I couldn't pinpoint what was so good about it, but it was incredible.
We split a piece of coconut ice box pie to finish off. Mmmm it was good! I had never had it before, though I am a big fan of lemon ice box pie.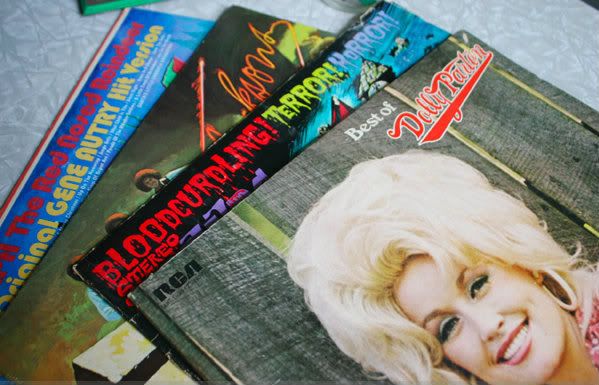 Here is what we bought at the antique mall. A few records.

I LOVE this glass. I love vintage glasses like this anyway, and this one is big and I love the colors. The tag said it was part of a pair, but try as I might I couldn't find the other one.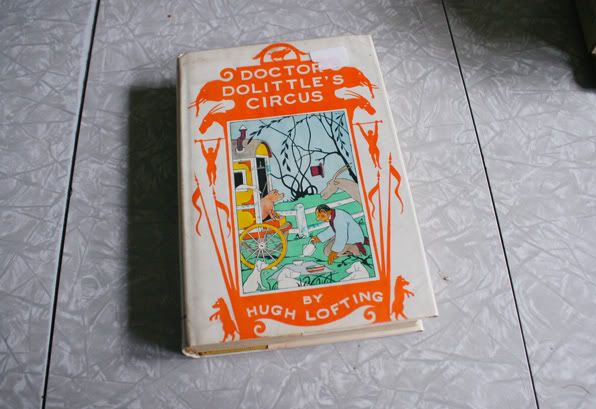 A vintage Dr. Dolittle book! I have been having a hard time finding an old copy of the first book, but I have "Doctor Dolittle's Post Office" too. I love how the orange looks like a paper-cut illustration.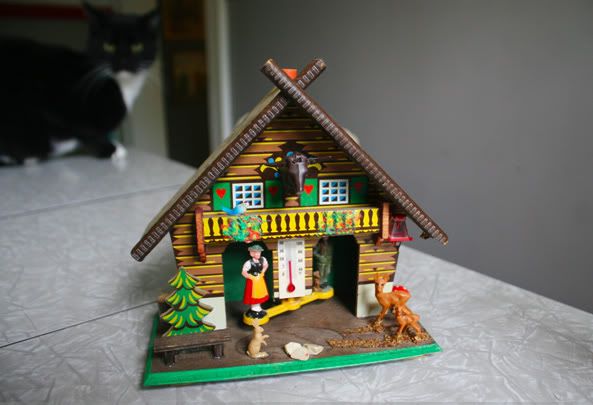 And the best thing is this weather house! It is hard to tell in this picture but it is about twice as big as the ones I usually find. Do you like mad kitty in the background? Haha.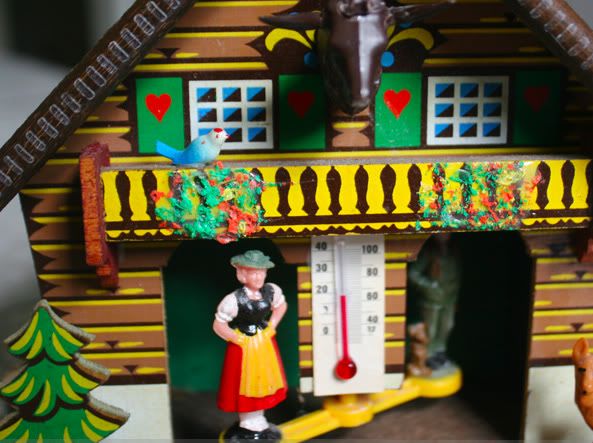 It has more details than any of my other weather houses! Mushrooms, two deer, a rabbit, a bird, a mounted deer head, and the man even has a little dachshund looking dog at his feet! I have 4 weather houses now, I want to hang them on one of my walls soon, I just need to find the perfect place!