Were you wondering when I was going tell you all about my adventures in reselling like I promised I would? Well, I have been avoiding it, because to be honest, I'm not doing well. BUT why shouldn't I share the bad along with the good? So here we go.
I have been selling at the Tennessee Antique Mall for two months so far. While I have at least made my rent both months, the first month my profit was only $1.75 and the second month I owed 58 cents, which they graciously called even. Not exactly what I was hoping for. Especially when two of my favorite items sold for pretty great prices and all of that money went to rent. Blarg.
I talked it over with the owners of the mall, who are great and confirmed what I was thinking. I think that choosing a case instead of a booth was my mistake. Several of you expressed the same concern. I am an avid antique mall shopper and I have very very rarely asked for a case to be opened. It feels like a lot of trouble for something small, and if the mall is even a little busy I won't usually bother. I chose a case because it was a cheaper space, but I think it is hurting me in the long run.
The mall owners think I would do better in a booth space too. They told me that certain kinds of collectors aren't put off by locked cases, like jewelry collectors. I'm more of a kitsch vendor. So they are going to let me know when a booth opens up, though who knows how long that will be, and if it will be one of the smaller ones (some of their spaces are HUGE and I couldn't fill one of those up). In the meantime, they are going to see if they can take the door off my case so that people can browse more easily. So we'll see.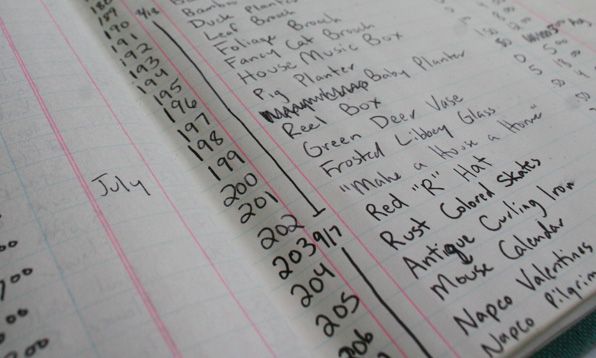 I would be lying if I said I'm not disappointed. I don't like to fail, and I can be really hard on myself. I have been working on this post for a few hours today, because it has been so hard for me to write. But you know what? This is a learning experience for me, and I am going to give myself more time to figure things out.