First of all, thank you guys so much for all the nice and encouraging things you wrote on my post yesterday. It really means a lot to me. I mean it.
Second, I could not wait one more second to share this with you, even though it is overcast and gross so these pictures aren't the best. Do you read
No Pattern Required
? If you love vintage/mid century stuff you are missing out if you don't! My favorite feature over there is the Won't You Be My Neighbor one where they post listings for amazing MCM houses all over the country. My second favorite is the Cool Kitsch for sale on Ebay. Usually I try to read those posts a few days after they are made so I am not tempted by the amazing stuff they post, but on
this day
I slipped and before I knew what was happening I had bid on, and won, this amazing piece of vintage Christmas perfection. Have I mentioned on here that Travis has been selling on Ebay? I can't remember. It is mostly boring stuff like camping supplies and backpacks but he has been doing really well! Which is good because I can use his pay pal account to buy things like this.
It is seriously perfect. There really aren't any damaged areas. The seller noted a pin hole in the middle but I haven't seen it. Let's get a few close ups of this obviously handmade masterpiece. First note the pom poms and rick rack around the edges.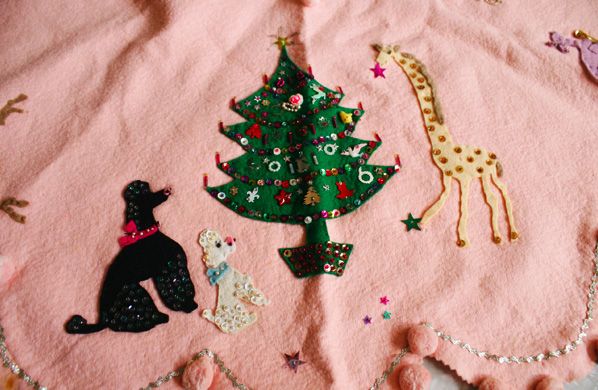 I think the scene that made me sure I had to buy it was the poodles and giraffe around the Christmas tree. The use of beads and sequins really is inspired.
Look at all the detail on the tree! I love the sequins and the candles! And all the little one of a kind beads. I wonder if someone used some of the most loved little bits in their craft stash to make this.

Like the two little birds.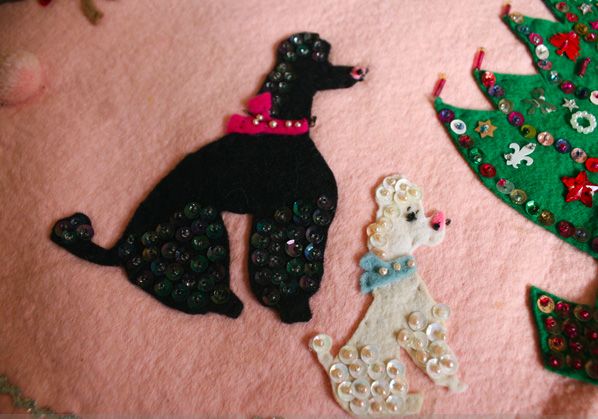 Let's get a closer look at those poodles! I love the pearls on their collars.

There is a little band including a lion with a drum, a kangaroo with a ukulele and a pig with a horn. Look at how they spelled Noel with yarn!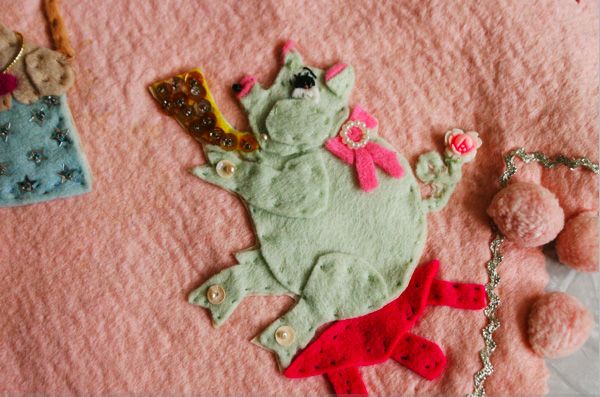 A sweet rose on the pig's tail.

A beautiful purple seal.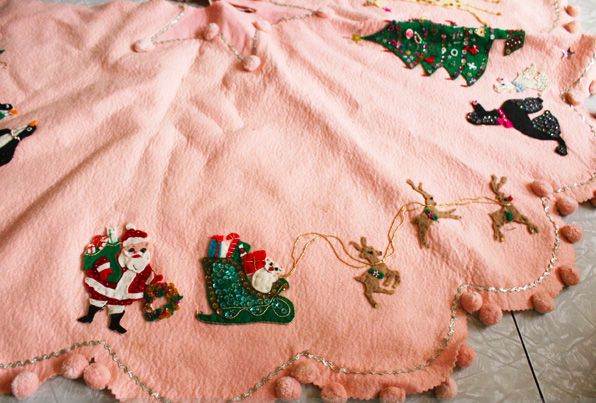 Then a little Santa scene. Really, if it just had the Santa on it I would love it.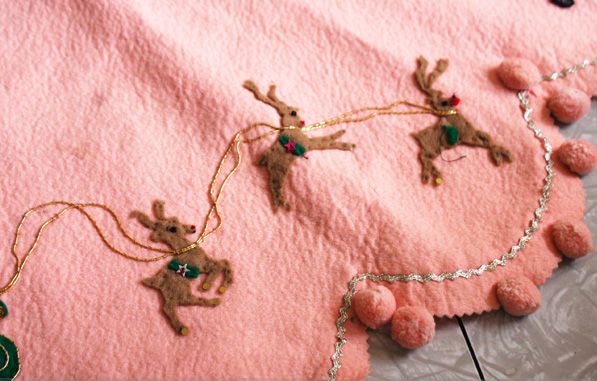 I love the middle deer! And how they are each in a different position. I can't imagine how much time someone took with this tree skirt! And how well they preserved it! There really isn't a stitch or ribbon or felt appliqué out of place!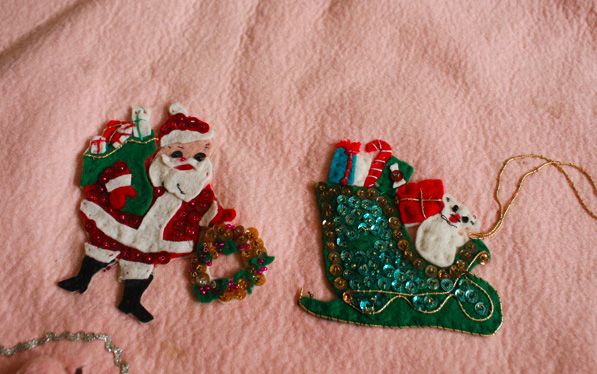 Close up of Santa and that sweet little bear in his sleigh. And look at all the sequins on his wreath!

Here is a little mouse with a fancy tail hanging up his stocking!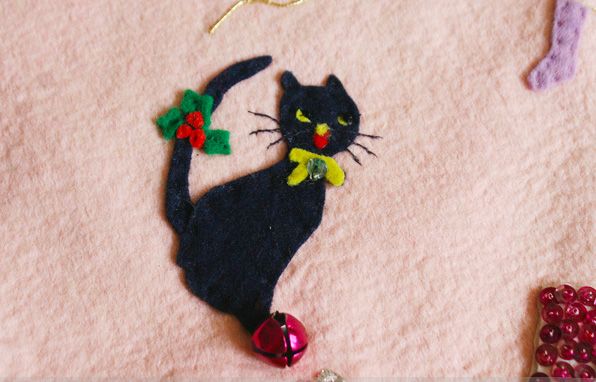 And a kitty with a jingle bell singing. Or yelling at the mouse. There is also a kitty sleeping on that pink sequined pillow in the corner, I just didn't take a close up.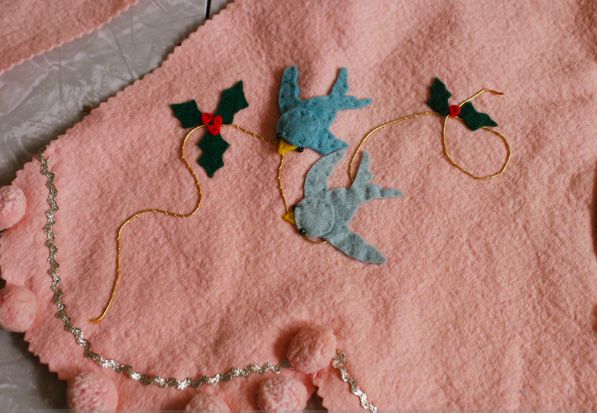 Some sweet birds.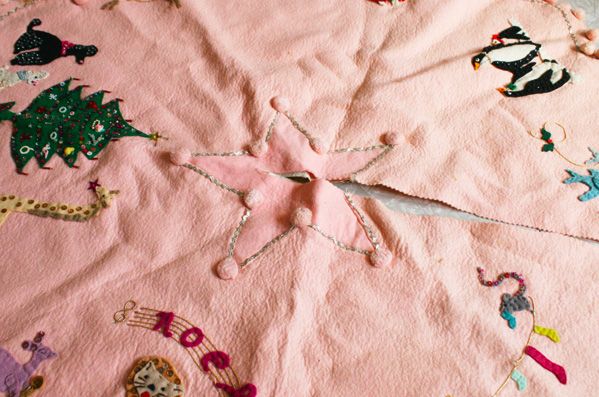 I even love the middle. What attention to detail! You can see a little penguin family too, the mother has on a pearl necklace! This tree skirt could not be more perfect in my opinion. It is going to become a heirloom in my family. I wish I could know the original story behind it. How did it end up on ebay? I don't buy much vintage online. I prefer to get stuff for just a few bucks, and the hunt is a lot of the fun for me. But I just couldn't let this one get away. I was sure I wouldn't win. I just bid my maximum and came back two days later. It was tortuous waiting for it in the mail! What do you think? Will I be able to resist getting out my Christmas tree?
It even pulled the spot light away from this pretty fantastic hanging lamp that Travis found for me at the Goodwill outlet. Oh! Where should I hang it?