I was feeling all torn over whether all my estate sale photos/finds were getting boring to everyone but me, but then I remembered how much I LOVE seeing the houses that other people go to, and all the fun vintage treasures! So I hope you aren't tired of these round ups! A few Friday's ago (maybe two?) I went on a trek and went to probably 6 estate sales. There were quite a few bummers, but this house was really lovely. Eartha Kitsch did a
great post
about it with more pictures. My favorite part was the basement. Look at this cute kitchenette!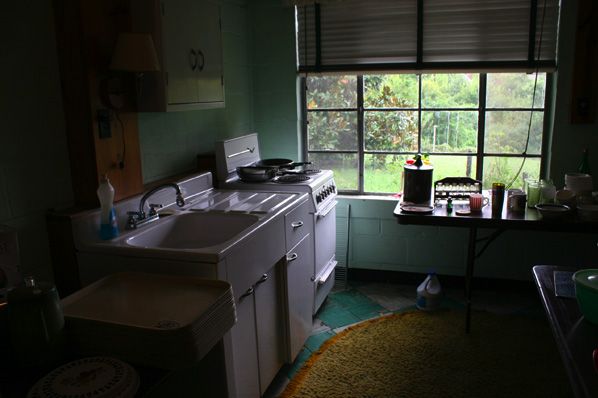 The floor was completely amazing and inpired me to send a message to my local vintage loving friends to make sure they didn't miss it. Those tiles! The colors! Why don't they make floors like this anymore?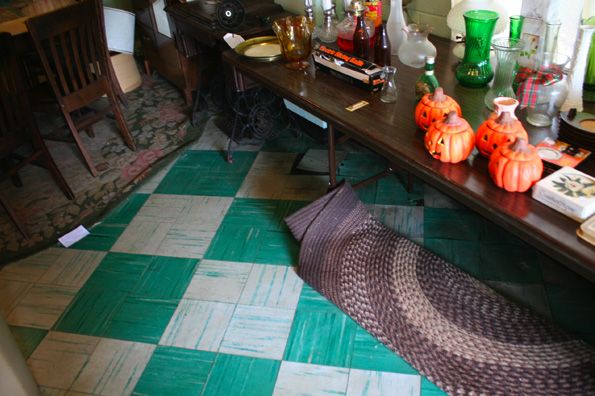 I'm really loving all the tile countertops I've been seeing lately, and little corner shelves. Seeing kitchens like this make me want to sell my little 1930's cottage with the galley kitchen and look for something cuter.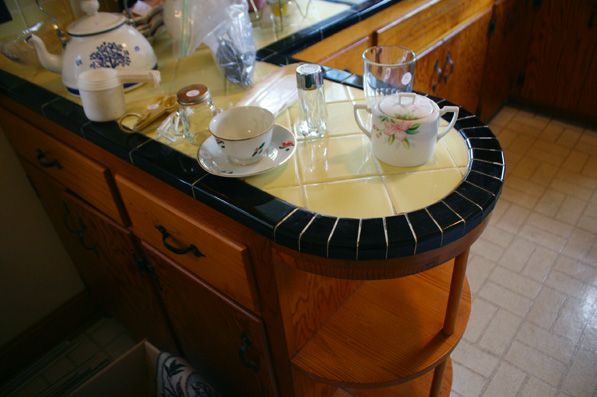 Oh this bathroom! I want tile like this so bad! Our bathroom is just boring white.

The floor tile was pretty amazing too. And do you see that pink bathroom scale? I wish I would have bought it! The sale was being run by a church group. The lady had donated her house to the youth and whatever money they made went to their youth group. Which meant the prices were rock bottom! I found one of my favorite scores ever here!
The people running this next sale were weird, but the house was crazy! Full of cool fancy stuff, with the sky high prices to match! They had a skylight in the kitchen, which I am now obsessed with having.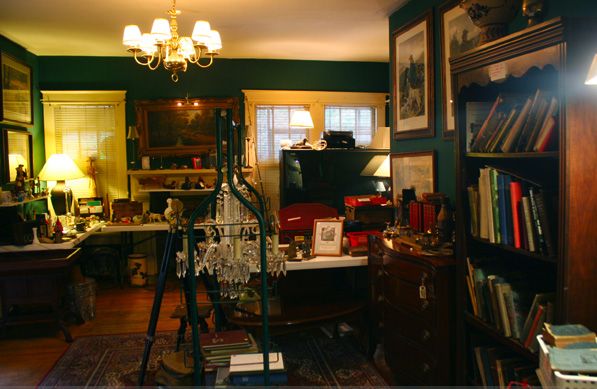 Here are my hard earned treasures.
I LOVE those two velvety pillows! They match my couch perfectly.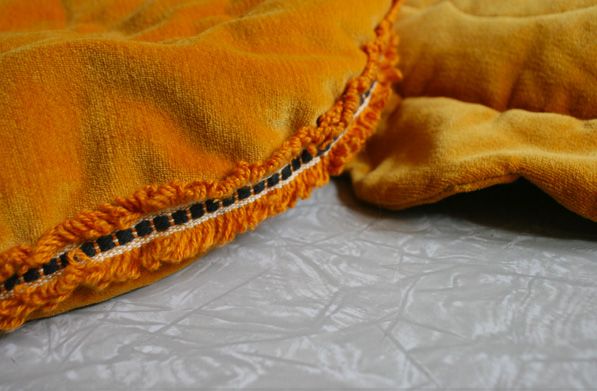 A tiny bit of Christmas. I think the little bird feeder is my favorite.
Misc sillyness. Another set of vintage playing cards I don't need. A Coney Island walnut turtle. And novelty feed bag for you nagging wife.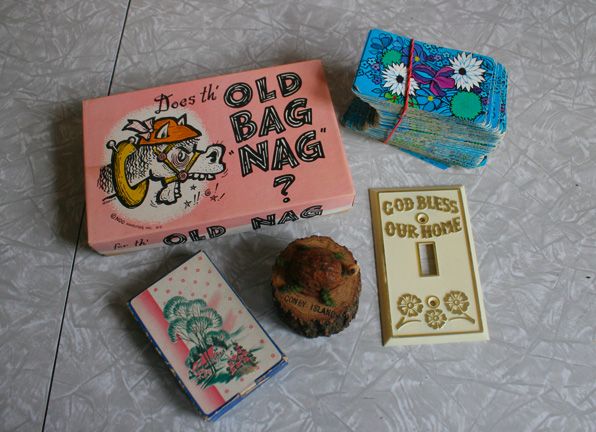 Terrible! I still had to buy it though. Of course.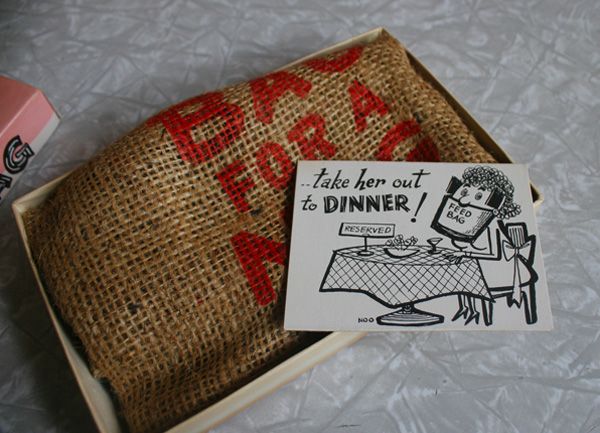 Have you ever seen one of these? So perfect for my bobby pins!
Cups! I've been looking for the red hazel atlas cup for over a year! And I got it for 25 cents!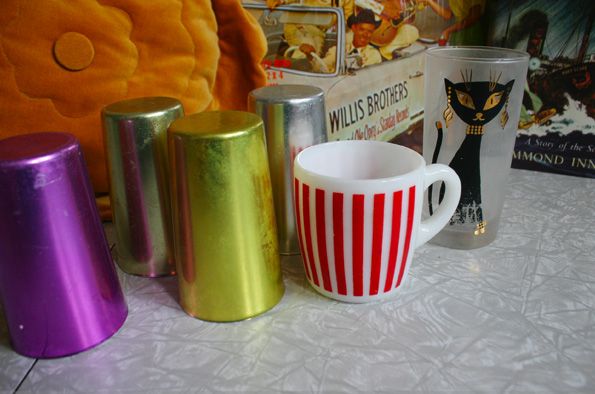 A record my brother in law picked out. I like "Pinball Anonymous" for those pinball addict.
A red wire note holder and some ephemera.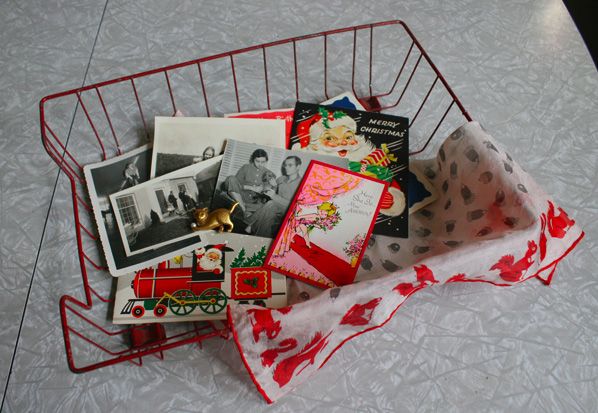 Look at this scarf! The most perfect scarf ever! I think I'll be buried with it.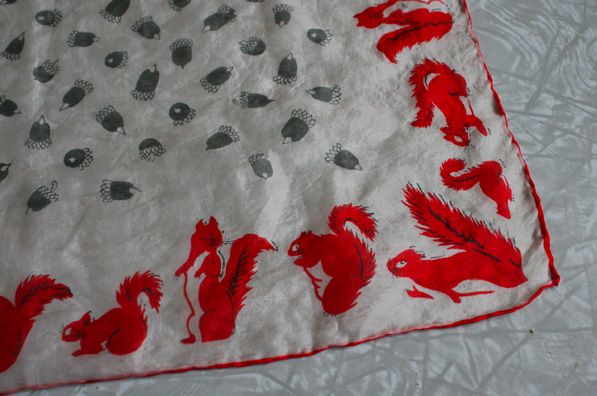 Vintage cards. The little Miss America one is a birth announcement. How cute!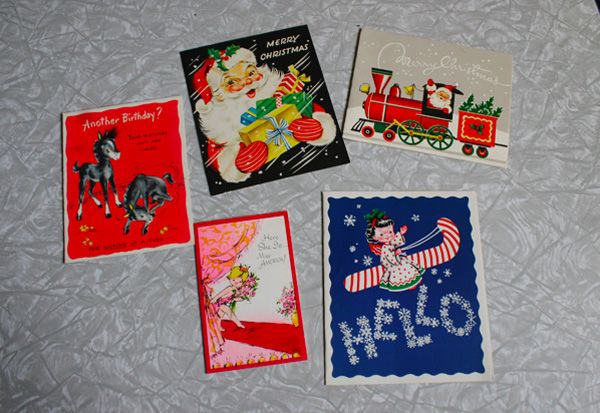 And I loved these sweet ponies.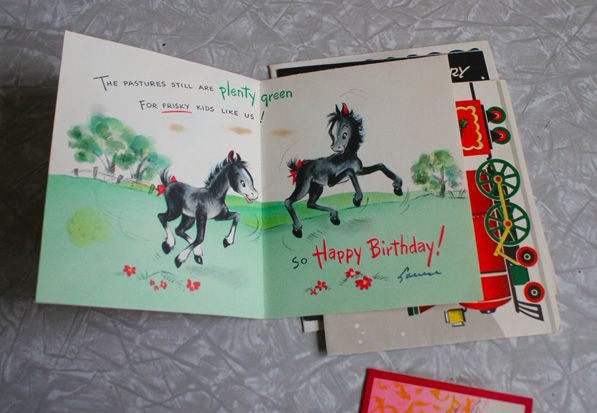 A few pictures for my collections. Look at that little poodle on the bottom right!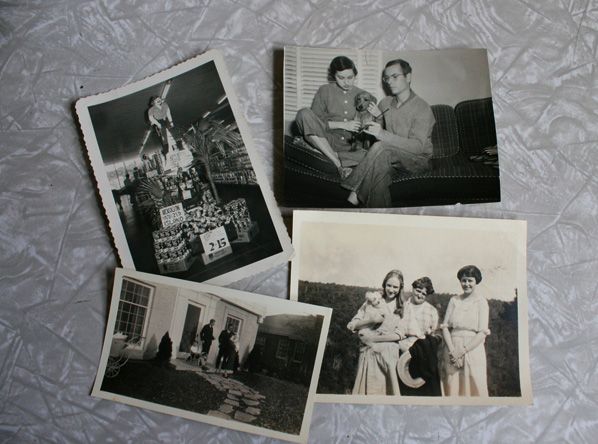 And last but not least, a cat brooch with a sweet little pearl.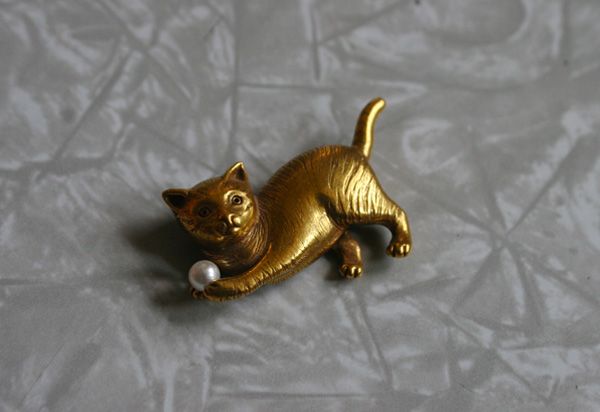 Hope your vintage hunts this weekend are fruitful! I'll see you soon!