Last night I went with Travis and my friend Ryan to a bar in West Nashville called the Stone Fox. A local band called My So Called Band was doing a show where they played the Blue Album and Pinkerton by Weezer all the way through! Did you know I'm a HUGE Weezer fan? Maye be you did, looking at my blog name. I was totally stoked to see this show. And I met Lauren from Old Red Boots, which made it ever better! She is so cute, and really nice! I'm looking forward to seeing her again this week at a little blogger meet up back at the Stone Fox. The bar is really cute with great vintage stuff on the walls, like a huge velvet Burt Reynolds painting!
The show was great. The played the songs perfectly and it made me so happy to hear them live again. I sang along with every one and had a little bit of a hoarse voice today. Pinkerton is my favorite album of all time, I absolutely love every single song on it. There were a few weird moments where we thought a fight was about to happen, and some girl's hair got in my mouth!! (Long haired ladies, please watch it when you are swinging your hair around in a crowd. I really hate it when a strangers hair is all in my face!) But over all it ruled. They said they are going to do it again soon, and I'd love to see them again!
Hearing all those songs made me really nostalgic. I was super into Weezer in high school and listened to them non-stop. I went back in my old live journal trying to find some really embarrassing pictures from the shows I went too, but most of them were in my oldest one and I couldn't remember the password. But I found a few, so please indulge me in a little trip down memory lane.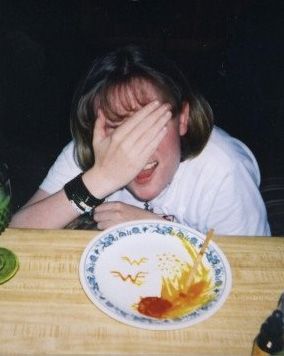 Here I am the day I saw Weezer live for the first time! Check out the flying W's I made with the mustard. Those bracelets I have one were made by me and had alphabet beads that said "shakin' booty makin' sweet love all the night" which is from "The Good Life." It was actually the first day I ever talked to Travis! I am making that face because I rode to my best friend's house on the bus and Travis rode the same one. He accidentally hit me in the face as he was walking down the middle row. I had a crush on him so I was thrilled. Haha!
And here are my friends and I in line waiting to get in. There is
Crystal
to my right, who is still my best friend. We were 16 in this picture. So we have been best friends for over 10 years!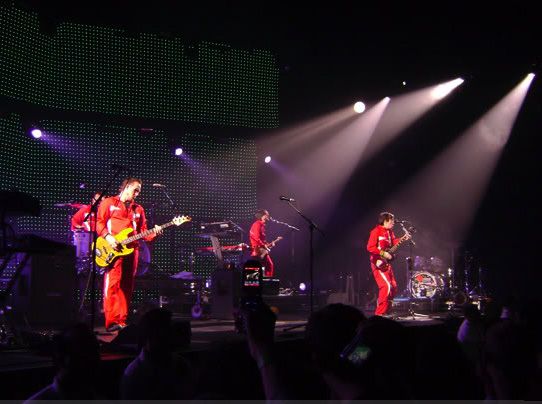 I've seen them live four times. This is the last one, about four years ago. At this show Tom DeLonge from Blink 182 sang with them and made all my high school dreams come true. Even though the later albums aren't as good, I still really like them (except Raditude. That one is AWFUL). I'm not even ashamed that this was my first big tattoo: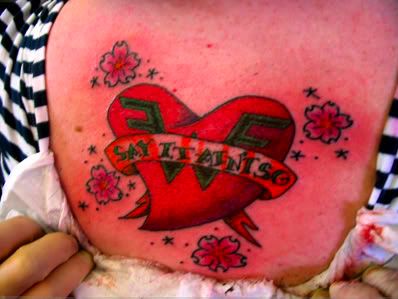 Dorky right? This is when it was fresh, I don't have any healed pictures of it sadly. It takes up most of my upper back. I want to get it redone, and add lots of flowers around it. We'll see. But I still love it.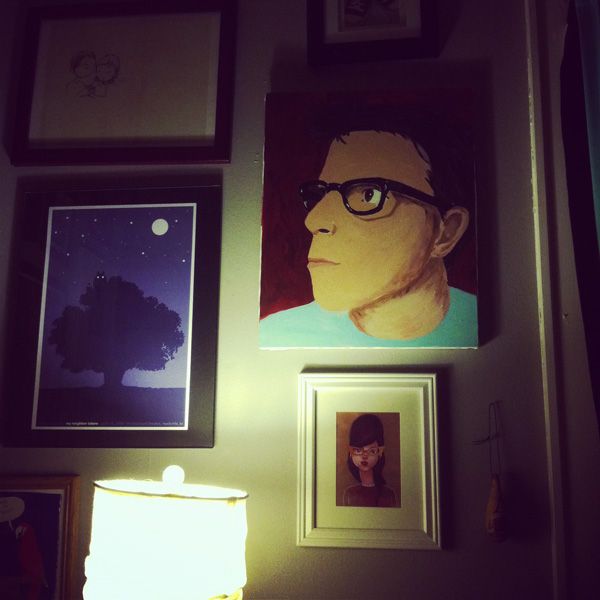 I felt so happy when I fell into bed last night under the portrait I painted of Rivers in high school. There is nothing like singing along with a room full of people to your favorite songs.