I couldn't fit all of our Disney day into one post! So here is the second half. We didn't get to Fantasyland until pretty late in the day. I wish we had started there! It was the cutest part! I about died when we saw the Small World ride.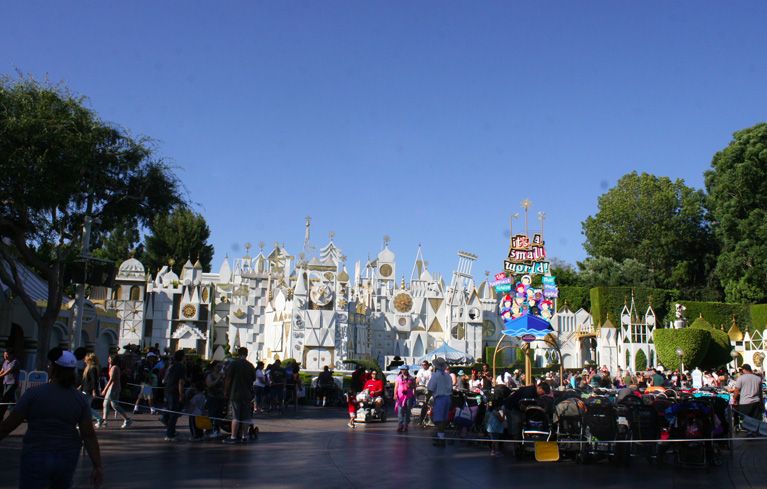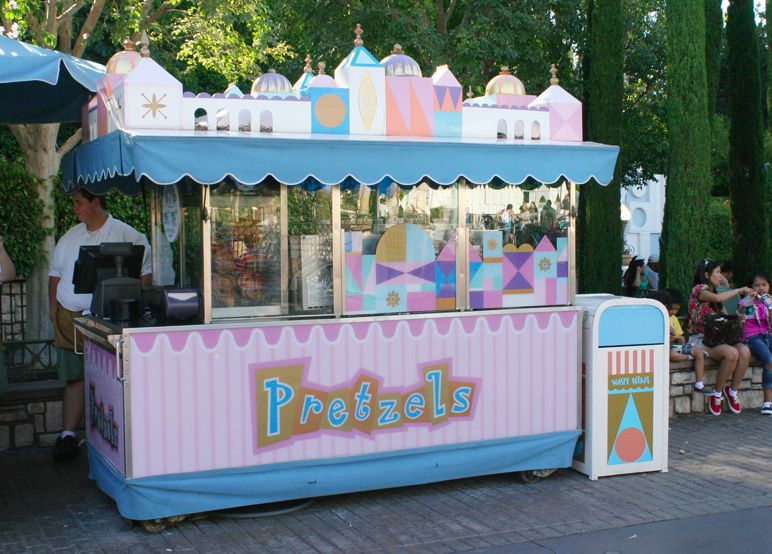 Everything around it was cute too! Look at that pretzel stand! And the trashcans!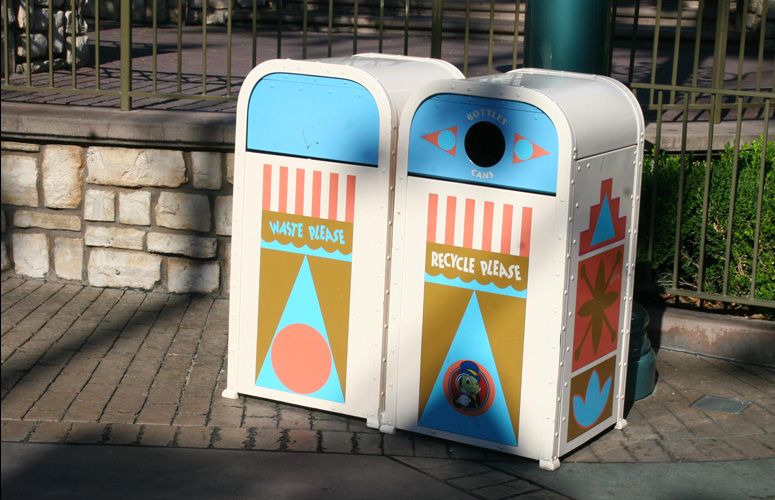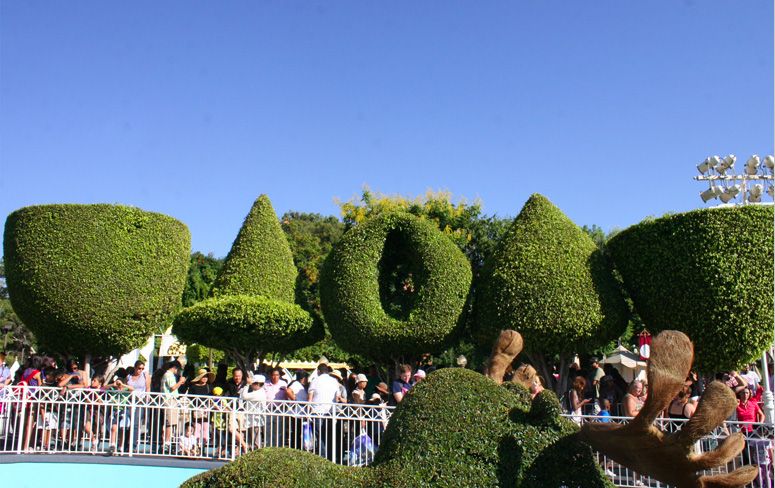 I didn't realize how much I loved topiary until until we saw tons around the Small World ride. I want one that looks like a witch hat in my yard. Or an elephant!
The ride was one of my favorites. It was much longer than I was expecting! I said "I'm going to put my camera away and just enjoy it in here!" But I couldn't resist taking a few cell phone shots. It was just too great.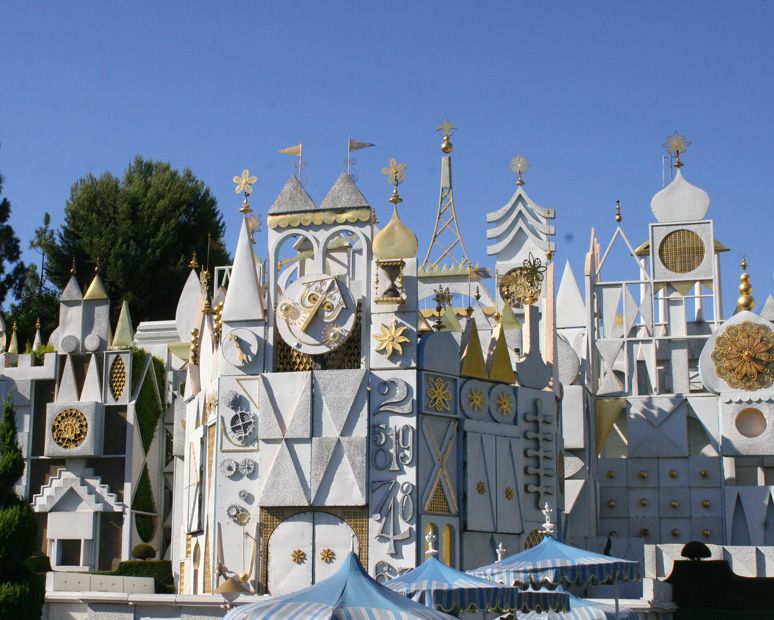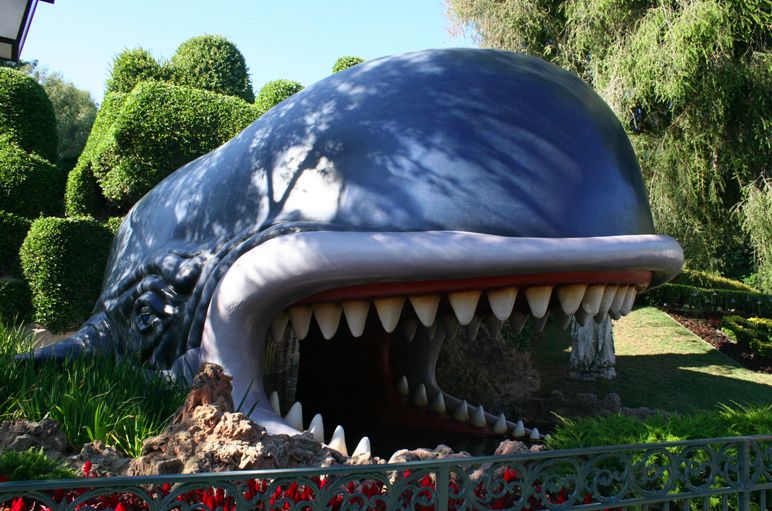 It took us a while to find a Mickey Mouse pretzel! After seeing that they were vegan I knew I had to have one! We finally tracked down a cart in Frontier Land.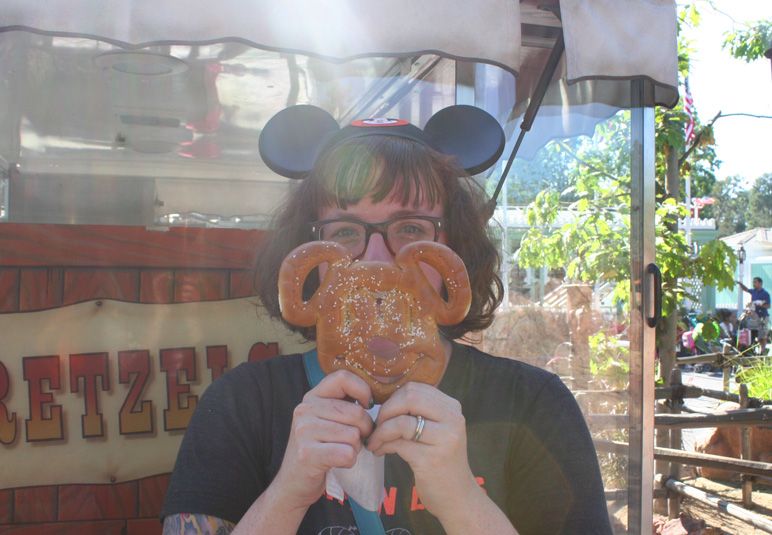 It was so good! I wish I had another one right now!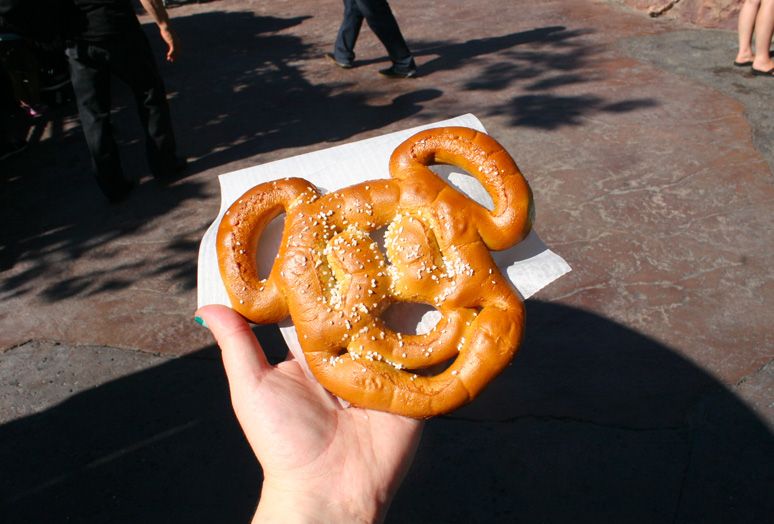 And now, for the tiki room. It was opened in 1963 and is AMAZING. It was built during the height of the Polynesian craze and is a dream for any vintage lovers out there. I didn't really know what to expect, but I was excited!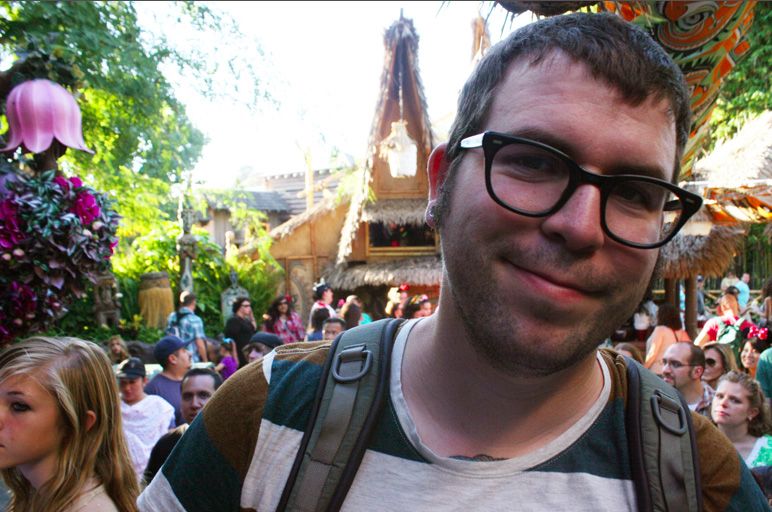 The show features animatronic birds and flowers and totems singing and talking. When this chandelier dropped out of the ceiling and birds started singing "Let's All Sing Like the Birdies Sing" I lost my mind! I could have sat in there all day and watched it over and over!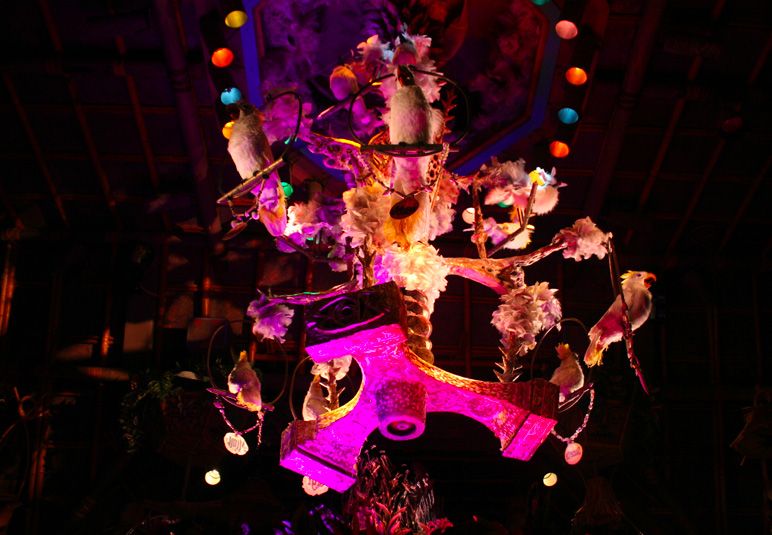 So lovely.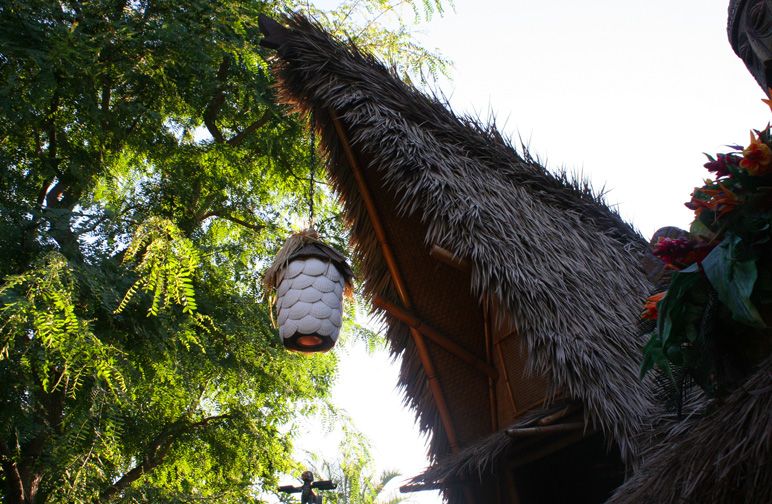 After the show we HAD to stand in line at the hut outside for Dole Whips! We actually waited for them longer than we waited for ANY ride at the park! There was a huge line all dang day!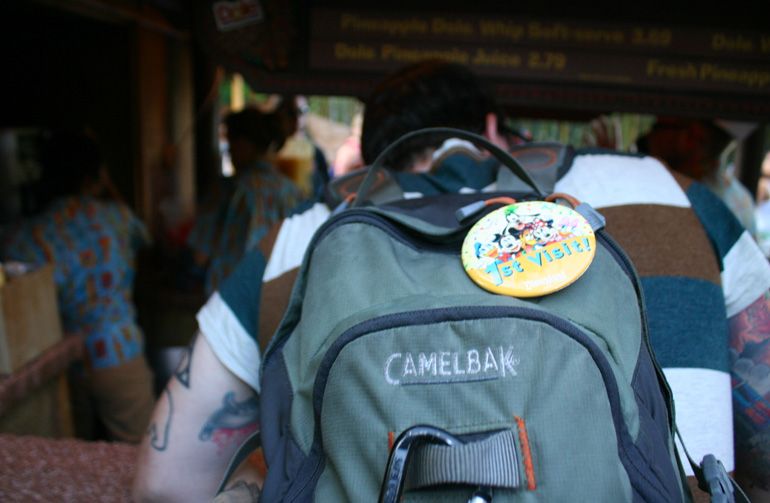 But it was worth it. We decided to go all the way and get the dole whip float. So it is a pineapple soft serve, in pineapple juice! YUM! These were so good. It almost made me want to stand in line all over again for another one! I am SO happy that they happened to be vegan.
By this time Lilly had finally warmed up to me and Travis! The rest of the day she wanted to ride with me on rides and hold my hand. It was pretty great. Notice her sweet zombie arial shirt.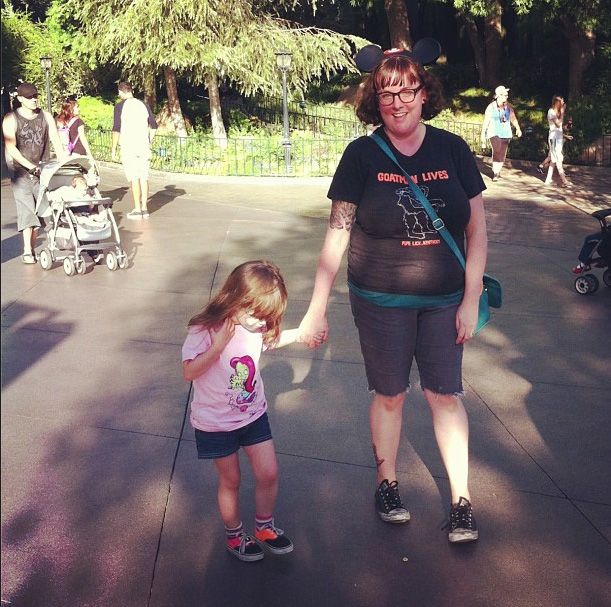 Here is Travis with baby Addie. He rode the Little Mermaid ride with her, and it was hilarious to catch glimpses of him in the clam shell car behind me. You could tell he was really hoping she wouldn't freak out! Haha. She spent most of the ride with her arms up in the air, and kind of singing along. Pretty cute.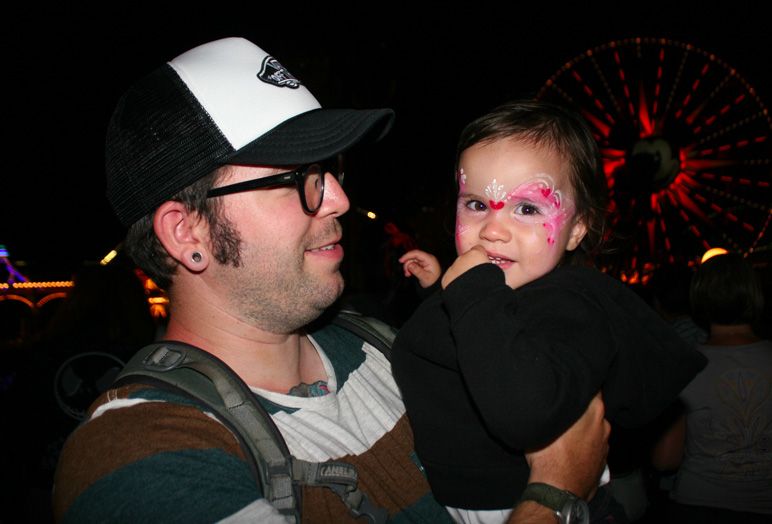 They have a big water/color show at California Adventure. We got fast passes early in to day so we could get into an area with better views of it. I wasn't so sure how cool a water show could be, but it was amazing! How do those fountains shoot SO HIGH! They had a fine mist in the front that they were projecting Disney movies on, in this perfect medley. I totally teared up when "A Whole New World" started. It was such a good way to end the night. Travis has a video of part of it, and you can hear me say "WOW!" so many times. And "I'm crying" once or twice.
Aaron and Valerie took the girls back to the hotel and we stayed for another hour or so. It ended up taking them almost that whole time to get on the tram back to the parking lot so we actually got to the hotel the same time as them! We were going to ride the Tower of Terror one last time, but the wait was 35 minutes and I wasn't patient enough. We set off to find a smashed penny machine in Disney and looked for a post box so I could mail some postcards.
I had been remarking on the fact that we didn't really see any characters walking around all day and how it was a bummer when we saw the royal couple themselves! Woo! If you are just going to get one photo op, it might as well be with Mickey and Minnie.
Please enjoy my weird face, and how unhappy Travis looks.
In conclusion, Disneyland was so great! I loved going with our friends who have passes and know all the tricks to getting the most out of our day. I'm really glad we decided to go.