Here is my little pile from the three estate sales I went to over the weekend. Most of it came from just one. I had to zoom out my usual shot to get in those bunny ears!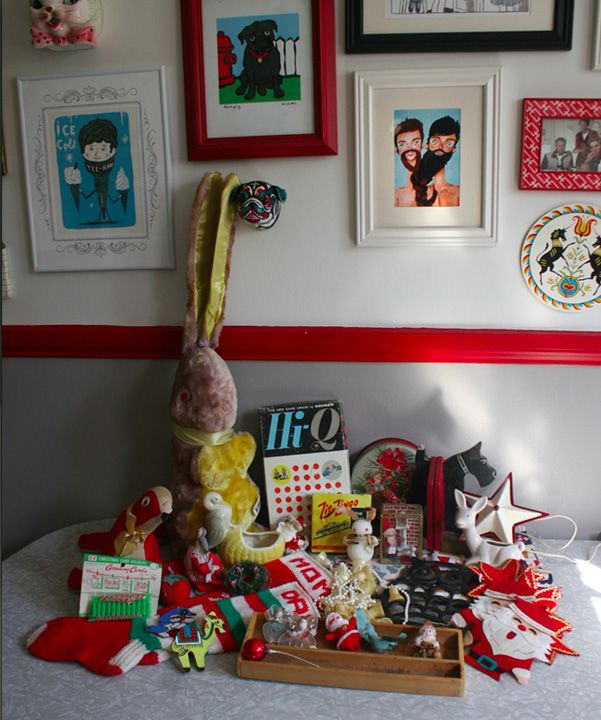 I have barely any vintage Easter, it'll be fun to get this silly guy out next year! His ears are really silky, with stiff wire inside so they stand up so tall.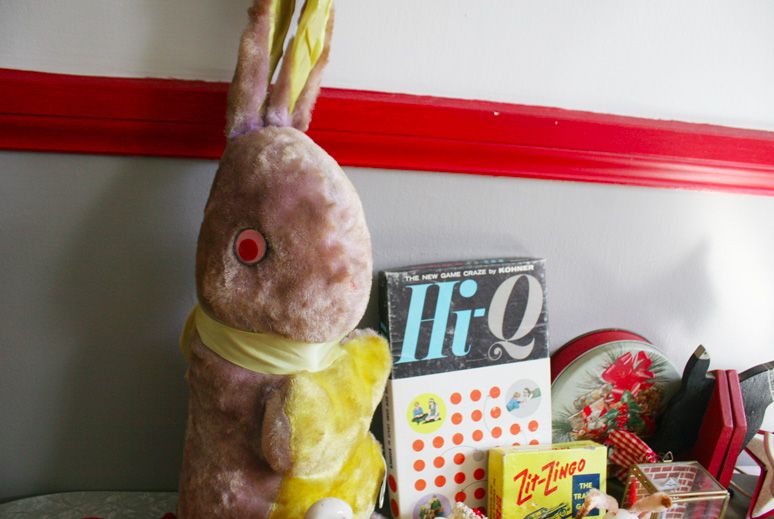 I try to resist planters, but this stork one was just too cute. I'll have to give it to someone for a baby gift! I found a nice little pile of Christmas at the first sale. The stockings say "Dear Dad" and "Mother Love" around the top!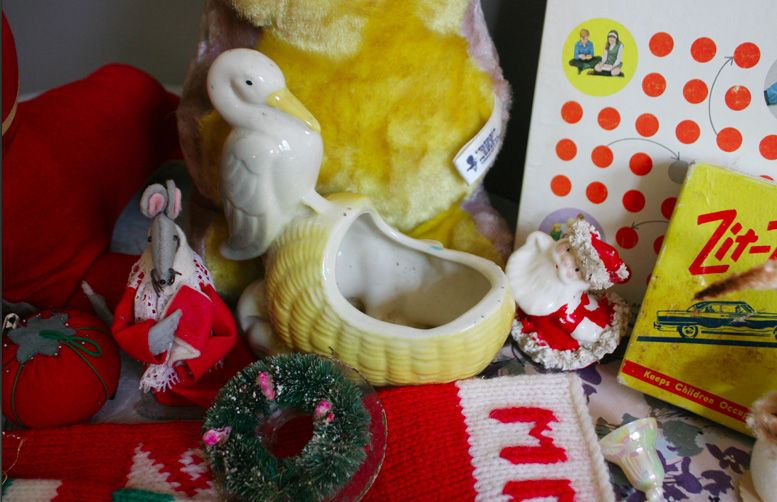 Here is the sweet little bunny that was peeking out of the box in the picture I posted yesterday. When I saw the brown ear at first I was worried that he was stained, but it looks like it was just a strange chenille dying thing. This guy is so cute, I might not be able to put him away until Easter.

How cute is this package of tiny clothes pins to hang your Christmas cards from?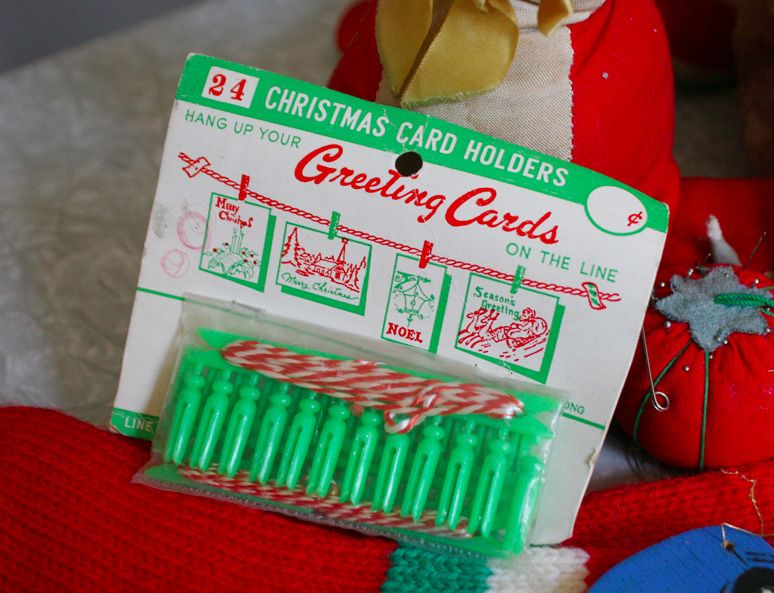 You know I have a hard time resisting vintage animals when they are this cute! He is a seal!


I found a few tiny spun head angels buried deep in a box of wrapping paper!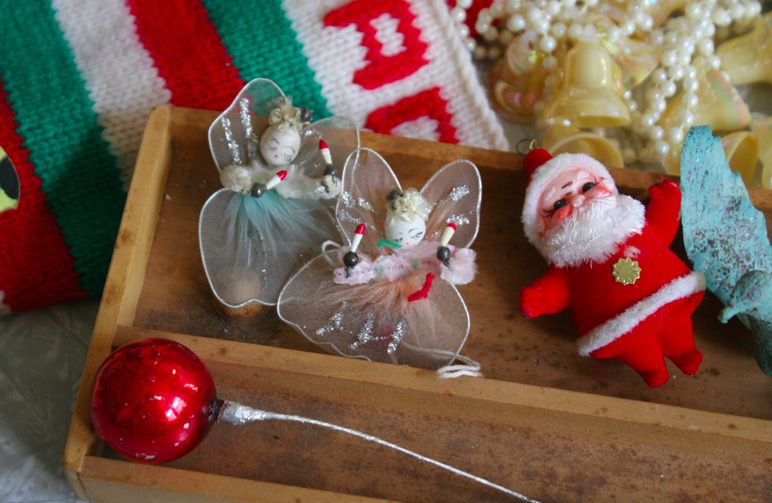 I found one of these pinecone gnomes I love too! His cone is a little battered, but I bet I can fix him.

I can't resist a felt Santa! I think these guys are light switch covers The felt and rick rack lovelies in the background are napkin rings! I got the owl trivet to add to my Halloween decor.
The scottie bookends look hand made to me! And I hadn't seen an old light up star like that one on the left before!
I always pick up tins like this if the graphics are cute. They are handing for storing all your little Christmas trinkets! I've really got to go through all my Christmas this year and organize it.
I picked up two new games. Hi-Q is similar to that game you play at Cracker Barrel where you jump the pegs. The other game is so unfortunately named. Who the heck thought "Zit - Zingo" would appeal to kids!
But I got it anyway,because it is travel bingo! But instead of the reusable boards like I had as a kid, it is just a pick stack of paper ones.
I picked up a few books of course. I would have gotten more but one sale had them priced pretty high. I have been wanting to read the Dolly book for a while, I just never came across it at an estate sale before somehow.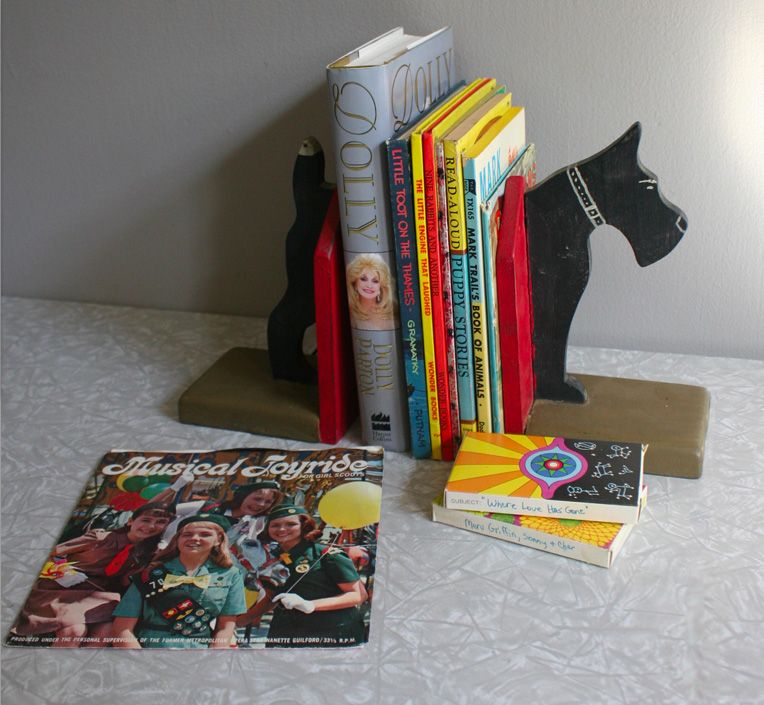 There were a BUNCH of books like the Dale Evans one, but about all the different cowboy stars. I would have bought a few more but they were too much for me.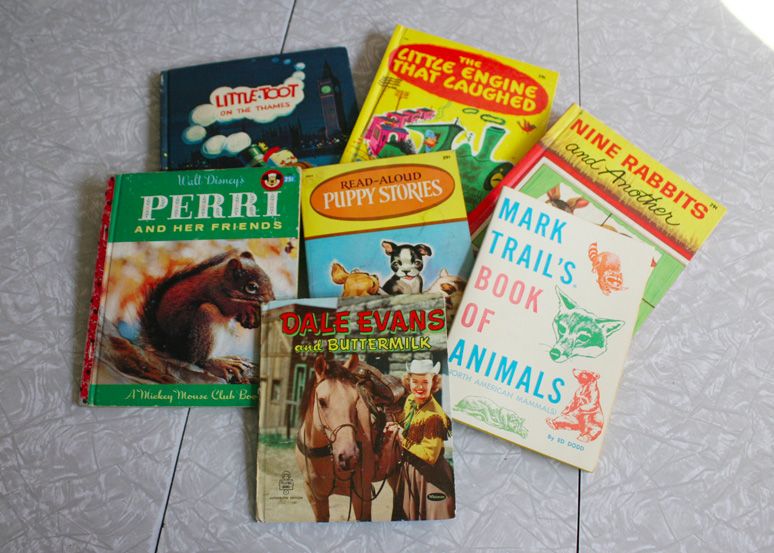 This is kind of a random purchase. These are old blank tapes! I love the box graphics! So much cooler than the plain ones I used to buy in high school to make mix tapes!
These were recorded on already. Apparently they were big Mike Connors fans. I looked him up, and apparently he is best known for his role on the tv show
Mannix. I like that they just recorded the audio!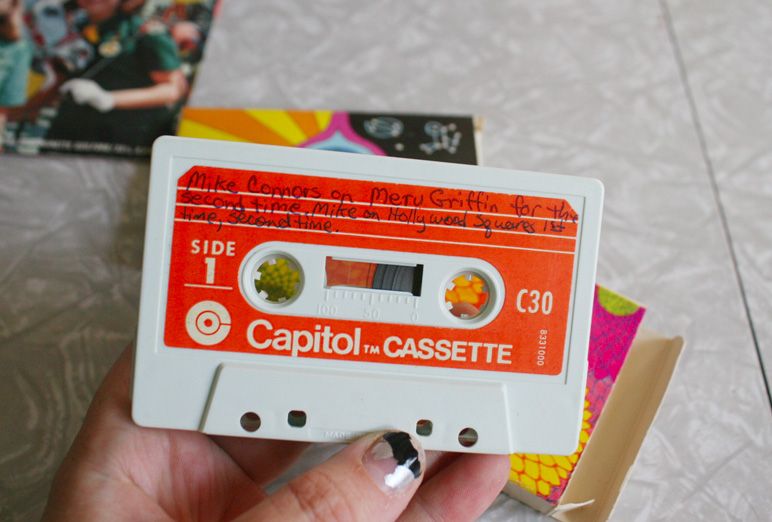 And last but not least, a girl scout record! There was a stack of these, but they were 4 bucks each so I just picked one. I can't wait to listen to it!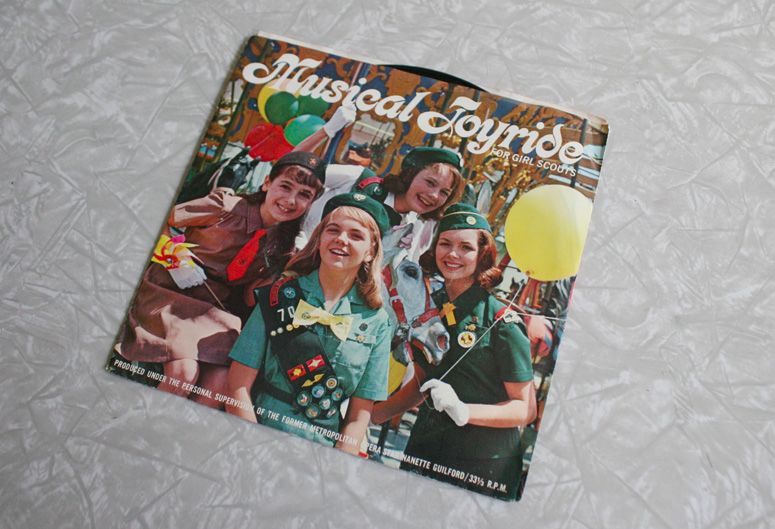 Linking up with A Living Space. A new to me blog that I really love!