Can you believe it? We've had our little Phyllis for 4 years! Travis found her at an adoption event at the zoo, you can read about why and
how Phyllis came to live with us here
. Warning, it is a sad story, but it has a happy ending! Here are some of my favorite photos of my sweet girl from this, her fourth year with us.
We're not sure how old she is. They estimated 3 to 7 when we got her, so she is now 7 to 11. Sweet old almost toothless lady. She has her senior check up on Friday send her some good juju, I'm worried about one of her eyes. It's been real dry lately.
I bet I was eating. That always gets her attention.
That face!
The teeth! (or lack there of, she only has those three on the bottom front.)
Meeting Tuna. She was star struck!
Look at that grey face. I really wish I knew how old she was.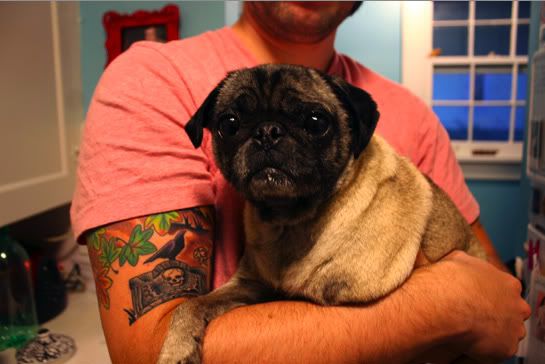 To celebrate today I am letting Phyllis sleep in my lap and we had a long session of her favorite game. Basically you scratch her back like crazy right above the tail while she tries to throw a toy around. It is so cute! Here's to you Phyllis! We love you so much!