it was 60 degrees out on my last two days off! it was so wonderful. i took phyllis to two dog parks because i wanted to be outside.
she loved it! look at that little tongue. she loves other dogs. she runs after them and plays as long as she can stand up. i wish we had a pug friend for her. she wants to play with the cats but they get scared if she runs towards them wagging her tail. travis has decided he only wants one dog though. and he doesn't want to foster anymore because it stresses him out. dang.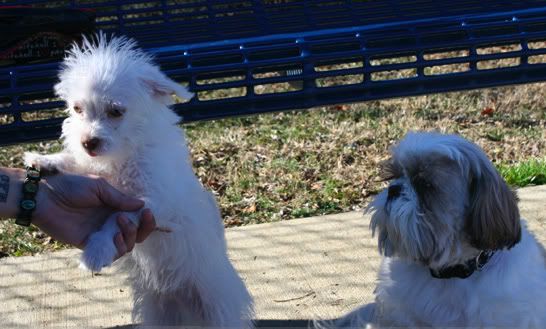 i tried to get a good picture of that adorable puppy but it didn't work. that is ryder, crystal's sister's shih tzu on the right. and that little puppy is a shih tzu/beagle mix! who would ever think that would be cute! he looked pink in the sun because his white hair was so fine it looked the color of his skin. so precious.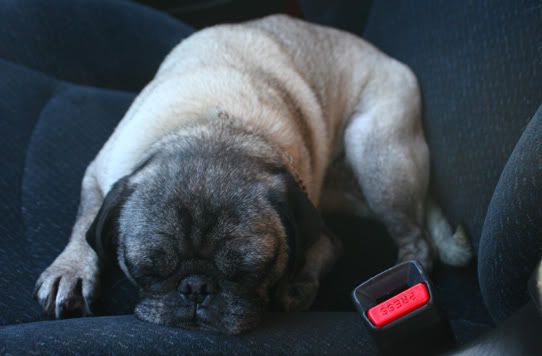 phyllis passed out on the way home. she slept on the couch for about 5 hours straight. at one of the parks we went to there were probably 50 dogs in the small do area. it was awesome. i got to pet a baby french bulldog, a couple caveliers (i want one, but they are really expensive), some pugs, an english bulldog, and many more. i am the biggest dork, i always sit and listen for people to call their dogs, then i'll call them so i can pet them.
we've been working on the house a little bit lately. i'll post some pictures of our dining room paint job soon, and some awesome stuff we've thrifted lately. here is a 1960's frog model travis found: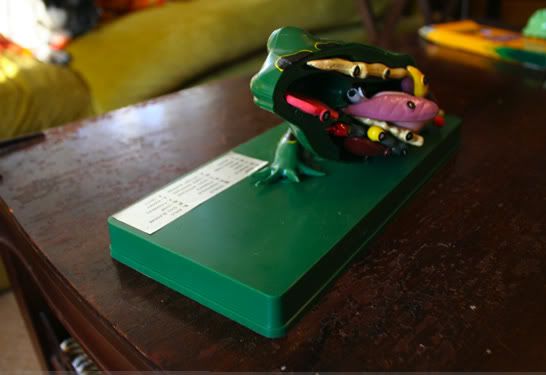 someone had painted the parts, but hadn't put it together. i'm not sure where i want to put it.
i found this painting for 4 dollars! we hung it up in our living room and it looks so good!