i've been trying to go to some estate sales this year, and yesterday i finally remembered the check around online and find two that looked promising. (i like ones where the people lived in the house for 50+ years, and with piles of stuff in the photos). crystal happened to be off for most of the day and came with me. it was a pretty perfect day.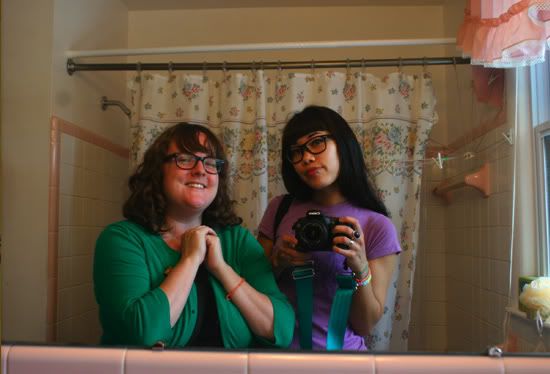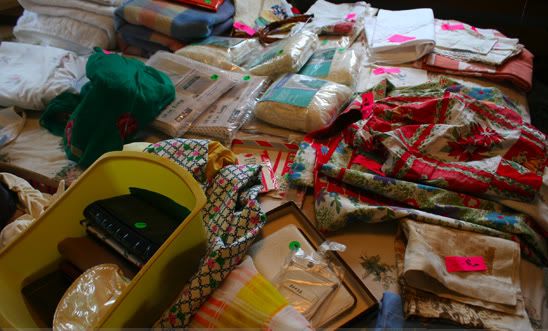 the bed was piled with vintage linens. two vintage christmas aprons for a dollar? don't mind if i do. i got a very cute embroidered table cloth especially made for a little sewing table too! i've been too overwhelmed at work to take pictures but i'm going to tomorrow.

i love wallpaper. and ribbons. and weird worm family portrait shirts? haha.

the guy apparently used to make bowling trophies. i wish i could have thought of a cool use for the pieces. i didn't take many pictures down there because the lady running the estate sale thought we stole these vintage animal cut outs. it was annoying, she was being really obvious and i almost told her to go through my bag so she would stop it.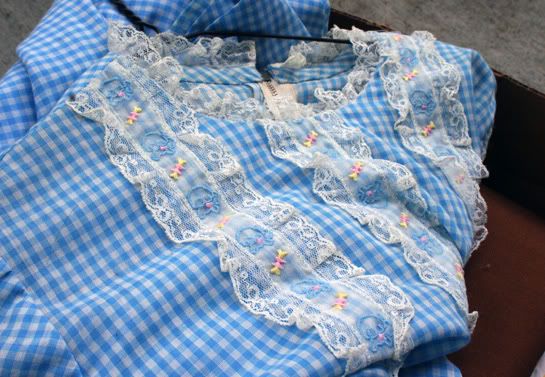 all the clothes were a dollar! crystal got this cute dress with puppy embroidery! it fascinates me because it's so childish but it's long and big enough for an adult/older teenager. we also got floral mumu's. and i got a fake fur collar.
after the first sale we stopped by one near my house i found on craigslist while i was up with insomnia the night before. i wasn't sure if it would be good or not but thought what the heck, it's close by. by the time we walked up and found a table covered in vintage sheets...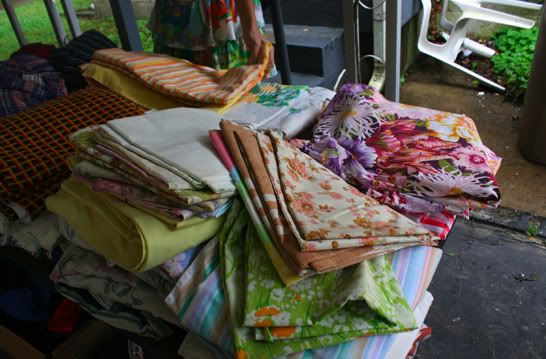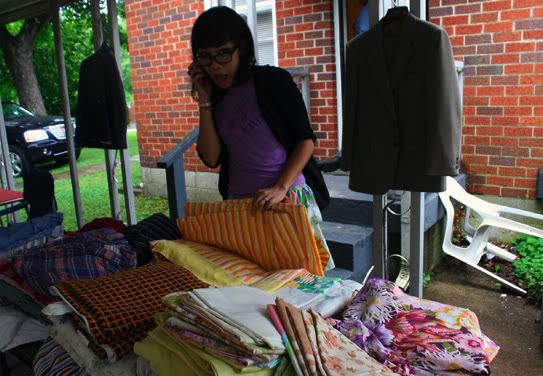 we were squealing! wait until i show you the towels! oh man, so exciting!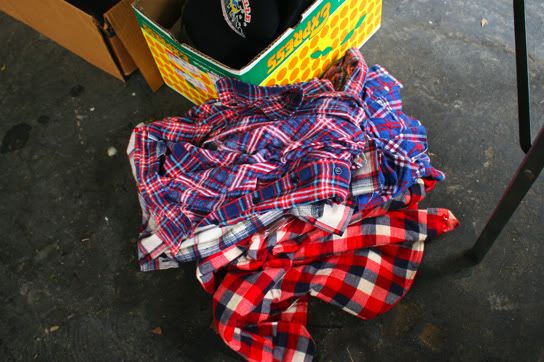 got plaid shirts for travis. a buck a piece.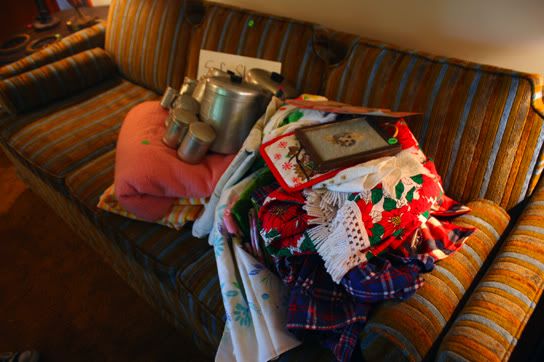 here are the piles we were making! haha, they kept laughing at how excited we were.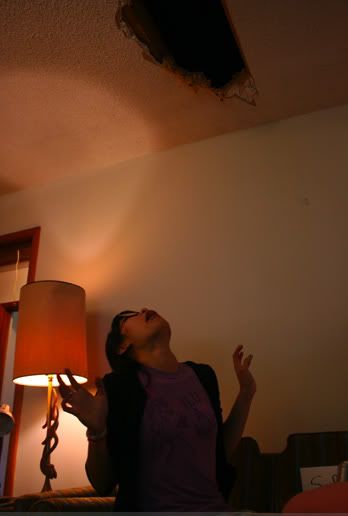 apparently someone fell through the ceiling while they were cleaning out the attic.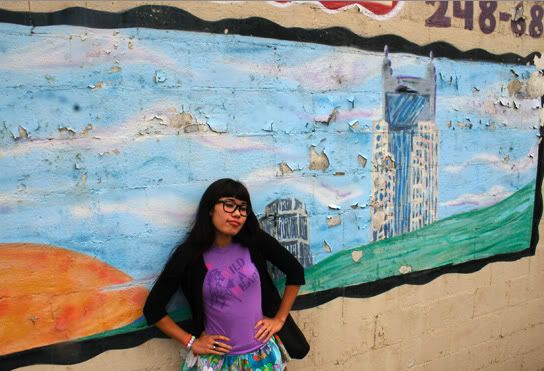 after an old man loaded up the car (and called us honeys) i forced crystal to lunch at istanbul.
my currant obsession.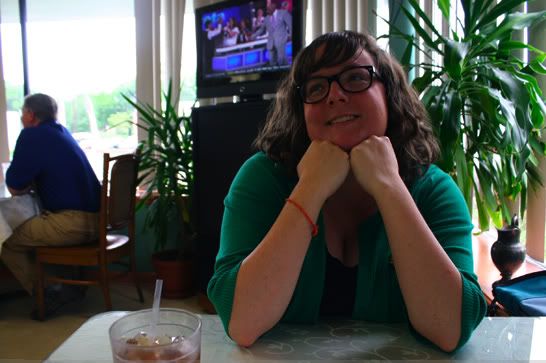 while we waited for our food we talked about all the awesome stuff we found and how much fun we had. we talked about how i should become a reseller because i have toooo much stuff. maybe i'll try etsy. do you like our matching glasses? i need a bang trim so those can match again.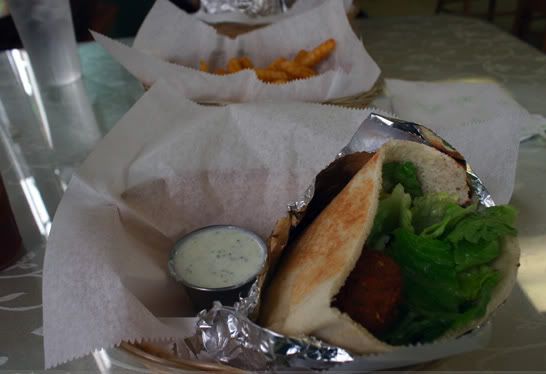 mmm falafel (as always)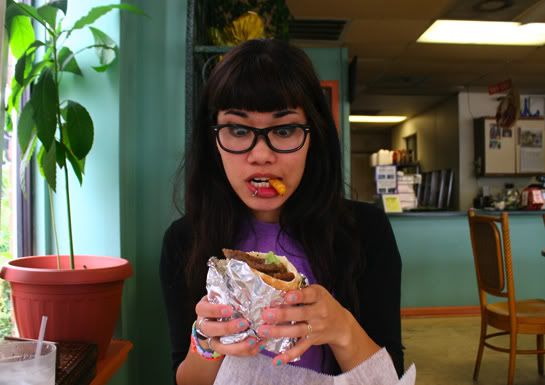 she said her gyro was really good.
after lunch i drove her home. we tried on our new outfits...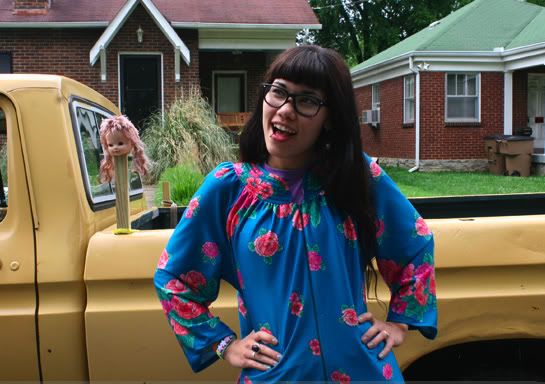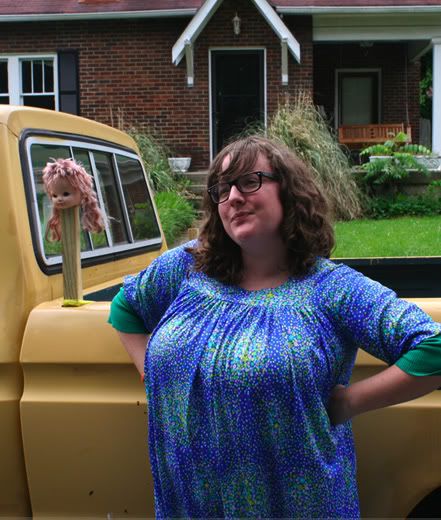 very flattering. that truck belongs to her across the street neighbors! so weird!

i left her with her stuff and ran to escape the cicadas that were everywhere. it was so nasty, they are ALL over the front of her house. you feel like they are waiting for you to come out.
when i got home i told travis about our adventure and no sooner had i said "there was a cool sleeper sofa" than he jumped in the car to see it.
so we have a new (old) sofa! sadly the awesome one we currently have is soooooo saggy and uncomfortable now. i'll probably cry when we haul it away. but the new one is cute and has a bed (for overnight guests!) and it sat in the room no one used so it's not really worn at all. the cats love it already.