I haven't been to the Goodwill Outlet in a while. You really have to be in the mood to dig through a lot of junk when you go there. So whenever the mood strikes I will usually run right over. This time i kept finding great stuff!

first we found this suitcase that was in almost perfect shape (i just have to re-glue one spot on the lining). then i filled it up!


Christmas explosion!
I am OBSESSED with creating a
"kitschmas"
wreath like
Betty Crafter.
I have lots of little vintage christmas bits but not many glass balls. So that is what I'm on the lookout for. I was thrilled to find two boxes and one bag full! I also got a handful of plastic picks, a silly snowman who needs another googley eye, and some fake poinsettia.
I couldn't resist the yarn wreath! The owl wasn't in it, but I might stick it there when I hang it up. It looks pretty darn cute. I can't think of the brand the owl is, but i've always thought that style was cute (especially the mice).
On the same trip i found a straw wreath, which was awesome since the next stop on my list was michael's to buy one! ! love it when ! find practical things for pennies, almost as much as I love the vintage.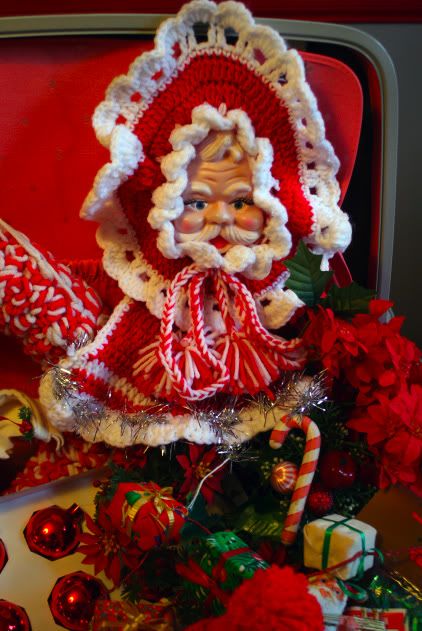 kind of a terrifying santa. he is so fancy with his crocheted hood.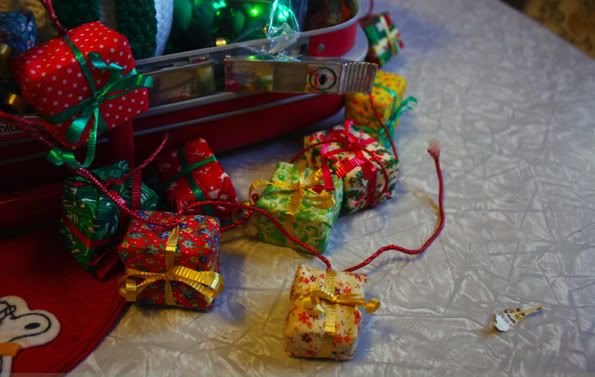 I really love these little presents on a string! They were all tangled with an ugly cheap garland so I painstakingly removed them all. They might go on my tree or hang across my mantle.
So, the suitcase was 2.99 and the rest was by the pound. Our total for everything was less than ten bucks. We picked up a few books too that aren't pictured here. The goodwill outlet is pretty awesome most of the time. If you can stand the crowd (it is ALWAYS packed), and the dirt, and the mean cashier.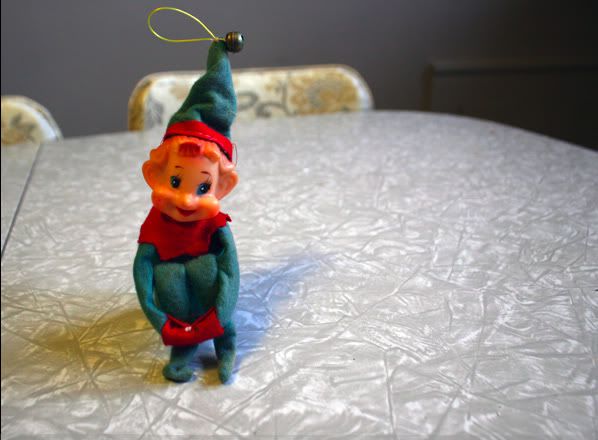 This little buddy wasn't thrifted, he was sent to me by the love
Miss Crafter
after I lamented that I hadn't been able to find a knee hugging elf at a descent price. It was so fun to get in the mail! The box was jingling and for some reason I just couldn't imagine what was inside. Then I opened it and jumped for joy! I can't wait to use him on my wreath!