My day started off kind of terrible. I jolted awake at 4:30 this morning and freaked out thinking I was late for work. I rushed to get dressed and out the door in less than 10 minutes and as I was clocking in at 5AM...I realized I wasn't supposed to be there until 6. I'm really not sure what happened. But it just started my day off on the wrong foot. Later when I sitting in the breakroom, a friend read my horoscope to me out of the newspaper, and it said something about a mistake leading to something magical happening. We laughed and I said me being early would lead to something magical that afternoon. It kind of came true (as they always do, since they are so vague. haha.)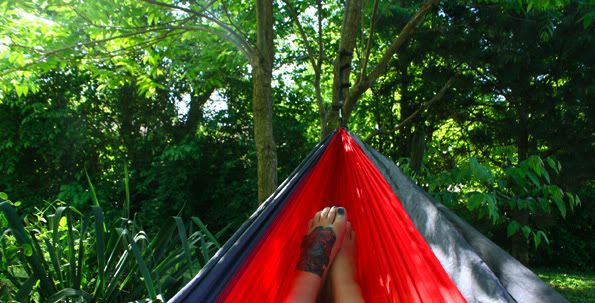 Travis had been home most of the day, and had mowed the backyard with his new mower. I asked him to set up his camping hammock for me, and I went outside to enjoy the perfect weather.
I brought a little friend of course. I was mean and made Priscilla stay inside. She is just too busy for relaxing in the hammock.
My view. I don't want to front and pretend I live in a quiet forest wonderland. We live right on a 4 lane road, so I could hear the traffic going by, and someone mowing, and dogs barking. But it was still really nice. I finished a book that I have been reading for what seems like forever.
I ate some of these little caramel flavored gingerbread cookies that Travis got me from a Russian and Eastern European grocery store he just found. Phyllis wanted a bite as you can see. He also brought me some strawberry syrup and sprite so I could make too sweet drinks.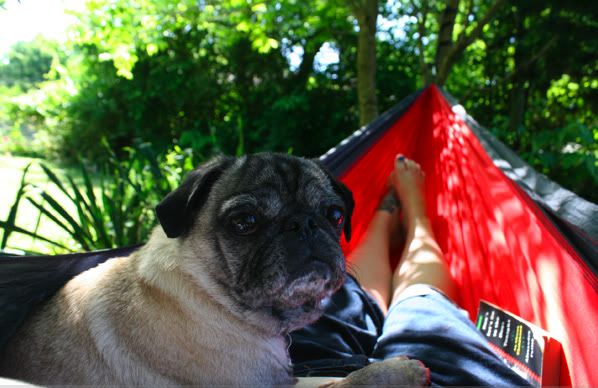 I think Phyllis liked it. She never really relaxed, there were too many sounds to hear and smells to sniff. They don't ever really get to hang out outside. I'm too paranoid about something happening.

I love this hammock. It is so cozy! It folds up really tiny so you can take it on a hike.I don't really want to hike though. I'll just stick to the back yard.
I got this great package on my doorstep today too!
Tiffy's mom
sent me a message asking if I would like this beautiful fabric that belonged to her mother. Of course I was interested, but I couldn't believe how amazing it was when I opened the package! I LOVE it all! Look at all these gorgeous patterns!
That turquoise and red is so perfect for me of course, and those roses!

This day of the week fabric is so fantastic. I need to find the perfect project to use it on!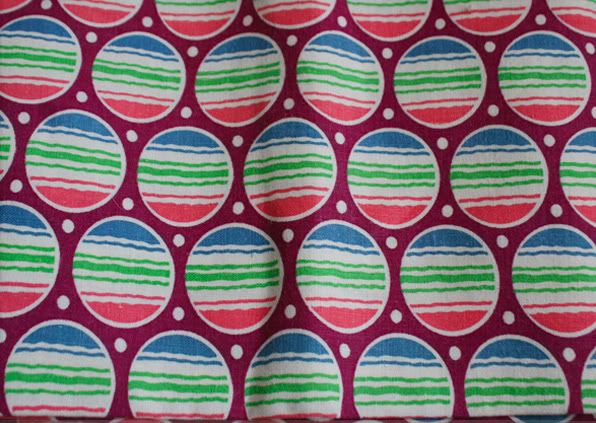 I love these circles. The color combo is really great.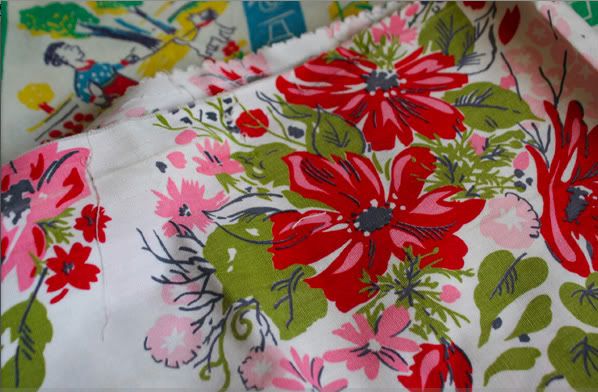 This floral is my favorite! I wish there was enough for a dress! Or curtains! But I actually already have a plan for it, and hopefully I'll do it tomorrow! It is really just perfect!
She sent me these bowling patches too! I think I'm going to sew the space themed one on my bowling bag! I finally thrifted a ball last week too! Looks like I need to hit the lanes! This was such a thoughtful gift. Bloggers really are some of the nicest people in the world. I am constantly blown away by the kindness of some of the people I have met through blogging. (And now that I say that, I'm sure someone will send me a mean message or something, hah!)
When I came back inside Travis had gone and got me some cadbury mini eggs, and picked up a pizza. Now we're hanging out on the couch with the pugs watching tv. So the day turned out pretty great after all!