Here is most of what I got at the flea market this month! As usual, I bought quite a few photos as well. They are my weakness, and I'll probably post them tomorrow. But until then, knick knack attack!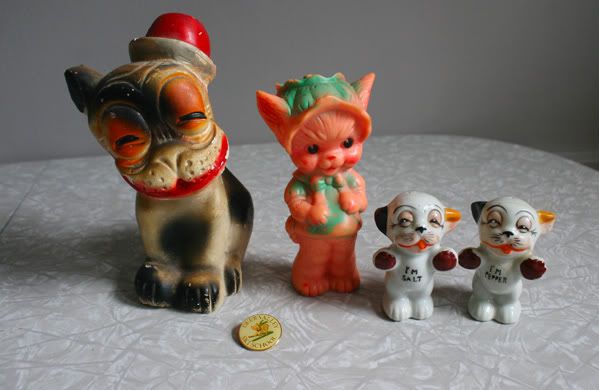 I thought this pin was super cute, and for 25 cents, I couldn't resist. The ski school is still in operation, but with a much more regal logo. I couldn't find anything about this cute logo.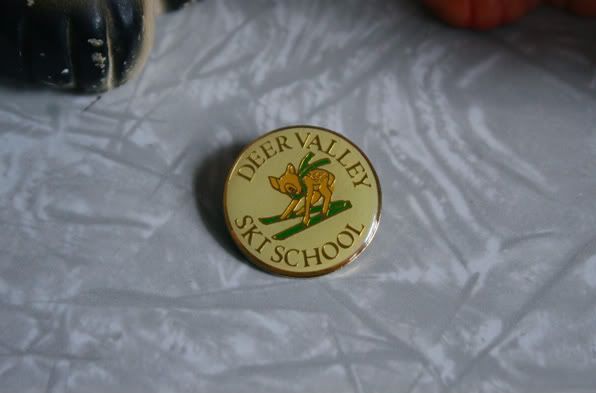 I LOVE this style of salt and pepper shaker, and even though the pepper had been broken and repaired, for a buck, the will look cute in my collection.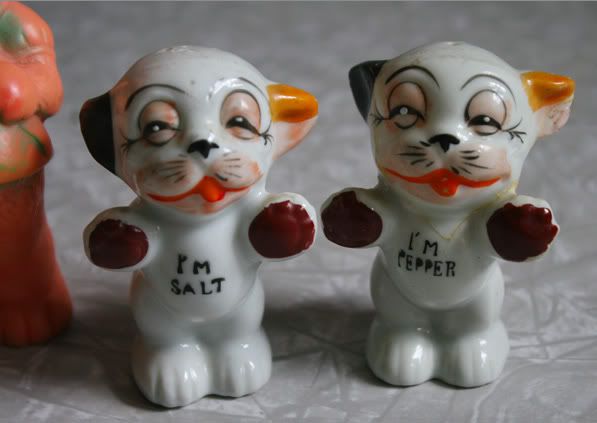 This carnival chalk dog might be my favorite find! It reminds me of Phyllis. When the vendor gave me the price of 3 bucks, and random guy ran up out of no where and was like "If they are just going to GIVE it away you should buy them all!! Are there any more???" and proceeded to scour the table. It was so weird, he seemed PISSED. Look at how cute this little dude is!
I wish I could read everything on the bottom. I can see West Virgina and August 22.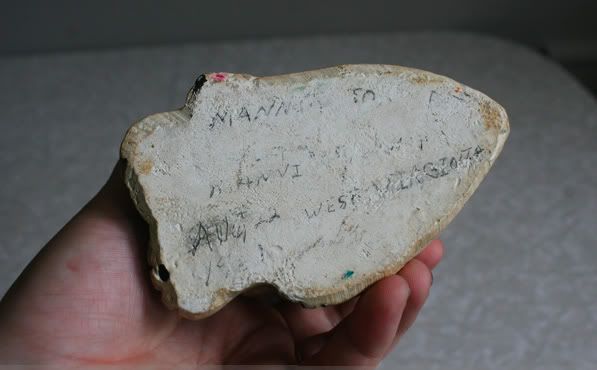 My poodle collection is already going strong, and I loved this pink poodle comb.

Have you ever seen these before? I saw a full set at an estate sale recently and thought it was so cute! They come on a little book shelf, and there is a whole set of them for different office supplies. The whole set was around 20 bucks so I passed, but when I saw this little box I picked it up for 10 cents.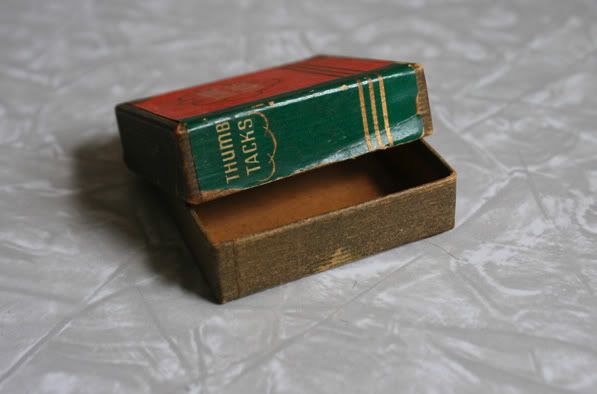 This is pretty exciting! If you remember, I bought this
mama poodle with babies attached
to her on our way home from Florida. The only problem was she was missing a baby. Well, I walked into a booth that I normally skip (lots of things made of old quilts, not my style) and there was this poodle baby, just waiting for me! The vendor told me that she usually wouldn't buy something that went with a set, but she bought a lot of other poodles from someone and had to get the whole set. It was meant to be!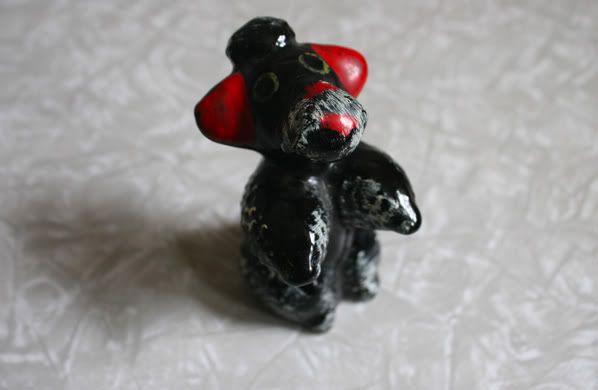 I got three Christmas corsages! I LOVE these, so I was stoked to find three for a steal!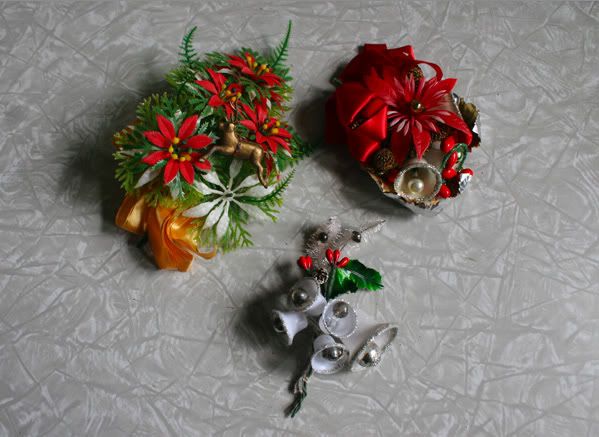 Another thing I love! I actually already have the "always drink milk" mug, but it was such a deal I had to get another one. The other cup was from a different vendor, he said it was his when he was a kid! It has a whistle in the handle, and one side says "Today I am a little deer" and the other side...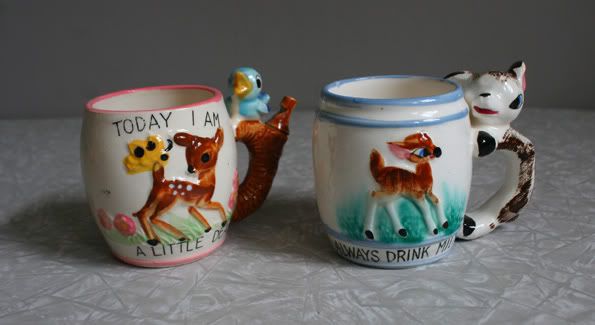 "Today I am a little stinker". I just love it!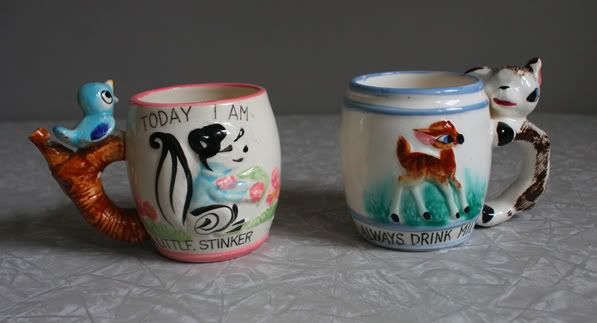 And even though we have no plans to have a kid, I can't resist cute kid clothes if the are cheap. This vendor had a big tote of kids clothes, a buck a piece! The old squeaker toy was too cute to pass up!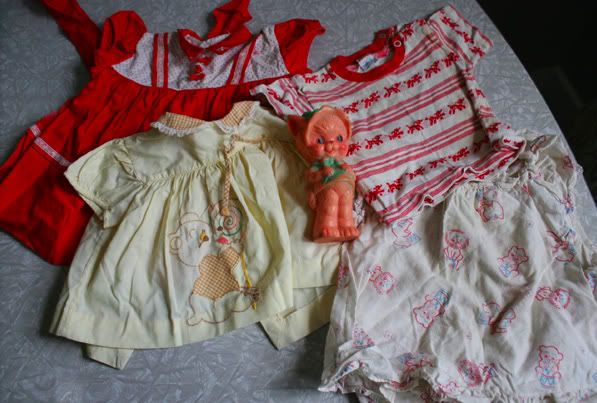 Sweet embroidery.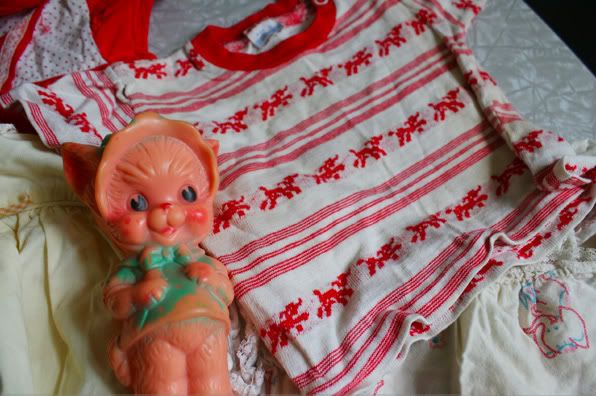 So there you go! My little flea market haul! Now I've just got to finish my spring cleaning. It is kind of hard when I keep bringing stuff home. Haha.