I haven't ever really thought about going to auctions before, but like I said last week, my friend Thomas just bought a house and is on the lookout for furniture. He texted me late last night asking if Travis and I wanted to go to an auction with him today, and since we were both off and looking for something to do we said yes! We drove out to Lebanon for it.
It was packed! We weren't sure what to expect since it was a holiday. We got there about an hour after the auction started. Next time we'll go early so we can really look and things and decide what we want to bid on. It is hard to decide how much you want to spend on something in a split second if you aren't totally sure of the condition.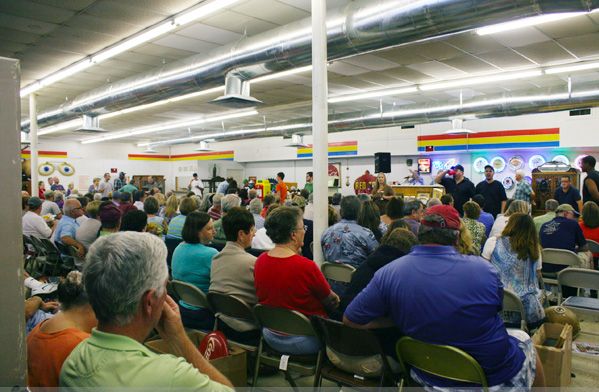 Look at this awesome optometrist sign! I tried to get Thomas to bid on it. The doctor's name is written on the whites of the eyes.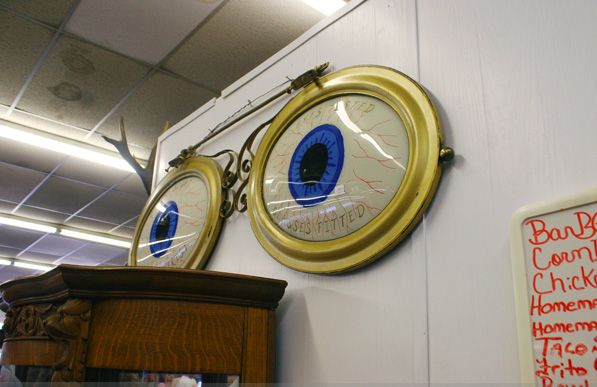 There wasn't TONS of stuff I was interested in. Thankfully, haha! There were lots of old porcelain signs that went for so much money! I had no idea people were so into them! Some of the signs went for more than the beautiful over 100 year old furniture!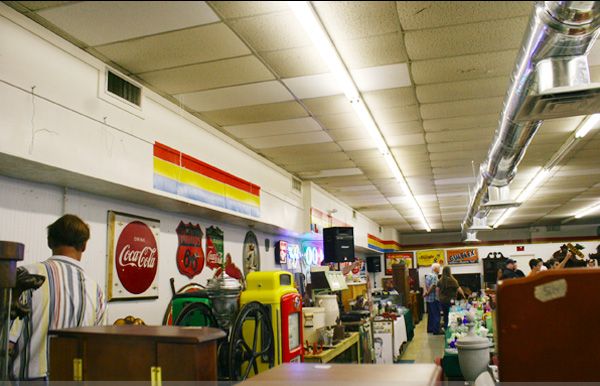 I bought this Christmas tree wheel. I couldn't resist. It went for so cheap!

The first thing we won was this bank. Thomas thought he bid ten dollars less than it actually ended up costing. It was crazy, and after that we were very careful with our numbers. Thomas would even bend down and hide to scratch his nose. The bank is awesome though! And actually old, not a reproduction.
They were selling bags of popcorn! It was awesome actually. At fist I was worried about putting my drink o the old furniture that was for sale, but it then I looked around and saw whole families SITTING ON the furniture and spreading out food and basically acting like they were at home.
The skeleton's eyes are on string and fall out when you put the hand up. So gross and cute.

We didn't get seats for a long time. It was fun ducking around all the furniture and moving when they moved stuff in front of us.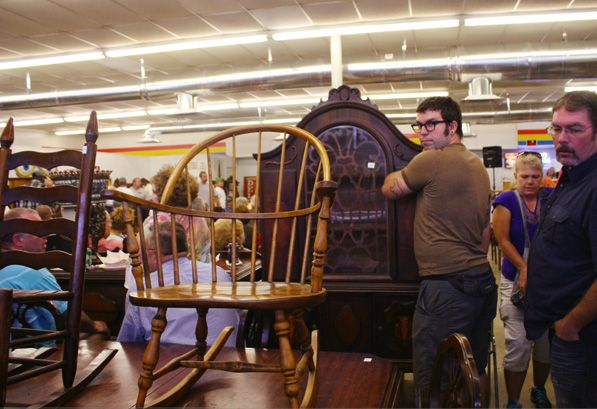 Thomas regrets not bidding on this great old new stock cardboard sign.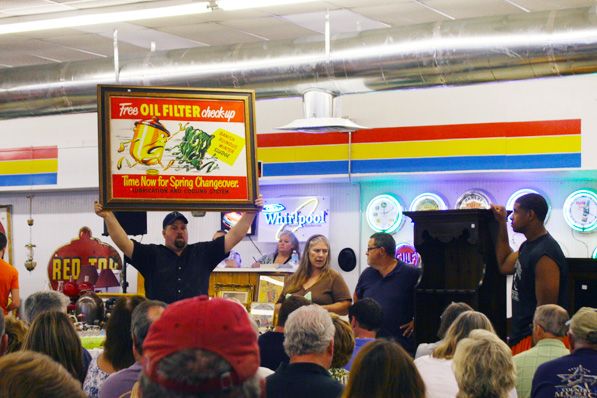 Travis bought TWO coke/peanut combos. I wasn't brave enough to try it.

So...this dude came home with me. I named a really low price to Travis, and this guy sold for even less than that! A HUGE elk head sold for over 400 bucks! This guy was much less. So I guess I'm over my weirdness over taxidermy thing. We hung him over our mantle and I already feel like he has been here forever. Welcome to the family Benjamin!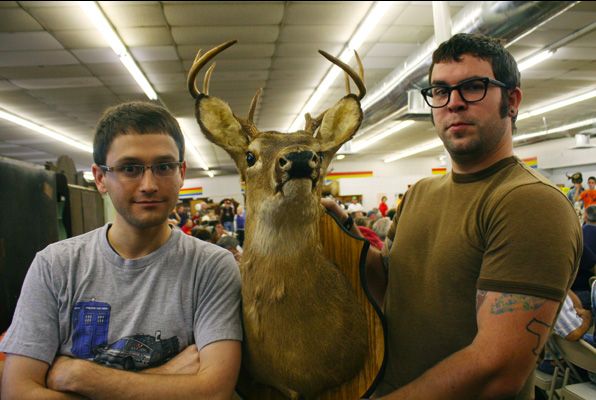 Kids wiener mobile!

We were there for almost five hours and the actioneer did not take one break! I saw him drink water twice. I was completely in awe. I wonder if when he gets done with an auction he has to sleep for days. That Shirley Temple ad in front there was awesome and went for really cheap. I wish I would have bid, it would look great in my dining room.
I got these too! I can't tell if they are reproduction, or actually vintage, but we got them for less than the reproductions sell so I'm happy either way. All three things I picked up at the action were things I have been looking for! And all for way less than I've ever seen them! The only other thing I bid on was an awesome buggy bench that went over my limit in the first 5 seconds. So our first auction was a success! We didn't get rock bottom estate sale prices, but I really need to cool it on the million cheap smalls, and concentrate on getting more useful/bigger pieces. And reselling.
We were there for almost five hours and everything was so fast paced we never once got bored! Thomas and I kept saying "This is so great! It isn't boring at all!" to each other. We will definitely be back, with a plan next time. And maybe more confidence. I think it will be good if we go early next time and can research what we're interested in bidding on so we know if we're getting a good price. I love that Thomas is so into vintage shopping now!