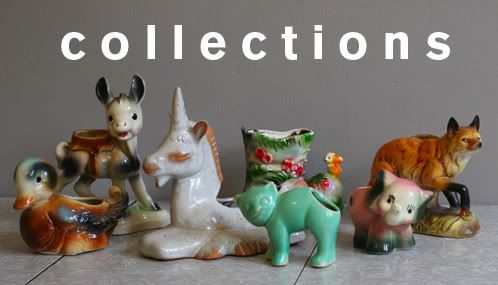 As much as I love vintage I don't have many pieces of vintage clothes that I can wear. It is hard to find stuff in my size and it's not practical for me to wear to work. For the past few years I've contented myself with vintage brooches (see an old post on my collection
here
) on my sweaters, but recently I've gotten into vintage barrettes! They are so cute and add a little touch of fun. Here is my little collection.
These two sets are the first ones I ever found. They were at an antique mall in Pigeon Forge, TN and were still in the wrapper. I wear the whales a lot! The donkeys are super cute but they are pretty much the same color as my hair so I don't ever wear them. Look at those stubby little legs!
The cowgirl on the horse and the pair of birds were flea market finds. I've been keeping my eyes peeled but almost never see them! I wish I had a pair of the cowgirls! Or maybe a little cowboy to match! The two dog barrettes are from etsy. This shop, Rosebud Cottage has hundreds of vintage barrettes! It was really hard to narrow my selection down to two, but I had to go with a dog theme.
I admired these barrettes from With Care Jewelry for so long before I finally decided to pull the trigger and treat myself. They are made with antique glass cabochons and are TINY and adorable. I've been wearing the snakes pretty much everyday since they came in the mail.
I hope I'll be able to find some more cute barrettes at the flea market this year. I can't get enough!